Great weekend in La Masia as most of the F11 teams were undefeated, continuing their fight for league titles. Meanwhile, a good result from Barcelona B put them in a great position in the promotion playoffs to Segunda A division.
Results
 At. Sanluqueño vs Barcelona B (0-2). Goals: Ángel Rodado (43'), Ferran Jutglà (55').
Juvenil A vs Cerdanyola (3-0). Goals: Fermín López (69'), Estanis Pedrola x2 (73', 80').
Juvenil B vs Figueres (4-2). Goals: Toni Caravaca (3'), Iker Córdoba (8'), Cristobal Muñoz (65'), Xavi Moreno (90').
Vilassar vs Cadet A (1-2). Goals:  Jan Colomé (58'), Marc Guiu (79').
Cambrils Unio vs Cadet B (0-1). Goals: Marc Bernal (67').
Damm vs Infantil A (0-2). Goals: Samakou Nomoko (39'), Sidney Delgado (59').
Infantil B vs Canonja (2-2). Goals: Fran Orduna (18'), David Obinna (39').
At. Sanluqueño vs Barcelona B
Line up: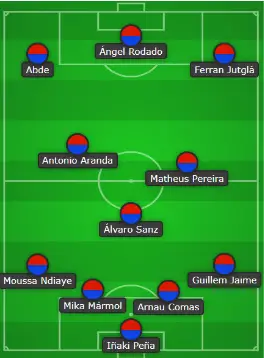 The match:
After managing the first team, Sergi Barjuan returned to Barcelona B leading them against 5th placed Sanluqueño. The youngsters faced their opponents away at home at Estadio El Palmar under poor pitch conditions. Despite it, the team managed to grab a 2-0 win against a strong opponent. Although the scoreline suggests a comfortable win, it can't be said the same about the performance.
Sanluqueño managed to keep the team quiet, however, only in the 43rd minute of the game did Barcelona manage to score an opener. After a great run from Ferran Jutgla, who was signed from Espanyol this summer, managed to pick out Angel Rodado with his cross, who scored a header to make it 1-0 just before half-time. Sanluqueño didn't make this match easy as only poor finishing and amazing goalkeeping from Iñaki Peña kept the opponents quiet.
After the second half, it didn't take long for Barcelona to score another. Just 10 minutes later Abde's cross into the box reached Jutgla, who tapped it in, getting him another goal this season. Youngsters weren't able to enjoy their comfortable game as in the 73rd minute of the match Moussa Ndiaye was sent off with a double yellow, which greatly complicated the match. While playing with 10 men, Barça suffered a lot, even time-wasting to keep hold of their win. Despite all the struggles Barcelona B finished the game with a 2-goal lead while keeping a clean sheet.
Conclusions
A win against Sanluqueño, and earning vital 3 points put Barcelona B in 3rd place in the group. Barça are undefeated in their last 6 games making the team the most in-form in the group while keeping a clean sheet in 4 of them. Also, the youngsters have the best defence in the group conceding only 8 goals in 12 games (joint with Villarreal B). Barcelona B will now face 4th placed Albacete Balompié at Estádio Carlos Belmonte to continue with their great campaign.
My Barcelona B player of the match: Ferran Jutglà
Juvenil A vs Cerdanyola
Line up: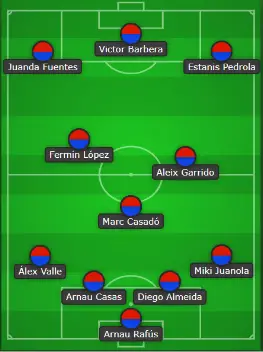 The match:
Óscar López's Juvenil A continues its astonishing form in the domestic competition fighting for their 1st position against Espanyol. Juanda Fuentes who started the game and has been in great form in recent matches suffered an injury in the first minutes of the game and was replaced by Josep Cerda. Cerdanyola played a great game keeping a compact defence, not letting Juvenil A score in the first half.
When it looked like it will be a draw, the youngsters opened the score in the 69th minute with a great intervention from Diego Almeida to Josep Cerda, who passed to Fermín López. Amazing game from Fermín was rewarded with the opener of the game. With the first goal, Cerdanyola understood that they can't keep their defensive line so back to hit the team in the counters.
Therefore, to equalize the opponents needed an equalizer, leaving a lot of space behind them for Juvenil A to abuse. Only 4 minutes after the first goal Estanis Pedrola scored a golazo from just outside the box.
In the 84th minute, Juvenil A scored 3rd to put the game to bed. Diego Almeida who yet again was heavily involved in the goal delivered a pinpoint pass to Josep Cerda. Who crossed it to Fabian Luzzi, whose header hit the crossbar, with Estanis scoring the rebound.
Conclusions
Great game from Estanis who scored his 4th goal this season was picked as my man of the match. Juvenil A will play Espanyol away from home, who are 2nd in the league behind Barcelona just on goal difference. After the game against Espanyol, the youngsters will face Benfica in UYL, which is a must-win game if they want to remain in the competition.
My Juvenil A player of the match: Estanis Pedrola
Juvenil B vs Figueres
Line up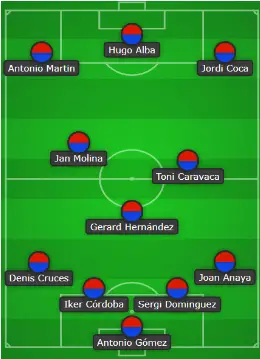 The match:
After a disappointing loss last week Juvenil B needed a win against Figueres. And the team managed to deliver an amazing performance, despite missing some players. Quick goals in the 3rd and 8th minute from Toni Caravaca and Iker Córdoba gave the team a comfortable lead in the first half of the match. However, as the game progressed Juvenil B started to lose control and looked a much weaker side compared to Figueres who were looking to come back into the game. They managed to do so in the 32nd minute of the game.
In the second half, Juvenil B looked to get back control of the game. In the 63rd minute, Cristobal Munoz was subbed in and 2 minutes later he scored an amazing solo goal dribbling past everyone in his way. When it looked as if the game is won, Figueres yet again managed to come back into the game with a goal in the 76th minute and were knocking for another until the end of the match. However, another substitute Xavi Moreno finished the game in style scoring an astonishing goal to make it 4-2.
Conclusions
A great game from Toni Caravaca scoring a goal and assisting a goal deservedly receives my MOTM award. 3 points secured for Iban Cuadrado's youngsters to keep their fight at the top of the league. Next they will face Manresa away from home.
My Juvenil B player of the match: Toni Caravaca