Over the years, Barcelona of shady ones too. have got involved in a number of brilliant signings, FC Barcelona will always be an attractive destination for any well as a lot player in world football. No pulling power matter how bad things get, we will always carry a significant amount of when it comes to transfers. However to play for Barça is too much for some players, their desire and dream. To a point where they would be with previous club, in order to force a move willing to cause havoc in their away. In this article, we will be comparing players who we've signed and have, as a result, forced their way out of it Compared with players who have been patient and their previous club sold them Barça in an amicable way during the transfer window.
Ousmane Dembele: The frustrating Frenchman
We first flash back to the summer of 2017 , just after Neymar Jr inflated and Barcelona were in the search for a replacement left the club. The market was. At the time there number of names floating around in the media , including Kylian Mbappe were a , Paulo Dybala and even Angel Di Maria. In the end, however, the man chosen to fill the void left by Neymar was the young emerging talent from Borussia Dortmund, Ousmanne Dembele. The 20 year old was signed for a fee of £135 million, on a 5 year contract w ith a £370 million buyout clause. Therefore, this made Dembele the second most expensive signing of all time.
How he left Dortmund:
His transition to Barcelona from Dortmund ,however, was far from straight forward. And did leave his former club feeling very disrespected. Regardless of that though, Dembele himself had no regrets at the time. After he arrived at Barça, he explained what he felt he had to do in order to seal a move to his dream club. Speaking to Spanish publication Sport, he said that he was "relaxed" about the whole situation. And claimed that "he had to have patience." One of the main things he did to start pushing for a transfer was to stop turning up for training sessions, unless Dortmund allowed him to leave. About this, Dembele said "I decided to stop going training. I didn't want to go. I looked for an excuse not to go."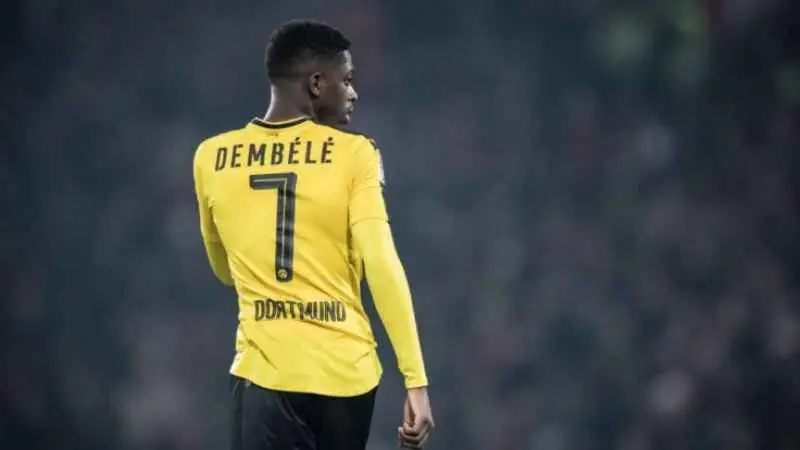 Quite clearly, Dembele had absolutely no regrets about his actions and behaviour. The only thing he cared about was securing a move to his dream club, by any means possible. Thankfully in the end, his work payed off but that wasn't at the cost of being heavily criticised by his former club. Ex Dortmund Goalkeeper Roman Weidenfeller hit out at Dembele, saying "you just don't leave a club like that."He went on to say, "rather than being thankful he decides to leave the club by staying home, going on strike and abandoning his teammates." A question to be asked is has his bad attitude at Dortmund effected his fortunes at Barça? Ever since he arrived, things have just not gone right for him, especially when it comes to his injuries.
Consequences of his bad departure? Or just bad luck?
Personally, I was a huge fan of Dembele way before we signed him and at the time he was a very exciting signing. However over the years, that excitement has slowly turned into frustration. Throughout his 4 years at Barça he has endured 11 serious long term injuries
and has only made 118 appearances for the club, having scored 30 goals and made 20 assists in the process.
I believe that a lot of fans have been patient with Dembele, standing by him through all of his injuries and staying optimistic about his career. The problem is that however much we raise our hopes for Ousmane or for however long he stays injury free, you always feel that there is another setback lurking round the corner. Evidently, that has been proven only recently whilst at the Euros with France.
After making 38 appearances throughout the 2020/21 season for Barça, he seemingly moved past his previous setbacks and the optimism around him was growing. He finished the league season completely fit and got called up to the french national team for the first time in 4 years. Everything was looking positive. Until unfortunately, during a Euro 2020 group stage game against Hungary, he limped off with another injury. Dembele is now set to be on the sidelines for at least the next 4 months, adding more disappointment and frustration to his Barcelona Career.
The disappointment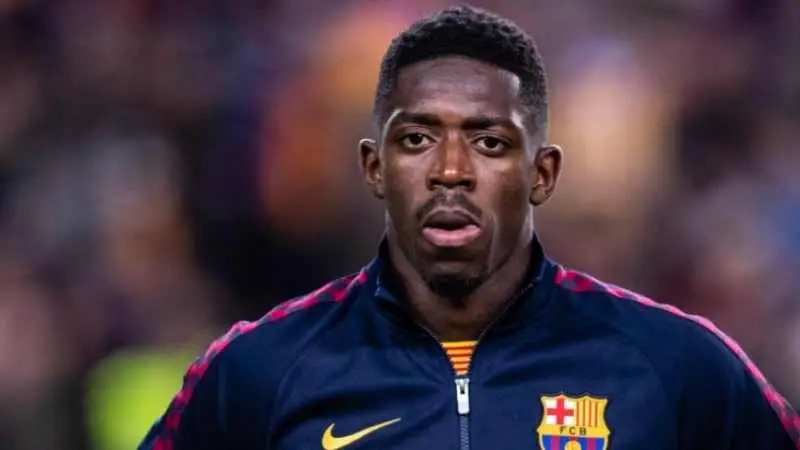 Looking at it from a fan's perspective, I find Dembele's whole situation very upsetting. He clearly has the talent and potential to be an incredible player. But over the course of the last 4 years, he hasn't been able to show it. Injury after injury has completely stunted his development and is now seen more for being a problem, than for his potential. With his ridiculous injury record and the fact that he only has 1 year left on his contract, are we ever going to see the Dortmund Dembele? Unfortunately, I'm not sure we ever will.
The curious case of Phillipe Coutinho: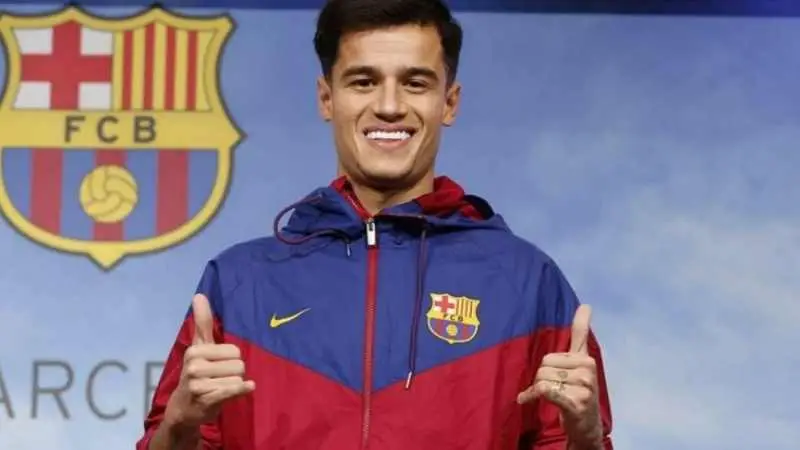 From the trials and tribulations of Ousmane Dembele, we now move onto the forgotten man: Phillipe Coutinho.
Much like Dembele, he came to the club for an astronomical transfer fee and with a lot of excitement surrounding his arrival. However, regardless of how good a player he was, there was always a feeling that there wasn't a vacant position for him in the team. And that has been a problem that has carried throughout his whole Barça career.
At Liverpool he would play as a number 8 or a number 10 in the majority of games. Towards the end of his Liverpool tenure however, he played on the left wing. The main confusion with his signing was the question of who he was coming in to replace? Was it Neymar or was it Iniesta? As it turns out, he hasn't been able to replace either. Coutinho is our most expensive signing of all time. However, for whatever reason he never proved why we spent all that money on him.
Did the price tag weigh too heavy on his shoulders? Has it been down to a lack of trust from the coach? Whatever it is, Coutinho has not worked out at Barça. To a point where a lot of us have even forgotten he's still at the club.
Exit from Anfield
As mentioned previously, Coutinho signed for Barça on a club record fee of approximately £142m deal. With a buyout clause the same as Ousmanne Dembele, set at just under £400m. He left Anfield in the January transfer window of 2018 and again, much like Dembele, he didn't make it go smoothly. Prior to the official transfer, Liverpool had already rejected three bids from Barça and even Coutinho's transfer request.
The penultimate bid from the club reached £118m, before Liverpool finally accepted Barca's final offer of £142m. Quite clearly, Liverpool were adamant to keep him, and were reluctant to let him go.
Current Liverpool boss Jurgen Klopp had this to say about Coutinho's departure, "It is with great reluctance that we- as a team and a club- prepare to say farewell to a good friend, a wonderful person and a fantastic player in Coutinho".
Phillipe was desperate to join Barcelona ever since we first went calling for him in the previous summer in 2017. After 3 failed bids and a rejected transfer request, Coutinho had gotten desperate. So to force his move away from Anfield, not only did he not turn up to
training. But he also flat out refused to play any more games for Liverpool. He believed that he'd already played his last game for the club, and didn't feature for Liverpool throughout the January transfer window. His actions eventually forced Liverpool's Hand and they allowed him to leave. Coutinho's behaviour had payed off and he had secured his dream move to FC Barcelona.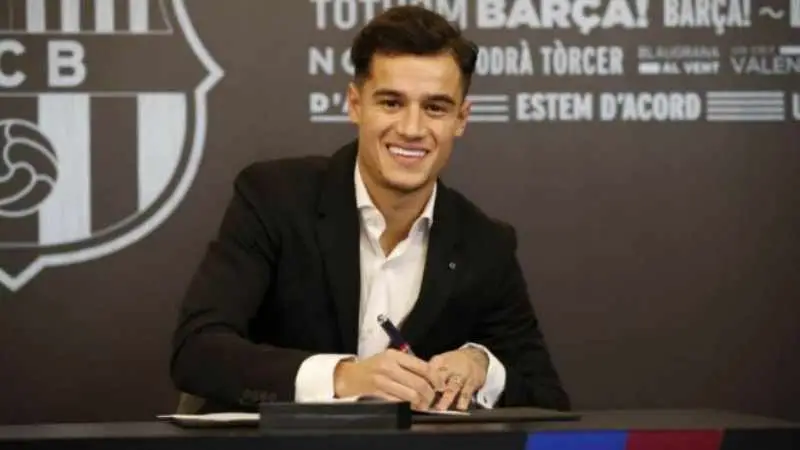 Were his actions worth it?
Considering all the effort he went to in order to force a move away from Liverpool, the question has to be asked, was it worth it? Speaking from a fan's point of view, I think it's clear that it wasn't.Throughout his Barça career he has made 89 appearances in all competitions. Scoring 24 goals and providing 13 assists in the process.
As a midfielder, those stats are quite reasonable. As a neutral, you might even look at those numbers and assume that his career at Barça has been a success. That right there is the problem. There's no doubting his quality; he's technically gifted and a very versatile midfielder. But considering we spent more than £142m on him, you would be expecting even better numbers on a much more consistent level. Much like Dembele, he hasn't been able to ever show us the quality he produced at Liverpool, and it doesn't feel like he ever will.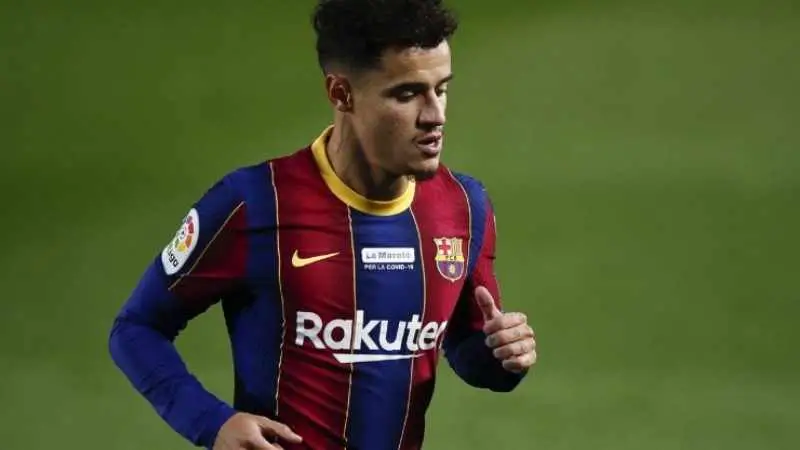 It can be argued that former Barça coach Ernesto Valverde didn't fully trust him. Under Valverde, he was continuously placed out on the left wing where he was ineffective. He was never able to play in a central midfield position and, of course, his favoured number 10 position was already occupied by Lionel Messi.
After a lackluster debut season at Barça, he was then shipped out on loan to Bayern Munich for a season. In Munich, his performances improved slightly, physically he was so much better and he looked like he was playing with more freedom. He ended his season long loan at Bayern with a treble and returned to Barça with new found excitement and motivation.
2020/21 season
He started the 2020/21 season off really well scoring or assisting in each of his first few games. Things were starting to look really exciting and he was able to establish himself as a starter in Koeman's team. It was in the first Clasico of the season however, where things started to go backwards. For the first time since the Valverde era, Koeman moved Coutinho over to the left side of midfield. It is a position in which he doesn't have an impact. From that point on, he was played in that position continuously and began to lose confidence in himself once again. In December 2020 he suffered a serious Meniscus Knee injury that kept on the sidelines ever since, completely freezing himself out of the squad. If I'm honest, it's quite easy to forget that Coutinho is still at Barça.
The disappointment
Similarly to Dembele, I find Coutinho's situation at the club very disappointing. We brought him in for big money and at the time I was very excited about him. I'd watched him at Liverpool for years and always felt he was a player who would fit in at Barça perfectly. However unfortunately, for whatever reason, his tenure at the club has never lit up.
It's such a shame because he is a fantastic player with so much talent. He's also a player that I've always wanted to see succeed at Barça. nd it's sad how his time has panned out. Is this just another example of the universe getting back at a player for forcing a move away from their former club. Or is it simply down to Coutinho arriving at the wrong time?
Good behaviour brings good rewards
To finish the article, I think it's best to compare the fortunes of players who arrived at the club in an amicable way. Instead of forcing themselves away from their former clubs. One of the best examples is Frenkie De Jong. In the winter transfer window of 2019, Barça signed the young Dutch maestro, Frenkie De jong from Ajax. For an initial fee of £65m plus £11m in variables. Although he was officially signed in January, he didn't become a Barça player until the the end of that season. Meaning that he spent the next 6 months at Ajax.
Frenkie was extremely excited to play for Barcelona. Like Dembele and Coutinho, and couldn't wait to put on the Blaugrana colours. However, he was also very loyal and respectful towards Ajax. He never stopped going to training, or refusing to play for them. He continued to perform exactly the same as he was before, finishing the season with an Eredivisie title, a KNVB cup and semi finalist spot in the Champions League. Frenkie is now an undisputed starter in Ronald Koeman's Barça team, and a key figure in the Dutch national team. Proving that good behaviour will bring you good rewards.