Barcelona – PSG announced itself as an exciting fixture. The 'Remontada' vibes rose over the Culé's heads, and the shame above French fans. Multiple questions: Would Barcelona finally win against a difficult opponent, or was another European humiliation loading? The question was hot, and even without fans allowed within the stadium, fans were nervous from their homes.
Barça found themselves intiating the first big build-up. Though it didn't result to a direct chance, the Catalans started well – as they usually do, and that's a good sign – it's in possession that Barça is the most dangerous. Expectations were that they'd dominate the ball, too.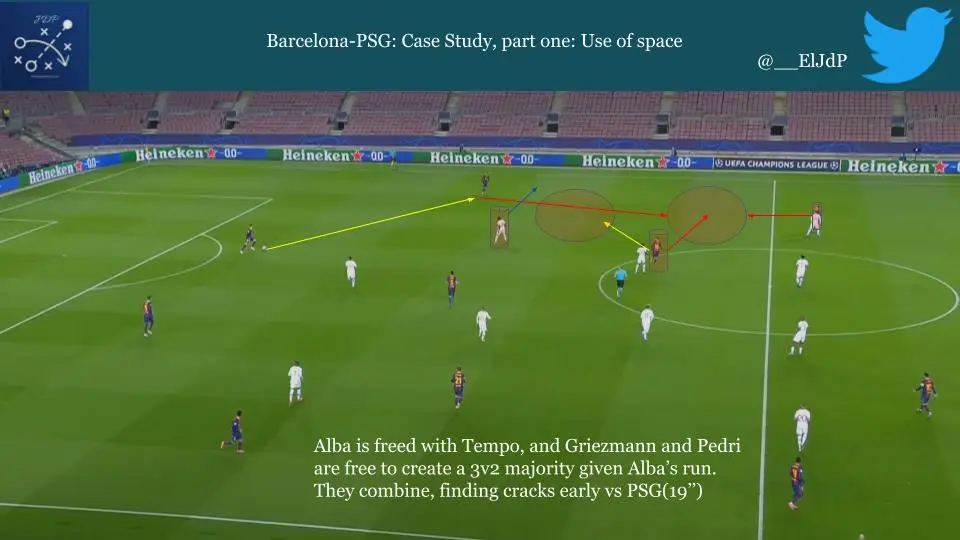 However, when it doesn't work out, Barcelona tend to look thinner and thinner. Griezmann grabbed a huge chance he failed to put in – exactly when it was the most needed. And then, the PSG offensive rolled out vs Barcelona. It seemed as Koeman had given more conservative orders – notably seen through Dembélé, attempting less 1v1's, and Dest, acting as third CB instead of running up the wing as he usually would in a more offensive role.
PSG Domintaing
The score at the end of the half-time might suggest there were equal chances – it was only one to one, after all. However, in-game play suggested fear for fans, but possibly from the team, too.
For non-Spanish speakers, Piqué yelled at the team in requesting to keep the ball for longer. At 40′, Griezmann told him to calm, and then, a few insults – that shouldn't be overblown, they aren't rare between footballers in moments of tensions like these. However, it is true that by the end of the first half, Barcelona had less possession than PSG with only 47% possession: A very low figure compared to usual standards. The problem is not only did Barcelona not see much of the ball, but it couldn't defend much either. Mbappé tormented through the first 45′ Dest on a consant basis – the American right-back seemed to be tasked with man-marking Kylian – with more or less difficulties. To add to that, the only Catalan goals was provided from the penalty spot. A rather worrying figure.
If the first half was terrible, the second was hell. It's true that Messi's ship didn't cruise throughout the first half, but it sunk as deep as the Titanic did a century ago.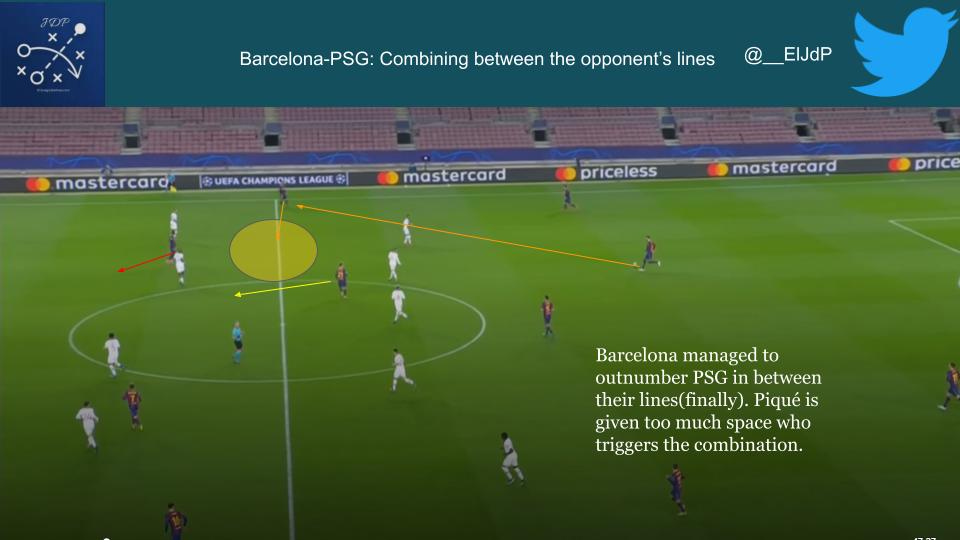 The beginning looked good, though. Barcelona took itself in its hands vs PSG, and it looked good. Well, for five minutes, at least. A common pattern Barcelona fans have witnessed on a weakly basis. Good start, failure of conversion, and then, a big mess. A mess that often translates into a goal, individual error(s) or not. Yesterday, that mess began from the beginning, and it lasted till the end. There were occasional breaks, gasps of hope, lapses of fives minutes. But that was about it.
The Second Goal of PSG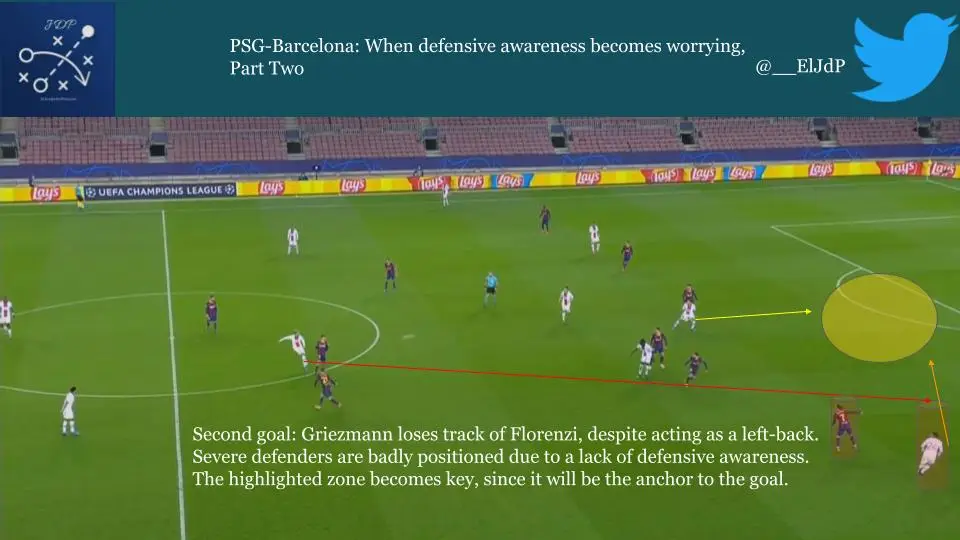 Florenzi's goal might seem to some as one-time occasion, but truth is to be told: It's not the first time. Not only in this match, but throughout the season. Barcelona's patterns of defending have an issue: By everyone rushing towards the centre, wings are left wide open. In PSG's case, Florenzi was allowed full freedom by Barcelona without any challenge on their right flank while Mbappé and Kurzawa danced freely in our right-flank. It may be argued that Barcelona played at times a six at the back, as Mr Honigstein points it out in the following Tweet.
Three at the back is nothing special. Six at the back, at Barcelona, is. And while Mr Honigstein's statement is inaccurate; We didn't play this on a constant basis – it's true that we had seen this pattern. Amongst all the problems, defending the wings was an imminent problem. Koeman decided to "solve" this problem by deploying Griezmann in deeper regions, sometimes even as a left-back. If it could work at the left – particularly because Kean doesn't tend to stay wide – it couldn't work on the right-wing. Two reasons: The first is because there's Mbappé and Kurzawa overlapping together, unlike Florenzi on the other flank. The other, more obvious reason, is that Dembele, unlike Griezmann, doesn't track back. His work rate isn't anywhere near. And that is why most of PSG's play was found to be on our right-wing.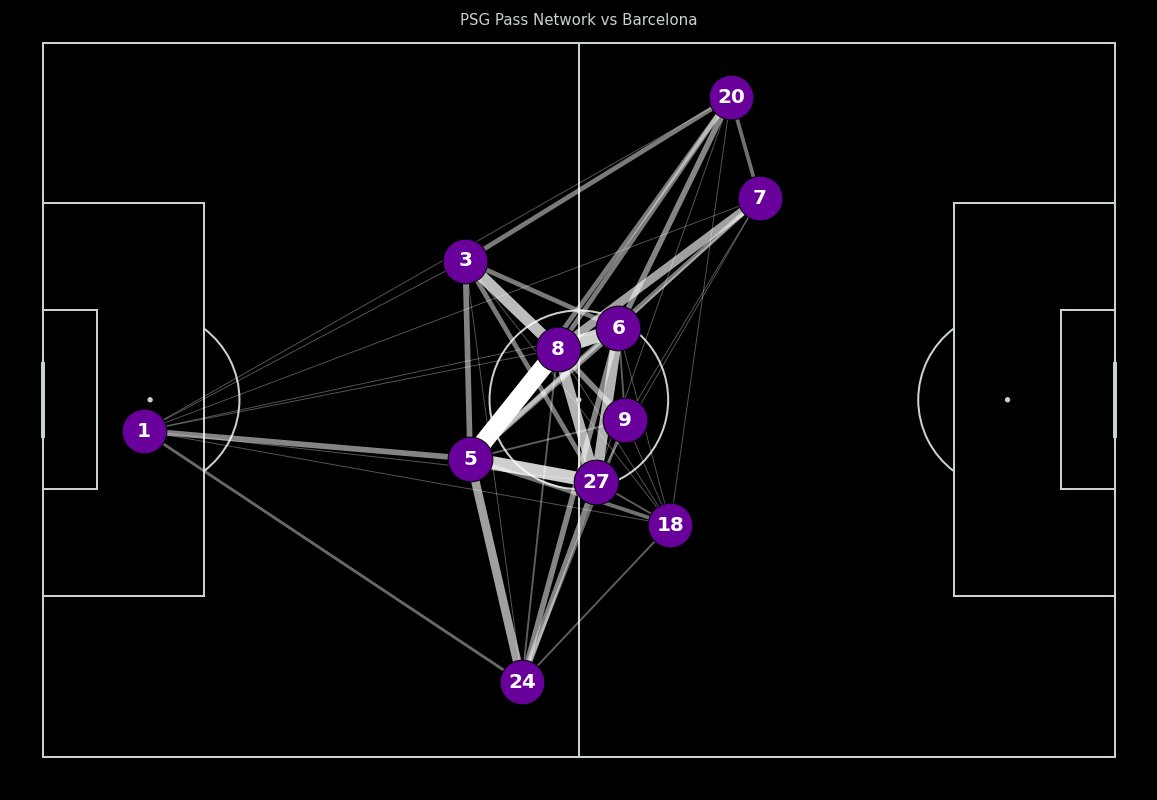 When culés thought that the Busquets-F.De Jong-Pedri trio had sorted the midfield issues, reality hit back. PSG's strength was in no way the midfield – Gueye and Paredes, in the Ligue 1, don't have the best reputation. However, they were enough to stop Barcelona through one man – Busquets. Limiting Busquets availability, both on time and space, Barcelona was forced in a U-shape as shown below.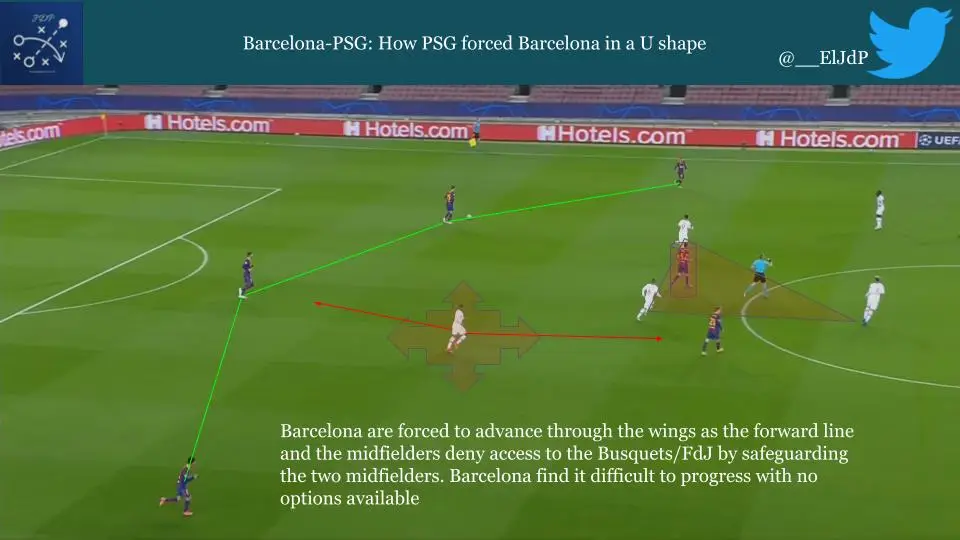 Barcelona failed to hold the ball
The hosts had no, or at least very little options. A U-shape brings nothing meaningful. What now? Some may ask why Busquets didn't drop deep in order to create a hypothetical 3v2 situation. The answer is that Barcelona wouldn't have any midfield either, hence why progression would be limited. Frenkie, in turn, would attempt to drop deep, but it rarely gave proper solutions to escape PSG's compact lines.
Barcelona had lost the battle of the midfield, and almost of the game. Instead, the hosts opted for senseless counter-attacks that would never work. Counter-attacks that led to ball losses. Ball losses that in turn led to counter-attacking opportunities for Paris Saint-Germain. And there was nothing Paris wanted more than counter-attacks. Paredes, composed, found on multiple occasion Mbappé and Florenzi in long balls, flying over Barça's weak pressing.
If this explains the tactical issues, mental issues come within. It's known, when Barcelona concedes, it's almost game over. Something some had forgotten following the comeback vs Granada. However, after the 2-1, it was over. There were little hopes for Barcelona – the only real change was MIngueza to bring stability, and that was it. In no world could Barcelona comeback. All there was to hope for was to not get another European humiliation.
Bottom line
Task failed. 3-1. 4-1. Finitio. The scoreline, heavy as it is, could be argued was even soft: PSG could have exploited the Achille's heel of Barcelona much deeper. The wound could have been worse, but it doesn't matter. The wound is opened wide in front of everyone's eyes in the Champions League. Because, the truth is that it's not a surprise. Roma. Anfield. Lisbon. Camp Nou. This time, it was at home. Without the fans. It becomes worse and worse. And Barcelona still has the obligation to visit Le Parc Des Princes in a few weeks to most probably get battered again – the arrogance is long gone for any 'Remontada' hopes. Farewell. Barcelona, if it hasn't understood it yet, needs a revamp. And a president.