After the game between Barça B and UE Olot was postponed last weekend, due to positive cases in Olot team. Barça B are back in action this weekend after a long break to continue their season to face a very strong AE Prat.
Barcelona B vs AE Prat
Stadium: Estadio Johan Cruyff
Time: 6PM CET
Date: Sunday (01-11)
Available on: BarcaTV
Previous meetings:
2019/2020 Season
AE Prat vs FC Barcelona B: 1-2
FC Barcelona B vs AE Prat: 2-2
AE Prat haven't been able to beat Barça B since 2016 managing to get only 2 points from 4 competitive matches (2D,2L).
AE Prat Player to watch: Sergio Montero (ST, LW) – Montero joined Prat this season on a free transfer and already managed to score 2 goals in 2 games. Scoring the winning goal against Cornella, in the match, which ended 1:0.
Barcelona B Predicted Line-Up: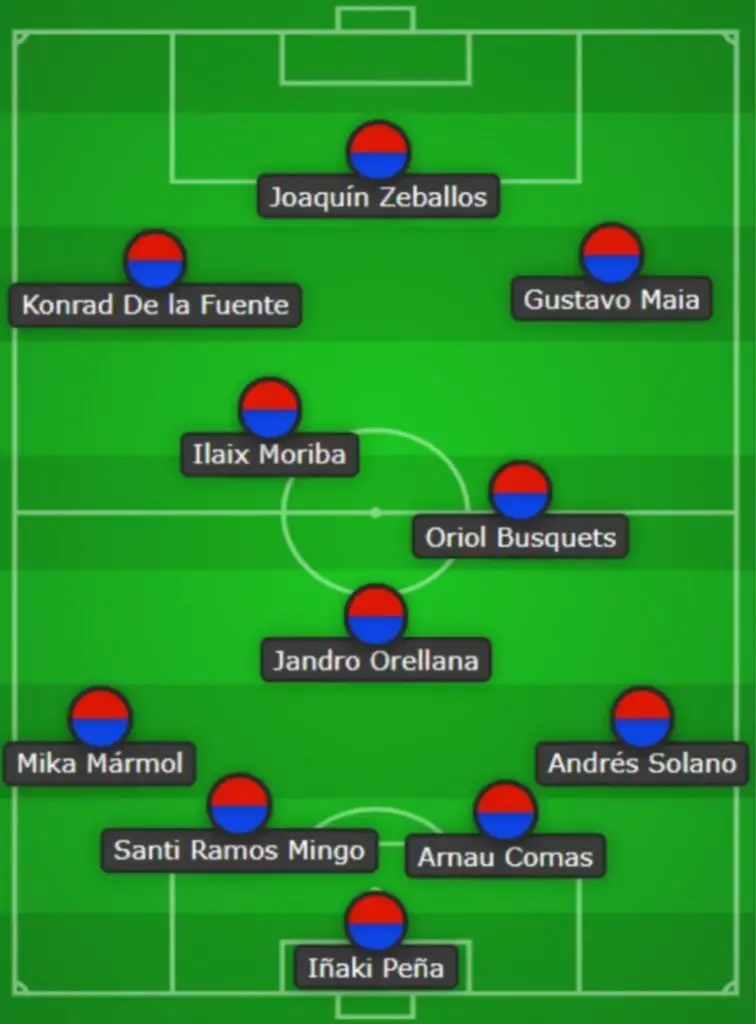 Defence:
Inaki has travelled with the first team to Vitoria to face Alaves as a back-up goalkeeper. However, He will be able to play against Prat if they manage to come back to Barcelona straight after the match. As they did against Getafe when the next day Inaki started in the game against Gimnastic.
While Oscar Mingueza is still out with an injury, we can expect Mika Marmol starting his first match in Segunda B, with Solano keeping his position after some solid performances. CB partnership expected to remain the same after they managed to keep a clean sheet in their last game, as well a Man of the Match performance from Arnau Comas not only for being extremely good defensively, but he was the player who scored their winning goal to get Barcelona B to a great start of the season with 3 points.
Midfield:
Jandro Orellana and Oriol Busquets are likely to keep their positions in Barcelona B midfield, with a more attacking midfielder ahead of them. Illaix Moriba would be the choice after he started last game, however, Lucas da Vega could be looking to start this game after some good moments after coming off the bench against Gimnastic. Matheus Pereira and Nico Gonzalez are also available for Pimienta.
Attack:
After a good performance in the first half from Konrad against Gimnastic. Hopefully will be starting the game despite travelling with the first team. Konrad will face Prat, the team against whom, he scored his first goal for Barça B last season.
Joaquín Zeballos and Gustavo Maia expected to keep their position in the starting line-up to show what they are capable with a few good moments in the previous matches. If they won't be performing this game they will be replaced by "Peque" and Hiroki Abe. A possibility of them starting is also an option, if Pimienta decides to experiment with his attacking options. Meanwhile, Nils is also waiting for his chance to prove himself.
Conclusions:
Prat are full of confidence coming into this game after beating Cornella and winning their first game of the season against a good opponent. However, Barcelona B had full two weeks to prepare and should be coming into the game full of energy. Barça B should start the game strong, as the first team to score will dictate, how the game will continue from that point. It will be a difficult and a close match for the youngsters and expecting a tight win by one goal this evening.
Match Prediction: 2-1
Goal Scorers: Joaquín Zeballos, Konrad De la Fuente