Fc Barcelona will play against the Hungarian Ferencváros TC on Tuesday night. This season's Champions League campaign will start with that match in the Camp Nou. It will be a special game for me and all the Hungarians. After many years, finally, a Hungarian team can participate in the Champions League again.
Football in Hungary
I would like to talk about how much this game means to us. First of all, In Hungary, football has a big culture, despite the fact that we are more successful in other sports. The government spends a lot of money on football. Thanks to that, the new Puskas arena will be one of the most popular stadiums for the biggest matches in Europe, as we could already see the Bayern Munich vs Sevilla Super Cup.
Not everybody agrees with spending so much money on this sport but despite that, there are lots of fans of it. Ferencváros is probably the most popular club in Hungary and like in any other league, there are serious rivalries with the other teams, like Mol Fehérvár Fc or Újpest FC. However, not every football fan likes to watch the Hungarian league. I am one of these people.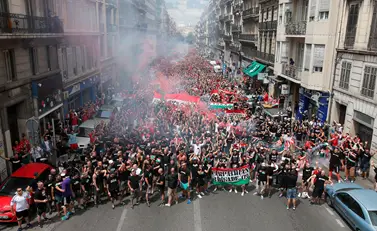 because I love football but I never watch the local league. There are a lot of Laliga and any other big-league fans, in Hungary. For example, El Clasico is always a big event for us. Lots of people watch it and cheer for their club. There are fan clubs who gather and watch their favorite team together.
For me, the best football moment was when the Hungarian national team made it to the 2016 Euro Cup. It was an unforgettable few weeks. There were huge crowds on the streets and almost everyone was in Hungarian colors. There were big TV's everywhere you go so you couldn't miss the matches. It was truly one of the most beautiful moments for us football fans.
Fc Barcelona and Hungary
Hungary's and Barcelona's connection is deeper than most people think. Firstly, I want to talk about the Hungarian players who played for the club:
Berkessy Elemér (1934-1936)
Czibor Zoltán (1958-1961)
Kubala László (1951-1961)
Kocsis Sándor (1958-1966)
Nyers istván (1956-1957)
Plattkó Ferenc (1923-1930)
Simatoc Miklós (1950-1952)
Simatoc Miklós (1950-1952)
The most famous of them is no doubt that Laszló Kubala. He is one of the best players in the club's history. Kubala played for the team between 1950-61. He scored 281 goals in 357 matches. He is an iconic figure if we are talking about Fc Barcelona in general.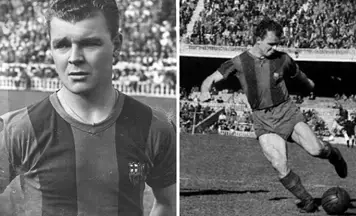 There are lots of Hungarian Barça fans, more than you think. There is also a Barça Academy in Budapest. A few years ago, formed a society called Penya Blaugrana Budapest. This movement is for supporters who live outside of the country but still want to feel connected. 
Last but not least, I'm looking forward to the match, and I hope it will be a good one with great moments. As a Hungarian, it will be special for me, no doubt.