As we're getting ready for the match against Bayern, news updates keep coming. Therefore, let's see what are the latest updates on some of the hottest topics right now: Is Messi fit for Bayern? Will Dembele get the medical green light? Sujoy is here with this news update:
---
Getting ready for Bayern
Martin Braithwaite will travel to Lisbon. In the event that several players get positives to covid-19 in the squad, UEFA protocol would allow him to be registered in the Champions League and can play as per @fansjavimiguel@diarioas.
Barça will travel to Portugal in Thursday and will train on afternoon as per @moillorens.
Messi and Dembele trained with the team
Lionel trained this Tuesday with his teammates after the blow he received in the left ankle against Napoli. After 48 hours of rest for the hematoma to go down, Leo reappeared with protection in the affected area per @fansjavimiguel.
Everything indicates that between this Wednesday or Thursday, Dembele will receive medical discharge. Therefore, the only player totally ruled out to travel to Lisbon -apart from Arthur- is defender Samuel Umtiti.
Dembele – a target for Manchester United?
Manchester United will continue to pursue a deal for Borussia Dortmund winger Jadon Sancho. But meabwhile they sounded out Barça's Ousmane Dembele as a possible alternative, sources have told @JamesOlley of @espn.
Barça are open to listen to offers for Ousmane Dembélé. It is understood that informal discussions over an initial season-long loan with an obligation to buy were discussed. ut no official approach has been made as of yet.
Update on Eric Garcia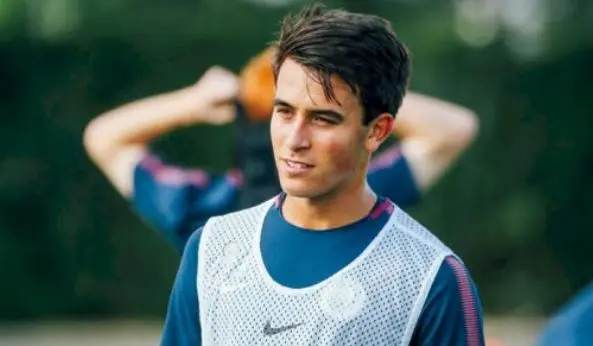 Barcelona will try to re-sign Eric Garcia this summer but sources have told reliable @moillorens and @samuelmarsden of @espn that Barça are unlikely to pay in excess of €15 million for a player who is out of contract next summer.
Barça have not yet made contact with City about Éric Garcia. They only plan to do so once the Champions League, which both teams are still involved in, reaches its conclusion.
While Barca value Eric García Garcia at around €15m, sources told @moillorens and @samuelmarsden of @espn Man City feel he is worth €30m despite the fact he could walk away for free in 2021.
Another source at Barça told @moillorens and @samuelmarsden of @espn that they do not expect City to make it easy for them. They described the relationship between the two clubs as "cordial but not excellent". Moreover, they highlighted a number of past incidents.
Therefore, if Barça can't agree a fee with City this summer, Barca will have to wait until January. Then they can sign a precontract agreement with Eric Garcia. At that time he moves into the final six months of his deal