There will be a lot of changes in the Barcelona locker room this summer, and that's for sure. However, one of the position in the toughest situation right now is the Barcelona Center Back position. Although Pique and Lenglet will probably stay, there will be changes there.
Barça awaits a response from Manchester City for Eric Garcia. Barça has made an offer of €10m to ManCity for Eric García. At Barça, they have offers for Todibo but they have not yet agreed on a decision with Koeman per @ffpolo and @gbsans. However, Barça have the 'ok' of Eric García which is vital.
Meanwhile, Gerard Piqué is not on Barça's outgoing list. In principle, Barça have him. Koeman must speak with Piqué to find out what Pique thinks. In the coming days Barça will contact with the players who will not enter into the future plans as per @SiqueRodriguez.
Yes. Getting get rid of finished player is fine. But getting rid of a player whom you didn't find a replacement is very dangerous. Pique should stay (I expect his announcement of retirement, as he already said he would be the first one to leave). Eric García though is option.
Pique is very different. He is a very different character. He may even retire. And He has now become a very easy target. If you want to get rid of Pique? Then buy Koulibaly or Upamecano. Garcia is a player for development and future but not for guaranteed success.
As we said in the past, Eric Garcia is crazy to come to Barca. He thinks, there is his family , he knows that Pique is getting old,Pep won't stay in City for long. Barca do not have money to pay for his last year of contract. He is number 1 in the list, Pau 2nd per @EsportsRAC1.
Umtiti and Todibo to leave?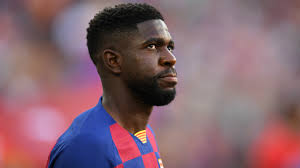 Umtiti has contract until 2023 with a release clause of 500 million.  He's not a part of Koeman's lans. Another of Bartomeu's big mistakes, who wanted to renew him at any cost even though he knew he was injured in his left knee. He will probably leave this summer, even if it's for free.
Jean-Clair Todibo is in Barcelona with offers but without rush. He waits for his future to be resolved. Sources of Barça say that His departure will not be immediate as per @mundodeportivo