We all are aware of Barça's pursuit of Lautaro Martinez who is deemed as the possible replacement for Luis Suarez. His price tag is a whopping 111 Millions. But should he really be the priority of FC Barcelona this summer? The answer is simple words- NO ! Here are a few points to back it up.
IF SUAREZ IS 33, PIQUE IS ALSO 33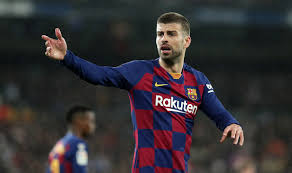 Gerard Pique has been at the heart of Barça's defence since 2008 and has appeared in 549 matches thus far. But he'll be 34 next yr and has certainly started to decline. El Presidente needs a proper replacement. Yet nobody cares about.
2. DEFENSIVE VULNERABILITY
In the treble winning 2014/15 season Barça conceded just 21 league goals. The number was 29 during 2017/18 and 36 during 2018/19. Whereas we've already conceded 31 goals this season with 10 matches left. The defence has degraded over the years.
3. UNDERPERFORMING FULLBACKS
The Fullbacks are very necessary in our system. Jordi Alba (31) has been pretty good over the years but he has struggled with injuries recently. Semedo, on the other hand, has just 1 Goal and 4 Assists in 104 apps4 which simply isn't good enough.
4. UMTITI STRUGGLING
Samuel Umtiti was excellent in his first 2 seasons making 67 solid apps. But in the last two seasons he has been thwarted by persistent knee injuries managing just 29 apps during the span. Will he ever be able to regain his former shape and fitness!
5. ENOUGH FORWARD OPTIONS
Barça already have Suarez, Griezmann and Braithwaite who can play as Centre Forwards. Even Messi can act as a False 9. Then why do we even need to sign another big money marquee forward when we cannot fit our current players into one team. Furthermore, making it the priority signing of FC Barcelona is ridiculous!
6. LACK OF WINGERS
Even after possessing so many central players, Barça lack proper wingers who could exploit the width. Dembele is too unreliable where as Ansu Fati is too young and Trincão is yet to kick a ball in a Blaugrana kit. This area certainly needs investment.
7. LIMITED FUNDS TO SPEND
As a result of the Coronavirus Pandemic, all clubs including Barcelona have suffered massive losses and have a limited amount of money to spend which has to be used wisely. We simply cannot stockpile one area and leave glaring holes in others.