Yesterday we realized that the player with the biggest hype in La Masia, Xavi Simons, will not renew his contract with Barça. Otherwise, Xavi Simons signed for PSG. However, despite the big hype around the 16 years old midfielder from Netherlands, people seem to be ok with it. Why is that?
16-year-old Xavi Simons was about to advace to Barcelona's 'Juvenil' years. Therefore, the club offered him his first professional contract. There is talk of an annual salary of 100 thousand euros in the first year of under-17, a value that would increase yearly.
Although he has the nationality of Cruyff, the hair of Puyol(or Valderama) and the name Xavi, the hype around him is huge. Moreover, for the last two years his agent is Mino Raiola, and Raiola's players never become 'one club players'.
And in the last season Simons lost his place in the starting lineup. However, after the team's captain injured himself, he restored his place in the starting lineup.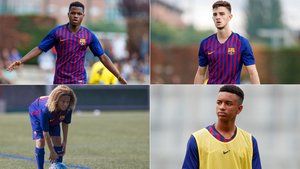 Time will tell if the loss of Xavi Simons is dramatic or not. In that case the club did offer him a a contract, and he decided to reject the offer. Therefore, the club decided to bet on Ilaix and Ansu Fati as the club's wonderkids. They also finished their contract last season, and already renewed.
With 1.6 million followers at his age, Xavi Simons is a reference for many kids. Therefore, kids who copy it might at some point will find it normal to drop a sports project and look only at dollar signs. To compromise with these businesses is to kill football.
I would like to wish Simons good luck in his future. However, it's sad to see the path that he chose. Not long ago people saw him as the "Xavi" of the future "coach Xavi" era. However, it seems like his decisions are not those of a future club icon.