[ad_1]
The two of the top teams in LaLiga face each other when Barcelona travels to the Estadio Santiago Bernabeu to take on defending champions Real Madrid. Both teams are unbeaten this season and are tied on points at the top of the table. This is a key match in the race for the 2022/23 season. Xavi eyes his first trophy as Barcelona's manager, and his team will look to get at least a point from this game. Real Madrid have found ways to earn points and won't allow their rivals to earn points in this game.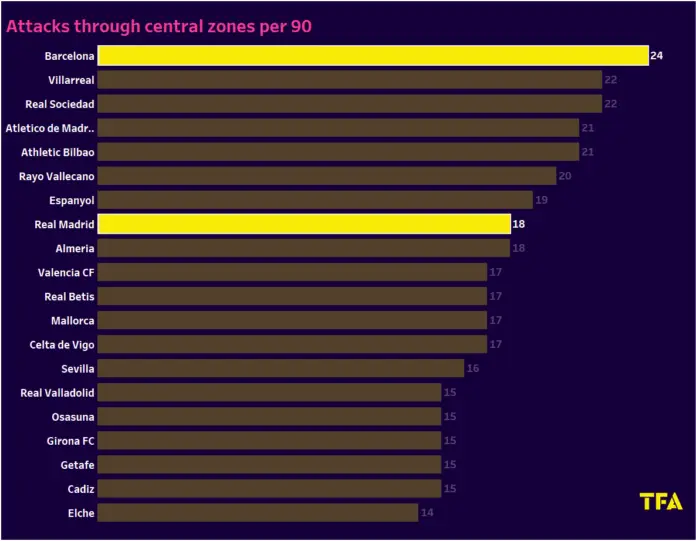 Real Madrid have won seven and drawn one match this season. Carlo Ancelotti's men have scored 19 goals and average 2.13 xG per match. Their defence is a bit leaky and has conceded seven goals.
Barcelona have the best attacking and defensive record in the league this season. They have scored 20 goals and only conceded a single goal. Barcelona averages 2.6 xG per match.
We now look at some of the stats that could predict the outcome of the match.
Barcelona's attacking zones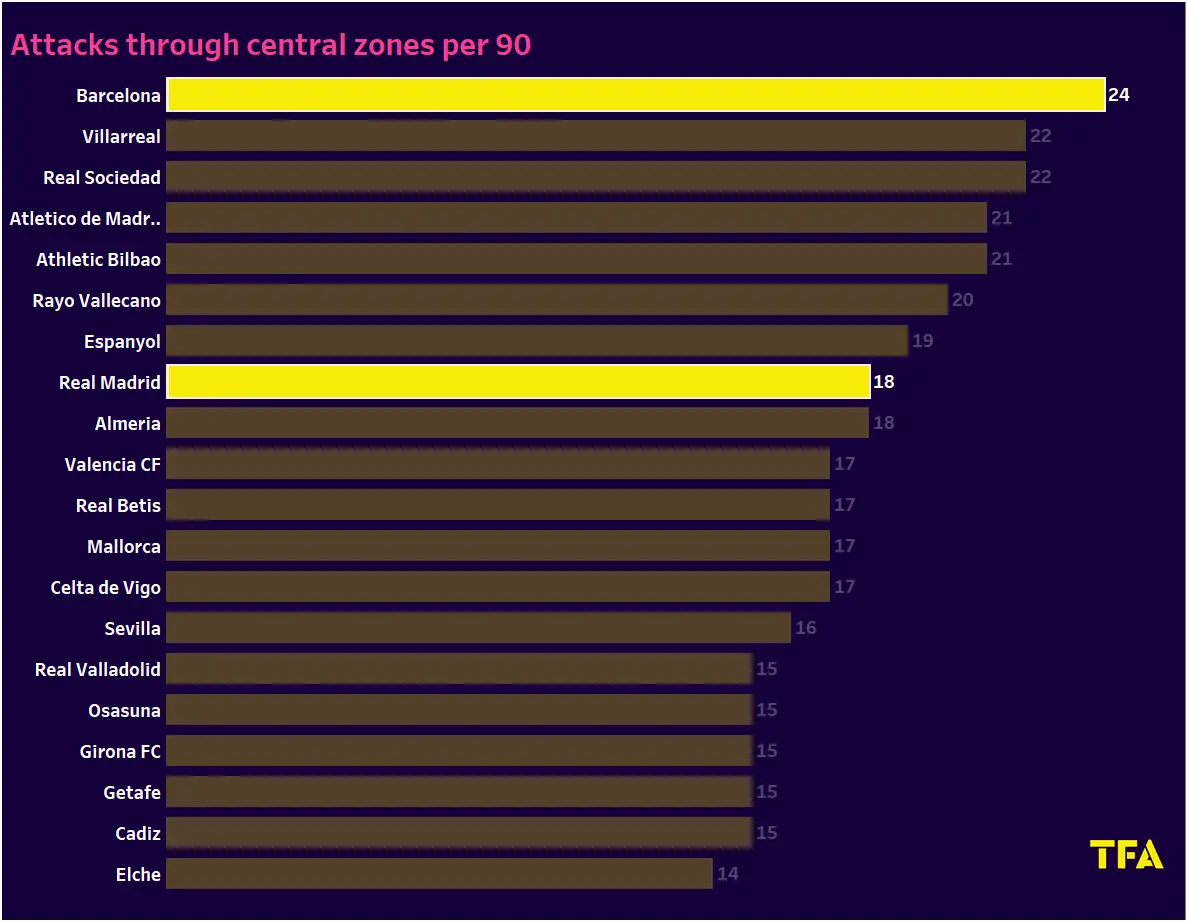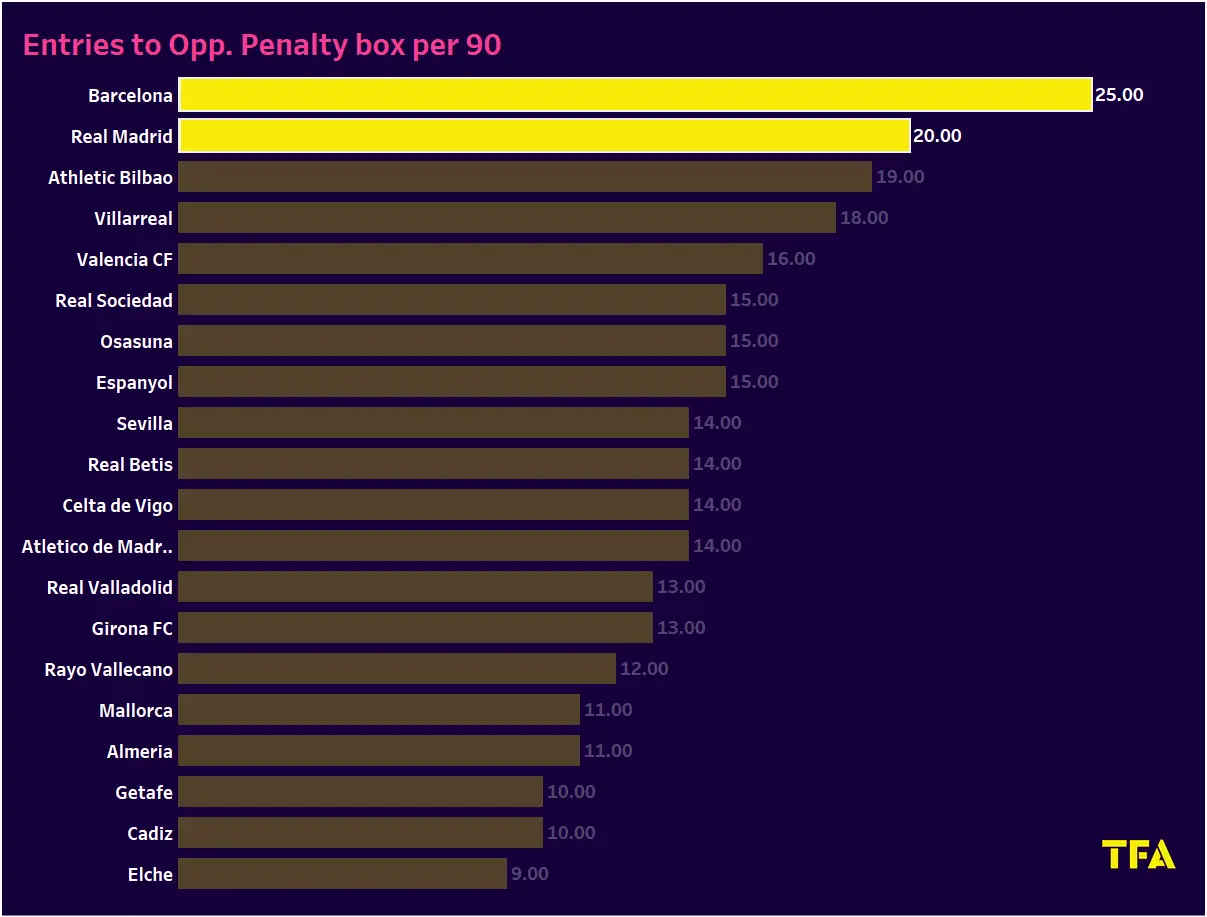 Barcelona have an average of 37.6 positional attacks per match and they attempt 16.75 shots with an accuracy rate of 40.3%. The above-benchmarking shows that Barcelona have created the most number of attacks from the centre in the league. Their wingers can also create threats and this could cause trouble to Real Madrid's defence. Real Madrid averages 35.5 positional attacks and 18.6 shots with a 33.5% shot accuracy rate.
Threat on counterattacks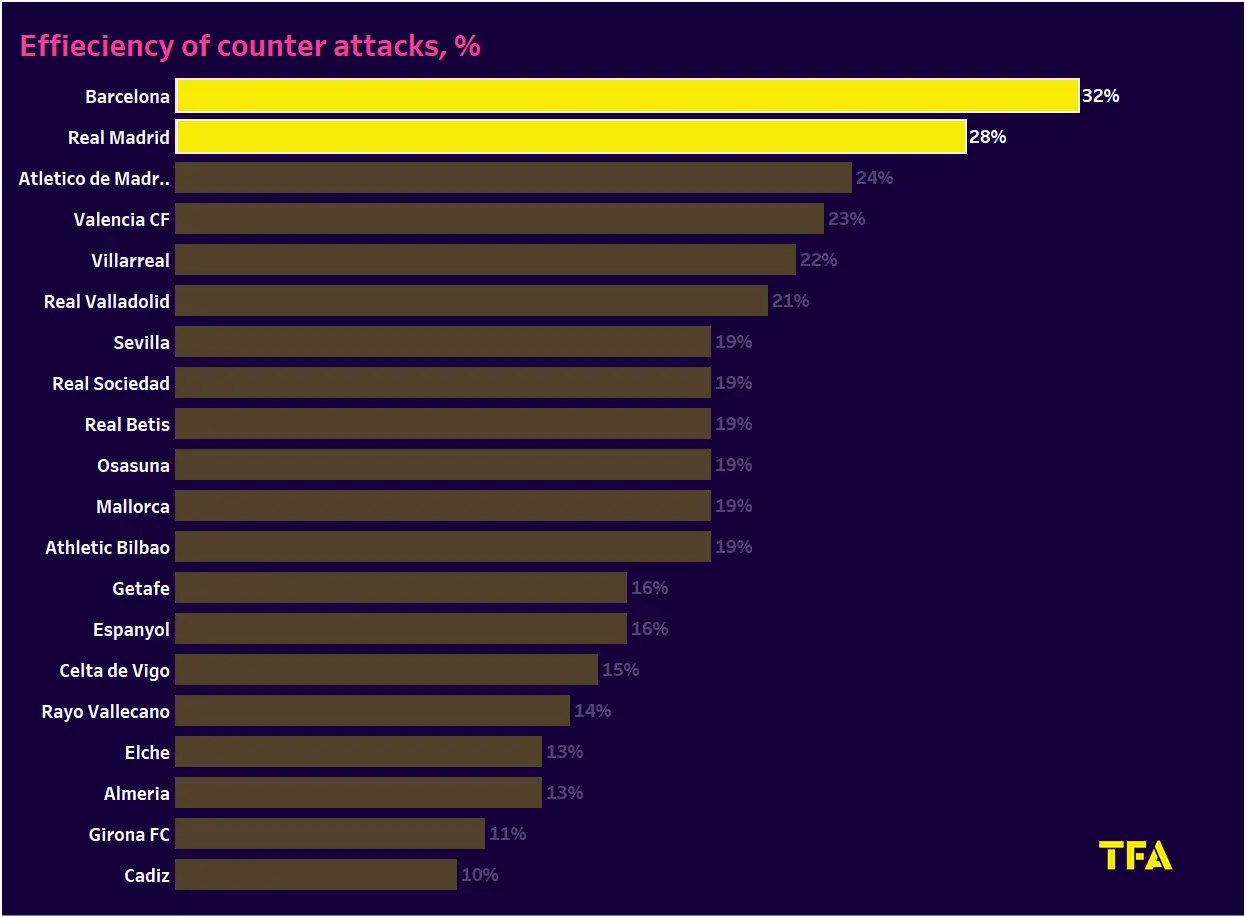 Barcelona and Real Madrid may prefer to build their plays from the back, but they also pose the greatest threat on counterattacks. Barcelona averages two counterattacks per match, but Real Madrid have a comparatively high average of four counterattacks per match. These teams will look to hit each other on the break.
The best defence in the league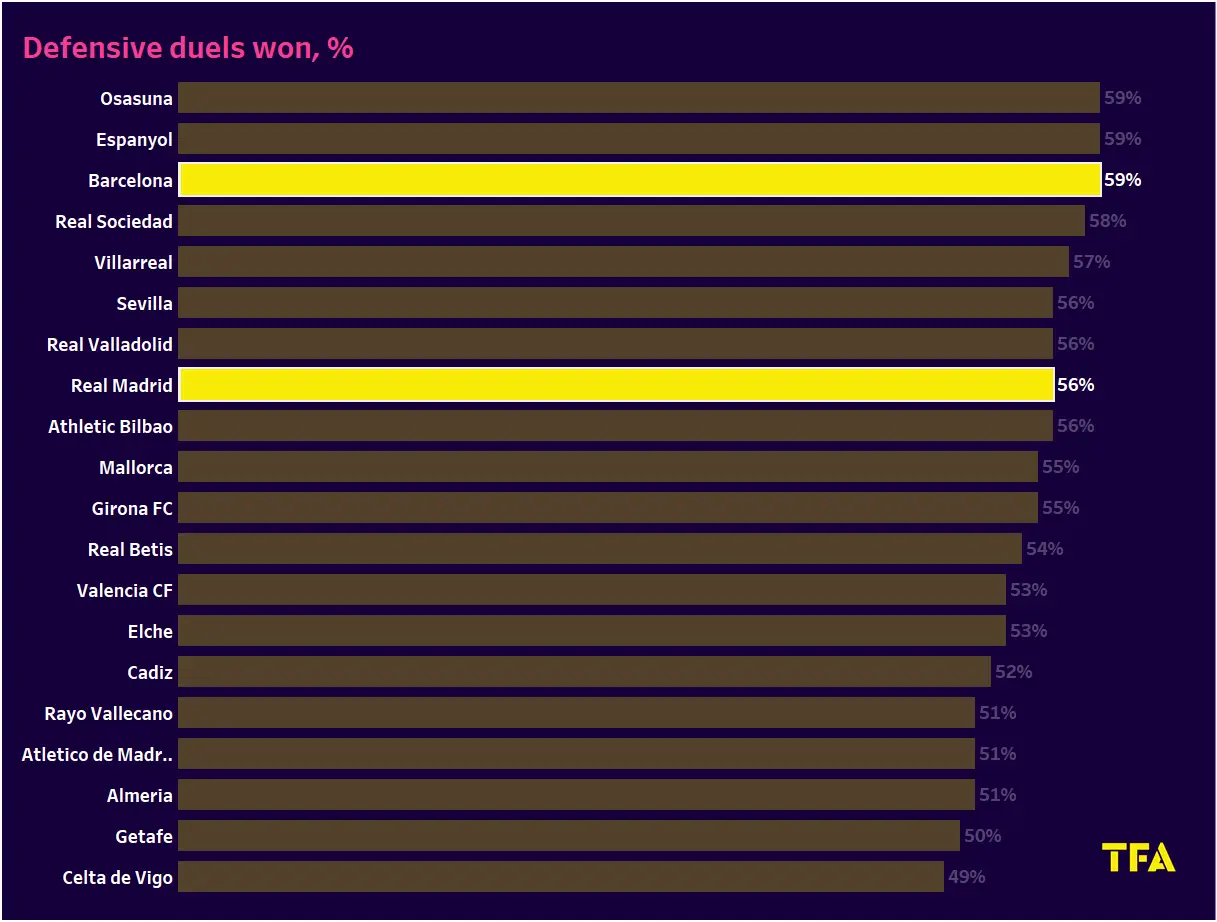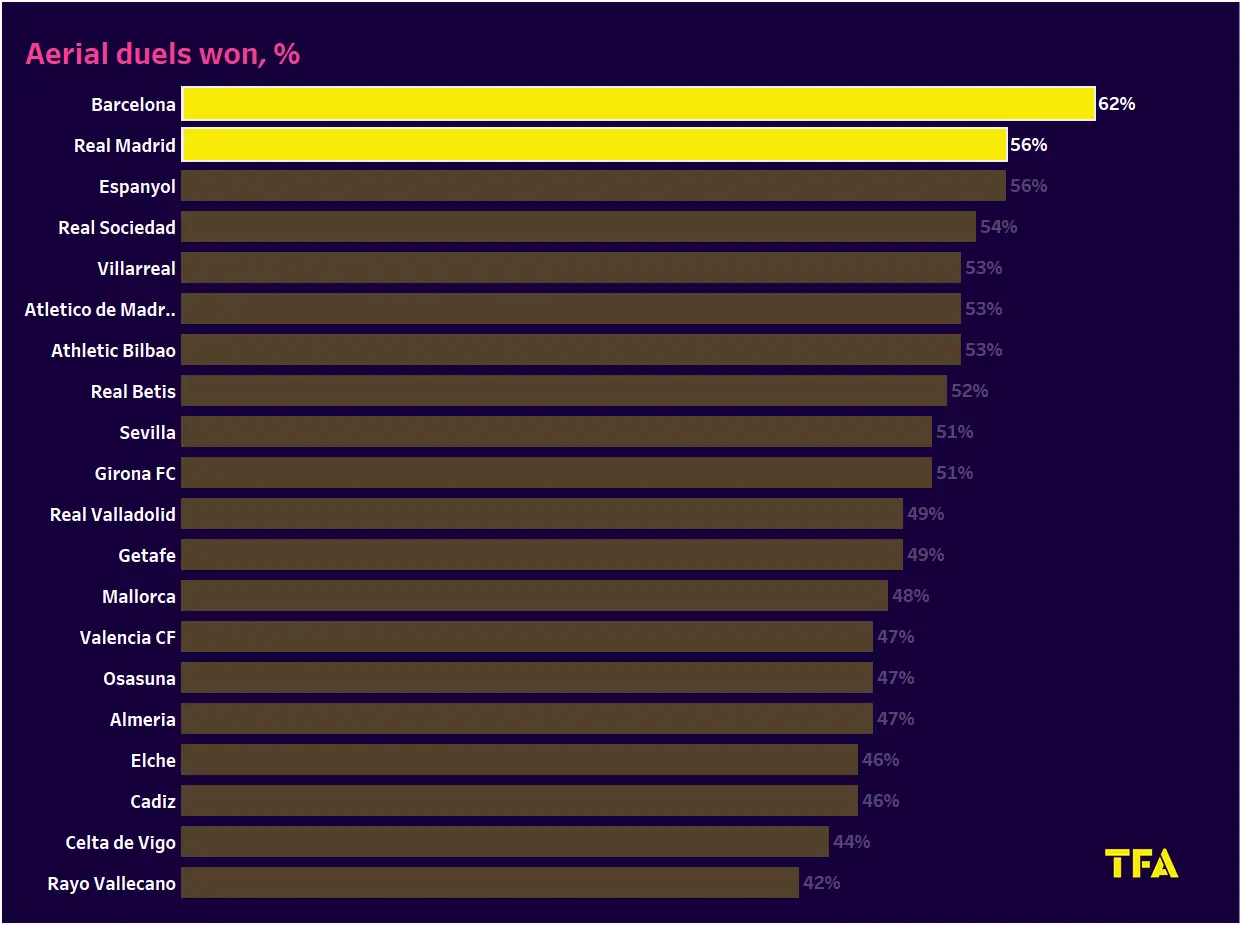 Barcelona have the best defence in the league and have only conceded one goal. They have kept seven clean sheets this season. The defence has a high defensive, as well as aerial duels, win percentage. However, some of the players responsible for keeping this record are out injured, and the remaining players have to play at their best to stop Real Madrid from scoring goals.
Key players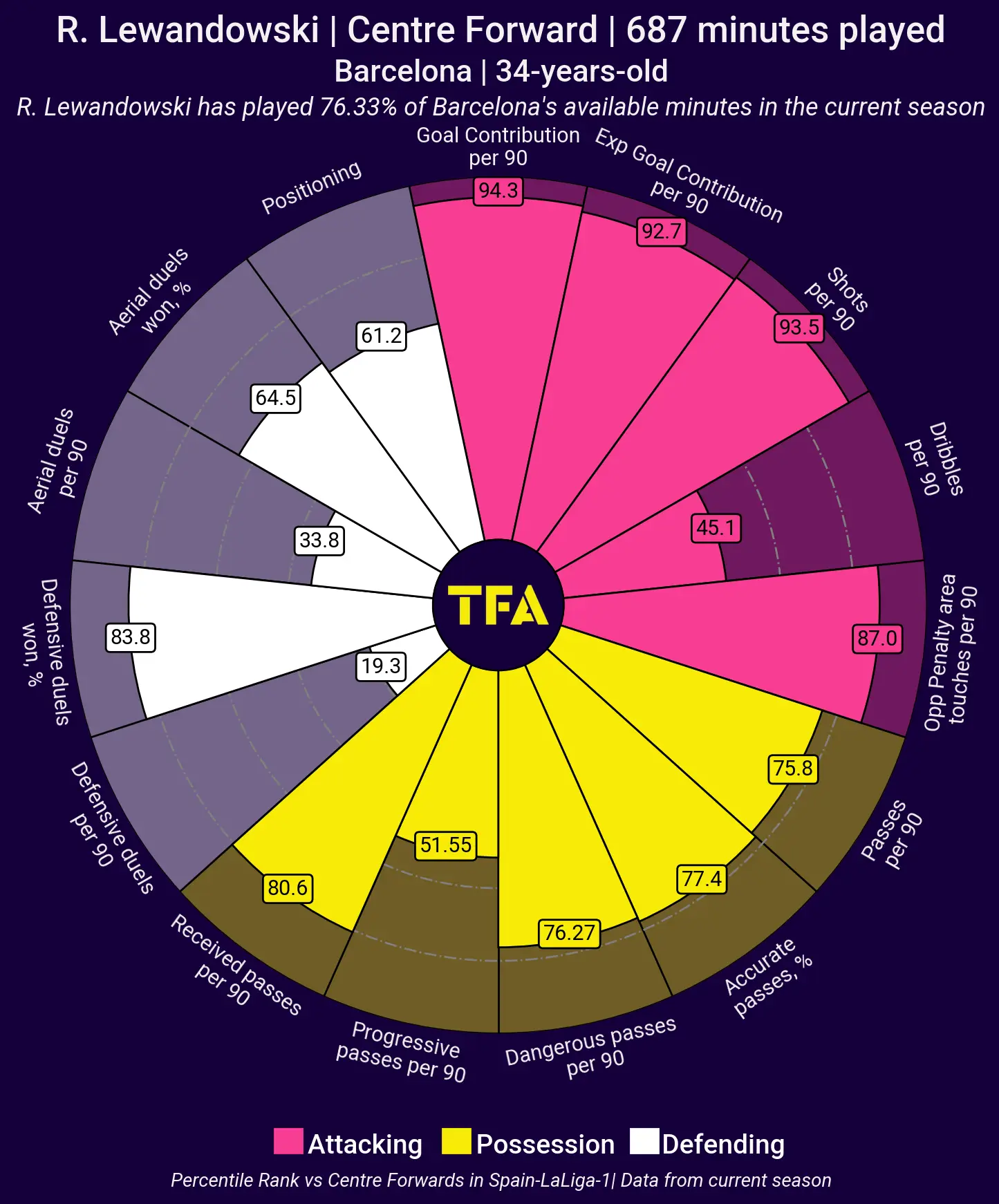 The game will feature two of the best strikers in the world. Robert Lewandowski is enjoying his time at Barcelona and has nine goals in eight LaLiga matches. The above viz shows the percentile rank in comparison to the other strikers in the league. The Polish international is highly ranked for shots, xG, touches inside the opposition penalty box and goal contributions per 90 minutes. He also has two assists to his name, and this shows that Lewandowski can also link plays with his teammates. Robert Lewandowski will play a key role in this match and look to score a goal in his first El Classico.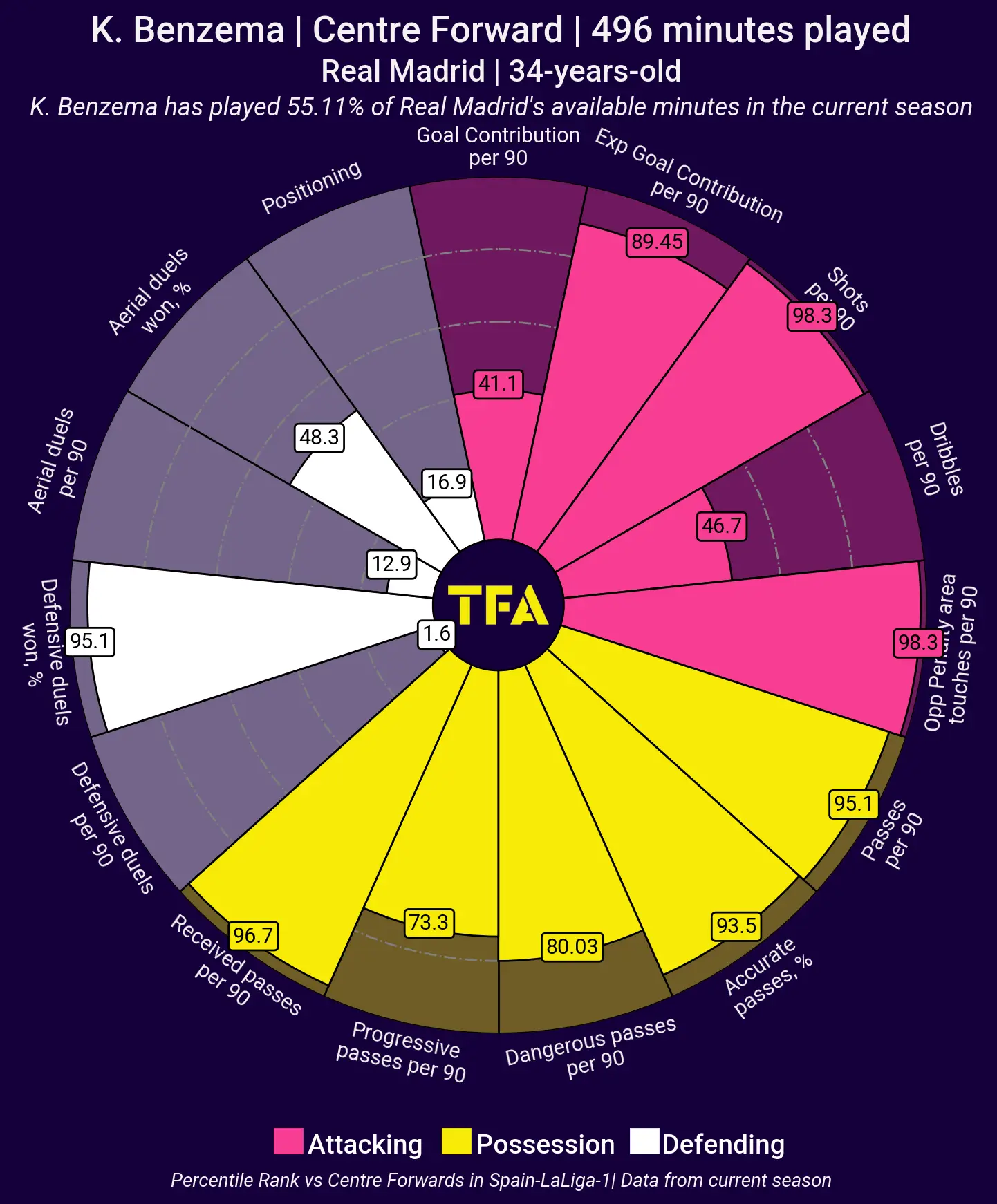 Karim Benzema has yet to fire this season, but he still has three goals in five league games. The Frenchman sustained injuries and that has disturbed the rhythm of the striker. Benzema is also highly ranked for taking shots and touches inside the opposition penalty box. He has better link-up play and will be the main threat towards Barcelona's goal.
Team news
Antonio Rudiger has returned to training after recovering from a head injury he sustained against Shakhtar Donetsk. Thibaut Courtois has also returned to training, but his inclusion in the starting 11 still remains in doubt. Dani Ceballos is still out with an injury.
Barcelona have a few injury concerns in their backline and will be without Andreas Christensen and Hector Bellerin. Ronald Araujo is a long-term absentee, and Memphis Depay is also out with an injury. Jules Kounde has returned to training and might get some minutes in this match.
The match promises to bring a lot of excitement as two of the biggest clubs in the world face each other in LaLiga. A win for either side could help them build momentum going into the season.
Visuals via TFA data viz engine
[ad_2]