[ad_1]
Barcelona will look to extend their unbeaten streak in LaLiga to four games when they travel to Sevilla. Xavi's men have started to find their momentum in the league and are looking for their third consecutive win. Sevilla, on the other hand, have just earned one point in three games, and they will look for points in this game.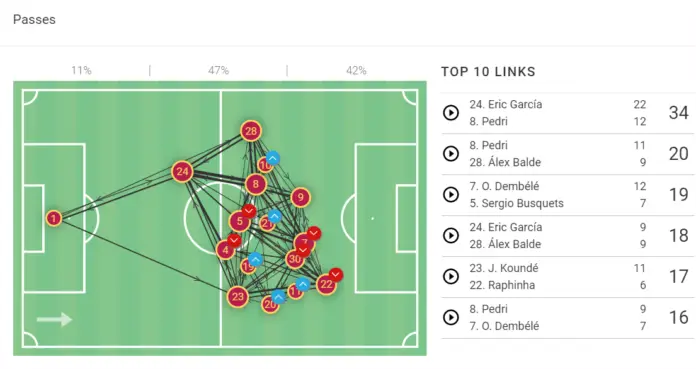 Sevilla have had a poor start to the season as they have lost two matches and drawn the other. They have scored three goals with an average xG rate of 1.33 and conceded five in return with an xGA rate of 1.29. They have kept around 62% of the ball in these games but have failed to convert most of their chances.
Barcelona played a disappointing goalless draw in their first match of the season. This result was followed by back-to-back wins for Xavi's men. They have scored eight goals this season with an xG rate of 2.6. Their defence has only conceded one goal, with a low xGA rate of 0.62.
We take a look at three tactical points that could shape the outcome of this match.
Barcelona's creativity from the centre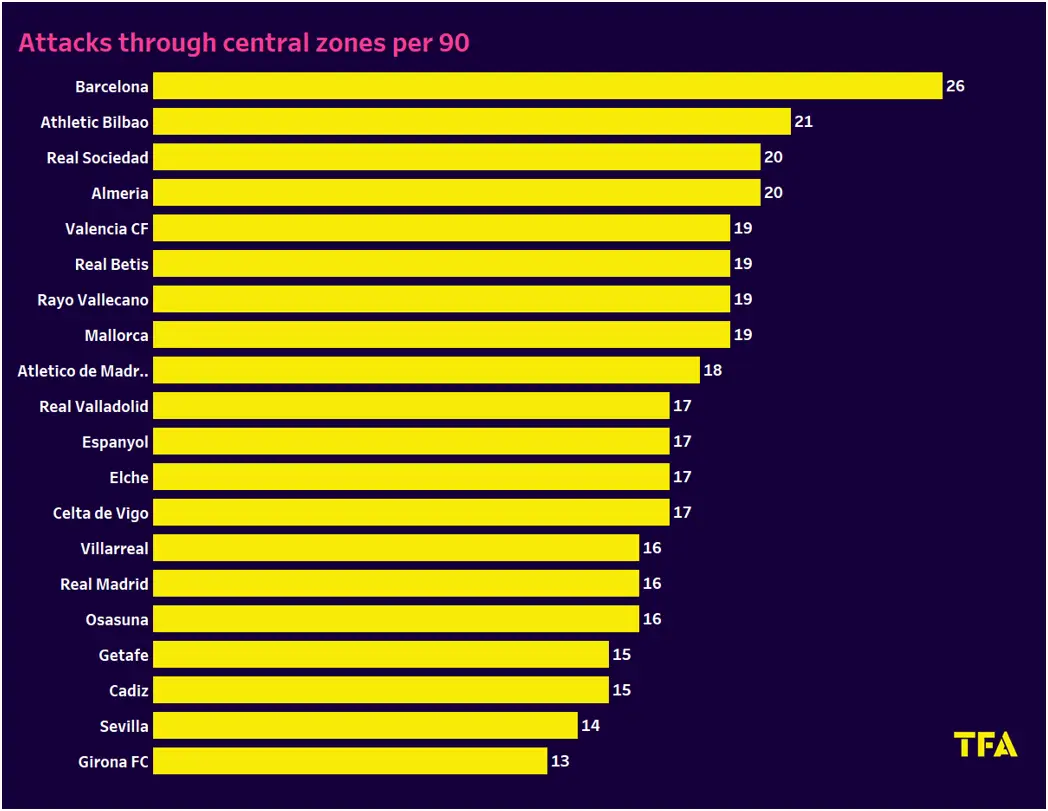 Barcelona average 36.67 positional attacks per match and attempt 11 shots from these attacks. Overall, the team averages 17.7 shots per match with a 39.6% shot accuracy rate. The benchmarking in the above viz shows that Barcelona create the highest number of attacks from central zones than any other team in the league. They are way past the other teams, and this shows their midfield strength. They will once again try to break Sevilla from the centre.
Recoveries in crucial areas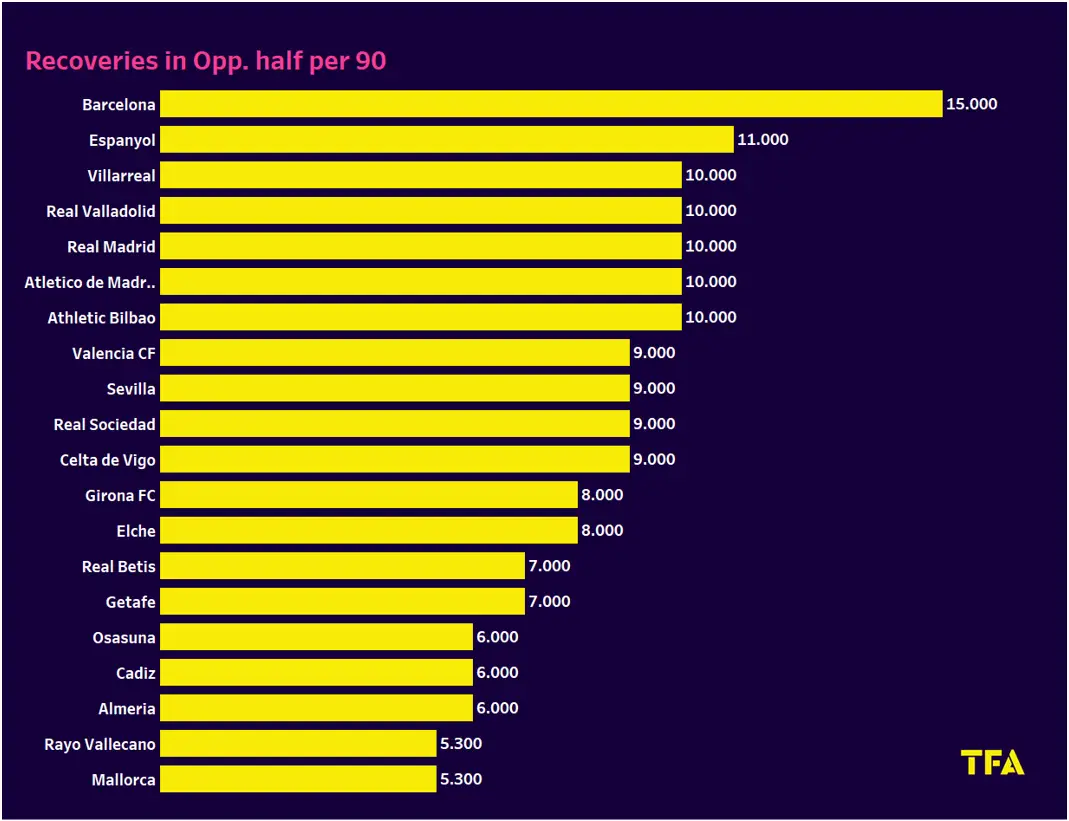 Barcelona have been an attacking side mainly due to their players' ability to recover the ball in crucial areas. They average 75.33 recoveries per match and are rated at the top for making recoveries inside the opposition's half per 90 minutes. This allows them to keep the momentum in the attack, and these recoveries could also lead to a goal.
Sevilla attacking zones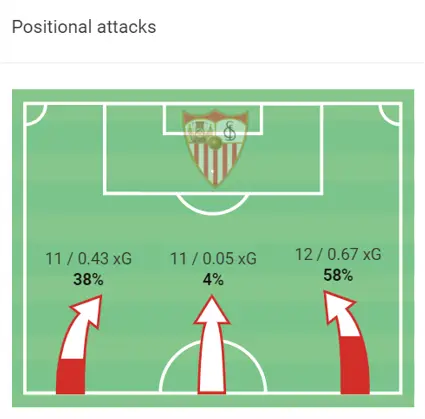 Sevilla might have struggled to score goals and win games, but they have created chances during the matches. The home team averages 30.33 attacks and 11.33 shots per match with an accuracy rate of 32.4%. In the last match, they created an equal number of attacks from each side. In their second match, Sevilla created most of the chances from the flanks. They will once again target Barcelona's full-backs in the match.
Team news
Marcus Acuña will be back in the left-back position after serving his suspension. There could be a few changes in the side to strengthen their midfield.
Andreas Christensen will return to the backline for Barcelona after recovering from illness. Jules Kounde is likely to feature as a right-back against his former club. Xavi is unlikely to disturb the rhythm of the team and will go with the same set of players in the attack and the midfield.
Barcelona are the in-form team and will be the favourites to win this match. However, it won't be easy to beat Sevilla at home. They have been one of the best teams in Spain in recent years and have quality players in their team who could win them a match against the big teams. Barcelona aim to stay in touch with Real Madrid and will go for a win.
Visuals via Wyscout
[ad_2]