Street football. As a boy, Cruyff already loved it. According to mother Nel, his life revolved around only one thing. 'If you wanted to give him a gift, he would always ask for a ball. I often thought he was doing his homework, but then he would have quietly sneaked out and was kicking a wall with a tennis ball.' Although he wasn't exactly the best student, she was barely worried about her youngest son. 'If he had disappeared from home, I knew he could always be found on the sports field.'
The youngster from Amsterdam cut, turned, trotted. Over sand, grass, gravel, crooked stones. Chasing the ball.
---
This is Part 2 of #TheCruyffStory series. You can read part 1 here
---
His brother Henny about these important and defining years in Cruyff's youth: 'Our opponents were bigger and stronger. We had to be more handy, make the head work. You don't learn that on beautiful lawns. It has been very important that you have to play football on a difficult, nasty surface. Johan was largely formed there. If you see how he has always avoided all that kicking, pushing and pulling, then there is a parallel.'
After his football career, Cruyff has argued for decades for the upgrading of street football, at clubs and at football associations.  In the years when the Dutch team could have just steamed towards the world or European title with Dennis Bergkamp, Patrick Kluivert, Jaap Stam, Edgar Davids, Edwin van der Sar and the De Boer brothers in the squad, among others, and there seemed to be little to complain about, he already raised the alarm.
"I miss the special ones," Cruyff said, among other things. 'Players you have to watch. Those are often not the nicest guys. Like myself, I wasn't easy. Piet Keizer was not easy. Johnny Rep not, Marco van Basten not, Dennis Bergkamp not. And neither were Bryan Roy, Richard Witschge and Frank Rijkaard. Therefore, they are exceptions. Toppers that are easy do not exist. Top players are stubborn and counteract. They will tell you the truth. But they do have special qualities.'
Taking the strong values from the streets to professional football
According to Johan, these strong characters were formed on the street. Or you created the same kind of conditions at your club that were ideal for being able to develop yourself mentally. 'In the past, you let the players figure it all out and experience it themselves. I was fifteen when I played with eighteen-year-old boys. "Don't keep the ball to yourself!", they would shout. Of course, you didn't listen to that until you dribbled passed two men and the third gave you a kick to death.'
"You have to subordinate yourself to, but never banish the special. We already talked about that with Ajax. The street boys in football, where are they?'
But there was an even bigger problem. 'Anyone who analyses soberly, thinks away the full stands and the so-called importance, sees: the quality of the current top players varies from reasonable to weak', Cruyff said. 'If the quality doesn't improve, the popularity is quickly over. Something needs to be done about that.' Only to ride his hobbyhorse again: 'In the past, everything was automatic. Those who played football on the street automatically got better. Now that street football has disappeared, we are in a theoretical story.'
How to do that? The Cruyff Plan for Youth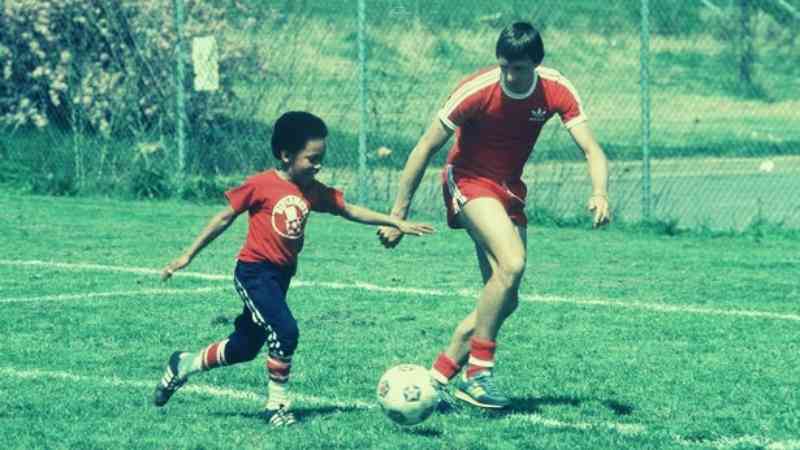 In other words: then streetfootball must be imitated as much as possible if we want to give the youth of today and the future the same valuable baggage as the generations that still learned it playfully.
The changes introduced by the Plan Cruyff that he made for Ajax's youth academy 'De Toekomst', often had their origins in his own experiences during his childhood, such as:
Doubling the number of training hours on the field to compensate for the lack of street football among the youngest youth.
Focusing on the basic technique for the youngest talents by revitalizing street football and appointing technical managers with specific expertise for those age groups. 'I think they shouldn't have trainers until they're twelve, but teachers. A teacher is technically the best football player in the village, fifteen years in the first, who passes on his knowledge in a playful way', says Cruyff. In the case of Ajax, it is therefore about former players, who do not so much have an eye for the result, but for growth of the player. 'If someone had said to Tijjani Babangida in his youth: Do everything with the left for three months, then he would be fantastic now, wouldn't he?'
Introducing so-called Twin Games for the youngest youth. The game form with the smaller pitches and more ball touches that was eventually taken over by the KNVB, the Dutch Football Association for national youth football. At the larger clubs, pupil teams play two matches side by side against each other, so that everyone is covered.
Better late than never, Cruyff would have thought. It's not the first time he's been years and years ahead of the crowd.