After a thrilling 3-2 win away against Levante, only Eintracht Frankfurt stood in Barca's way of continuing their revitalization project under Xavi. Barca clawed their way to a gritty 1-1 draw the last time these teams met. But with the return leg at the Camp Nou, optimism soared regarding Barca's chances to return to their grassroots way of football, and advance to the semifinals of the Europa League.
Energy was high in the Camp Nou, but maybe due to the wrong group of fans bringing most of it.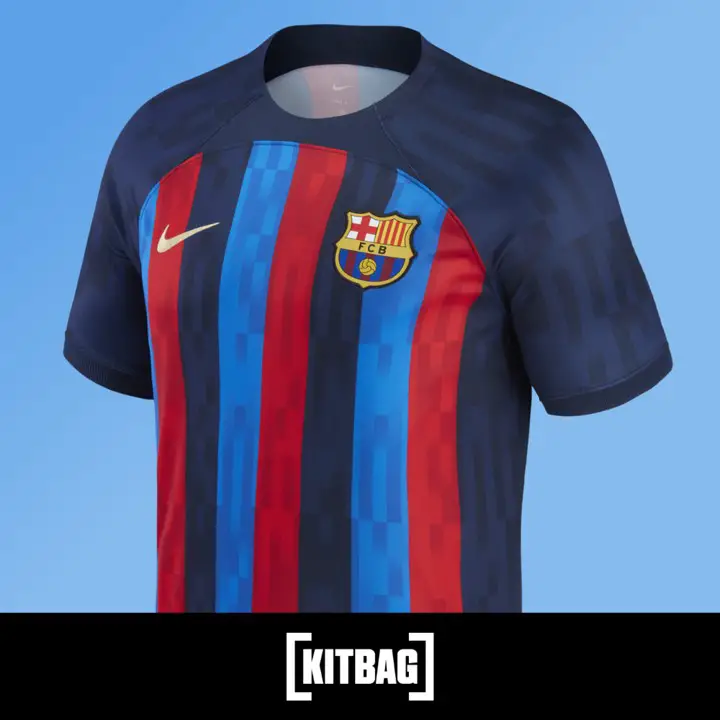 Let's discuss what went down against Frankfurt.
First half
With the Camp Nou sounding a lot like Frankfurt's Waldstadion, Barca struggled early on to find their own groove.
Players continuously gave the ball away in dangerous area on the pitch, both in the back half and near the midfield touch line. There wasn't enough aggression from the midfield during pressing, leading to easy instances of possession and retention from Frankfurt. Even in the attack, there was way too much side to side passing, which gave Frankfurt enough opportunities to sit back and camp defensively.
It was simply not good enough from Barca in the first opening ten minutes or so. What made the experience even worse though, was Eric Garcia's early mishap defensively.
Barca struggled early
Just before the official four minute mark struck, Garcia was whistled for a penalty. The Spanish international was trying to win an air duel in his own penalty area. But he grabbed the neck of a Frankfurt attacker in the process, bringing him down and causing the referee to point to the penalty spot.
It was a clueless attempt at defending by Garcia. He had many other options to use in terms of defending at that point. But the young defender chose the wrong route, and it costed his team in the end.
Filip Kostic of Frankfurt stepped up to take the ensuing penalty, and he buried it to make it 1-0 Frankfurt. A lightning quick start for the visitors, and a disastrous start for the home side that was banking on a brilliant effort at home.
With the Frankfurt fans erupting in cheers, it felt like the early goal could prove to be a bit of an act of shock for Barca. But just four minutes later, Barca showed some signs of life.
Barca finds a bit of a pulse
Ousmane Dembele was able to create some space for himself, before firing a low cross towards the back post for Pierre-Emerick Aubameyang.
It was a clear cut chance. One that could've easily been put home to tie the match at 1. But Aubameyang's header glanced over the crossbar and out of play.
Ten minutes later, another chance came for Barca. A Jordi Alba free kick wasn't cleared well by Frankfurt. The following rebound fell to the feet of Ronald Araujo. The Uruguayan then put a shot on net with his right foot. But it was saved by Frankfurt goalkeeper, Kevin Trapp.
After that though, there just wasn't much in the way of a threat from Barca. They couldn't connect between passes in the attack. Turnovers continued to plague the midfield and attacking players. There simply wasn't any bite from Barca in the goal scoring facet.
Their struggles mimicked those of their first leg match against Frankfurt last week. The physicality of Frankfurt disrupted Barca's attacking process. And instead of facing the physicality head on, Barca found more comfort in playing the ball back to keep possession and avoid needless turnovers in the midfield.
However, the cautious route won't matter if you continue to get abused on the counterattack. Just inside 36 minutes played, Frankfurt shoo'd away Barca's cautious attack, and started an aggressive one of their own.
Frankfurt converts for their second goal
Rafael Borre of Frankfurt received the ball at his feet, then he went to work. He took a few dribbles towards Barca's net, but then opted to not hold up play and wait for his teammates.
Instead, he shot a fantastic shot from around 30 yards and blasted it past the arms of Marc-Andre Ter Stegen.
It was hard to find Barca at fault for the goal itself. As it was a beautiful shot by Borre, one that every professional footballer dreams of connecting with.
But despite that, it was another goal for Frankfurt, and an embarrassing 2-0 deficit for Barca.
Xavi's side was hit with another surprise. We've seen them react well to adversity before, but with the way they were playing, it seemed like they weren't up to the challenge to fight back.
Just before halftime at 44 minutes played, Barca's ability to fight back was questioned once again. Jordi Alba slipped while tracking back defensively, leading to Frankfurt's Ansgar Knauff walking into acres of open green grass.
Luckily for Barca though, Knauff didn't add a third goal, as his shot flailed harmlessly wide of the post.
After that though, halftime hit. It was a sluggish and poor first half from Barca, as they couldn't consistently do a single thing right on the pitch.
Like Sunday's match against Levante, the second half was awaiting them, potentially granting them another golden chance to find their way and make this match competitive again.
But as the match progressed, instead of Barca's second half dreams being granted, they were slammed to the ground and spat on like useless garbage.
Second half
Barca's second half was in dire need of some excitement and clinical, technical play. There had been too many mistakes in the first half, mistakes that Barca didn't have the room to commit again if they wanted mount a serious comeback effort.
Barca's pulse beats again
Just two minutes in the second half, it appeared Barca understood the message.
Dembele again, found himself with space to create for others. He then fired a low cross to the far post for Aubameyang, who had nothing but an open net to shoot in.
But Aubameyang did the impossible, as his own shot missed the net entirely. At this point, we thought what more does Barca have to do to convert on the chances they're being given.
Nine minutes later, we still didn't get our answer. After a mad scramble in Frankfurt's penalty area, Aubameyang once again had a chance to get Barca on the board.
But his point blank effort was saved by Trapp.
Nothing was going Barca's way. They couldn't score, they couldn't prevent themselves from being exposed in transition, it felt like a day where you simply had to take a deep breath and accept the hand you'd been given.
Of course that's a quitters way of giving up. But the sensations of the match were so negative, that heeding the quitters way of giving up felt like the best thing to do.
It sounds crazy when a competitive fan says that, but the events that occurred during the 60th and 61st minute made it sound a little sane.
The VAR fiasco and Barca receiving the KO punch
After a questionable clearance by Frankfurt, the referee went to VAR to determine if there was a handball by Frankfurt in their penalty area. If deemed an unnecessary action, Barca would've been given a penalty to potentially cut the deficit down to one.
But as the referee was trying to review the play, the VAR equipment suddenly malfunctioned. The referee couldn't get a decent look at the replay, and therefore couldn't come to a reasonable conclusion.
No penalty was given, and Barca hung their heads low once again.
It felt hopeless at that point in time. Barca couldn't catch a break to save their life. They could keep playing and fight to earn a result that's favorable for them. But with the way events had unfolded, that seemed unlikely at the very least.
All that was left was for Frankfurt to secure the final dagger. The final puzzle piece needed to knock off Barca at the Camp Nou and send Barca out with another disappointing European finish.
Just before the 70 minute mark hit, that's exactly what Frankfurt got.
Barca's European hopes are all but over
Kostic — a thorn in Barca's side during both legs — delivered the final blow by dashing towards the left side of Barca's defense. He then received a pass that sliced through Barca's messy defensive set-up. Then he fired a shot far post past Ter Stegen to make it 3-0 Frankfurt.
Barca were stunned. Not only were they getting knocked out of the Europa League while their home stadium was filled with away fans. They were getting embarrassed during the process. The 3-0 score line said it all, Barca was getting it handed to them, and they could do nothing but watch.
As we approached the last 15 minutes or so though, Barca added a couple of goals to secure their honor.
Consolation goals from Barca
Sergio Busquets added a glorious goal to make it 3-1. Busquets had an earlier goal wiped out due to offside a after a VAR review — which was miraculously working — so it was good to see him find some retribution.
The second goal came from Memphis Depay — who was subbed on by Xavi in an attempt to simply score goals — via penalty.
But the last minute effort was too little, too late.
The 3-2 final result officially sent Frankfurt to the semifinals of the Europa League. While Barca was sent home after another disastrous exit from a European competition.
Final word
This was embarrassing. It was simply an embarrassing display from Barca. They didn't learn a thing from their first leg performance in Frankfurt. The extra physicality from the German side wrecked their game plan, and kept them from finding any groove in the attack.
Defensively, their counterattack horrors reappeared. Frankfurt found almost all of their attacking success on the counterattack, and Barca couldn't do a single thing to stop them.
And the fans as well. What a horrible display of loyalty from the Barca fans. There were reports of club members selling their tickets to Frankfurt fans, which was why the Camp Nou was filled with the loud chants and screams of Germans.
If that is indeed true, then there has to be some sort of repercussions. The Camp Nou has indeed turned into a bit of a tourist attraction over the years. But never, and I mean never, has the Mecca of the beautiful game been overrun like it was today.
That can never happen again, never, ever, ever.
Barca's next match
Barca's next match will be on Monday against Cadiz.
See you all then!