In this short article, we are going to be discussing the absolute rock that is Ronald Araujo, and celebrating his debut year as a first team player at Barça. This guy is by far one of my most favourite players at the club right now. Not only is he passionate for Barça, but he is absolutely fundamental for the future of this team.
At 22 years old, he is already a leader and has demonstrated how important he is for our defence. He's one of the quickest defenders I've ever seen and one of the most reliable players in the team. His ball playing ability still needs some work, but that will come over time. Ronald is one of the most talented young defenders in world football, and renewing his contract is an absolute priority for the club. Our defence needs to be built around him for the future. It's imperative.
At this moment he is one of the least paid players in the team, and his performances over the last year proves that he deserves to be one of the highest earners. His reliability and consistency throughout 2021 means that he deserves to at least be out best payed defender. Because quite simply, he is the best defender in the whole team!
2021 – Elite year for Araujo
2021 marked his first year as a full time Barça player, after being in and out of the team the previous year. Due to the ageing of Gerard Pique and the unreliability of other defenders like Lenglet and Umtiti, Ronald started to become the first name on the team sheet early on in his Barça career. His speed and strength is what stands out the most, not to mention his incredible
ability in the air. Winning almost every header he gets to. One of the most underrated things about Araujo though is his goal scoring ability.
Considering how poor we've been in front of goal this season, Araujo has proven himself to be one of the most reliable finishers upfront. Scoring twice so far this season, but also having been denied a few "Worldies" too. A bicycle kick against Bilbao and a last minute volley against Benfica both scoring to mind. This man can do it all, which is why securing his long term future at Barça is so important.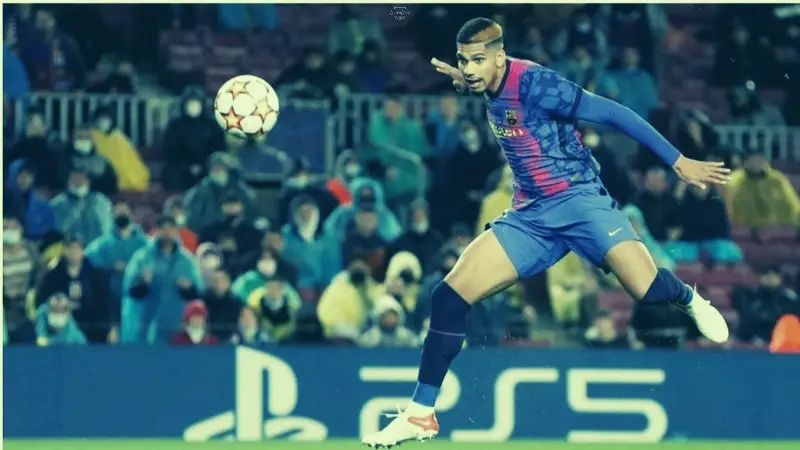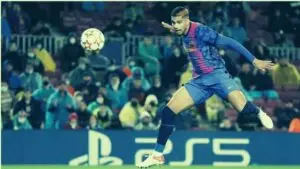 Most impressive stats of the year
Not only does Ronald Araujo have incredible defensive abilities, that will only improve over time. He also has the stats to back them up. There was a point in 2021 where Araujo was the only defender in Europe's top 5 leagues, to avoid being dribbled past for successive games. This was a remarkable statistic that he was able to carry along for a large chunk of the 2020/21 season. The same was said for Virgil van dijk the season before hand, which just proves the quality of player we have in Araujo.
Big game player
Ronald hasn't just been an absolute rock in defence for us during his time at Barça so far, but he has also been involved in a number of point winning games. Either equalising or helping us extend our lead in a many games where we've found difficult. His first goal for Barça came this year against Valencia at home in the Camp Nou.
A fantastic scissor kick volley helped us grab a point against them, although we should've gone on to win the game. However this season especially he has delivered when we needed a goal from nowhere. Like mentioned previously, we've heavily struggled this season for goals, so it has helped having a defender who can pop up with a goal every now and then. Most recently he headed home the equaliser against Sevilla, helping us grab a point at the Ramon Sanchez Pijuan.
Looking ahead to 2022: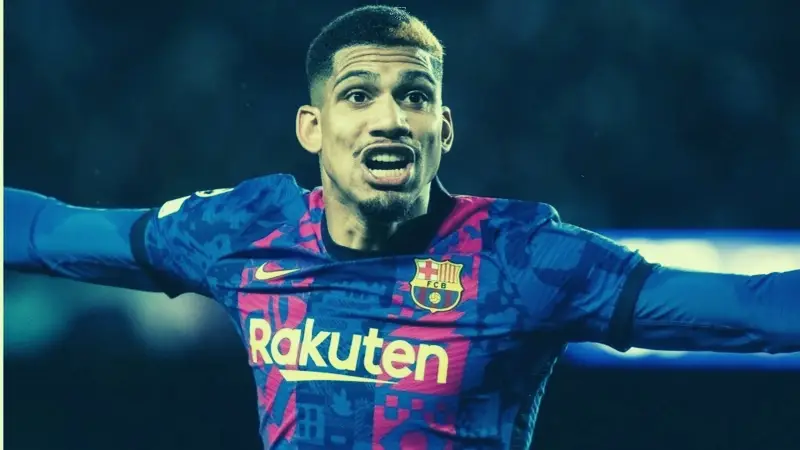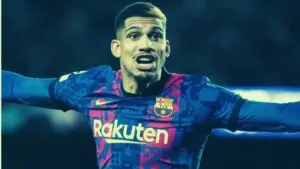 As we look forward into the new year and as we delve into a new era at Barcelona, there are many things we can be excited about when it comes to Ronald Araujo. First and full most, sorting our his contract renewal is an absolute must.
The club should give him whatever he wants as he has proven over the last year that he deserves it. His love and passion for the club will also be important in negotiations, as well as his humble nature too. Hopefully we can get that sorted early in the new year and look forward to more years of Ronald Araujo at Barça. We will also be in the market for a new centre back aswell.
A fan favourite at the moment is out of De Ligt or Aymeric Laporte. If we are somehow able to get one of them, then our defence will be even stronger. One thing is for sure though, our defence must be built around Araujo. He is the leader in our back line for years to come! It will also be great to see Araujo contribute even more with goals in the new year and celebrate in-front of the Camp Nou. And eventually become even more of a leader in the team. He's fundamental for the future, and with him the future is bright!
Happy new year Culers! Let us know your favourite moments of Araujo in 2021 in the comments!