It was the summer of 1995 and Ajax had just won their 4th Champions League. They beat Milan with 1-0 in Vienna, goal by supertalent Patrick Kluivert. The club from Amsterdam had mesmerized the football community by playing dominant combination football. And they did that with a team full of young talents, led by former teacher Louis van Gaal. Ajax was preparing for the new season, in the southwest of the Netherlands, in Zeeland, a province with lots of sunshine, water and beaches, home ground of their defender Danny Blind.
The bus from Amsterdam just arrived at their summer camp, a luxury hotel with training grounds, close to the beach. The place where Louis van Gaal's team should lay the grounds for a new, successful season. I was anxiously waiting for the players and staff to come out of the bus, as I was send out my Dutch radio to make some nice reports about Ajax that week.
Within half an hour I would go live on radio, with Louis van Gaal in front of me. At least, that was the plan. Van Gaal came out of the bus, spotted me and headed in my direction: "What are you doing here," he barked, not in a friendly tone. I explained that I was supposed to interview him live for radio within half an hour. "No way," he said, "This is our hotel, our sanctuary. I do not want any press here," and he just stepped away…
Meeting him
There I was, with my radio equipment, with my assignment, with the knowledge that thousands of listeners where waiting for a soundbite, a glimpse of Ajax and with my director blowing in my ear if I was ready and when my guest Van Gaal would arrive. Luckily, Louis' assistant Gerard van de Lem came to the rescue. He told me not to worry and asked me how late I had planned the interview with Van Gaal. "Do not worry, he will be there in time, I will arrange it." And then he walked away as well, into the hotel. I had arranged a nice space within the hotel and my gear was all set-up and tested, I could go live any minute now.
Time went by and when I was just about to tell my director that Van Gaal did not show up, he appeared, his head around the corner: "Can you do it now?" Oh yes I could! The moment we went live and I asked him my first question, he became the professional he is and we had a good and extensive live interview. Me happy, my director happy and all the listeners happy.
After the interview he stayed and said he wanted to discuss some rules for this training week with me. "You can watch the training and come tot the hotel, but no personal interviews here, only with me. When we play a match, I decide who can be interviewed before and during the match, you may only chose yourself afterwards, is that a deal? It was a deal and I had one of the best live reporting weeks in my career, with the players who just won the Champions League. And with their coach Louis van Gaal, a barrel full of contradictions.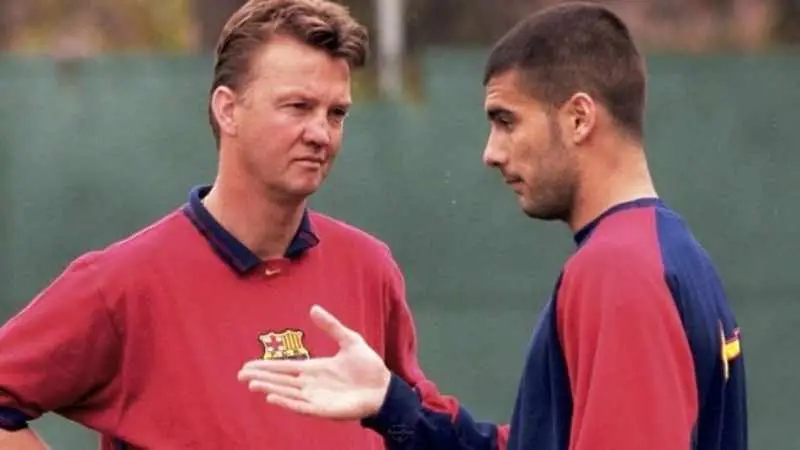 Van Gaal to Barcelona (1)
Louis van Gaal becoming the coach of FC Barcelona was destined and only a matter of time. Barça was longing for the glory days of Johan Cruijff, who gave them the Champions League and decided that the successful Ajax coach Van Gaal would be the ideal person to help them achieve that again. Winning prizes and playing attractive, attacking football, just like he did with Ajax. It looked like a match made in heaven.
And his first 2 years were, at least if you look at the prizes Barça won: national championship and the Copa del Rey in his first year, first double in 39 years for the Catalans. They won the UEFA Super Cup as well. In Van Gaal's second year, they became champions of Spain again but lost the final of the Supercopa. That season, in the Champions League, they were already eliminated in group stage, becoming third in a tough group with Bayern Munich and Manchester United.
Despite his national successes, Van Gaal had big problems with the Spanish press and the Barcelona fans. The pressure on the Dutch coach was reinforced by an internal power struggle between the board of Barcelona and an opposition group led by Joan Laporta. When Barça lost the Supercopa, the championship and was eliminated in both Copa del Rey and UEFA Champions League (semi-finals), it was clear that Van Gaals's time at Barcelona was limited. When president Nunez announced he would not be eligible for a new presidency, it was Louis van Gaal himself who resigned. Before he left, he had his last press conference: "Friends of the media, I'm leaving. Congratulations", were van Gaal's words, after which he asked a front-row reporter in the press room to keep his mouth shut.
Louis van Gaal to Barcelona (2)
Despite Van Gaal not qualifying with the Dutch national team, which he led from 2000 till 2002, for the World Championship in Korea, he was asked to return to FC Barcelona and become coach again in the summer of 2002, by president Joan Gaspart. The former trainer Ferrer and Rexach were not successful, so Van Gaal had the big task to reanimate the Catalan club, who's fans were yearning for new victories.
However, van Gaal's appointment was highly controversial given his departure two years earlier. Van Gaal signed a three-season contract and, in order to avoid an early dismissal, stipulated a severance payment of seven million euros. He had a difficult season on his return to Barcelona. Although the team performed well in the Champions League with ten victories, the team did not do wel in the Spanish league. When Van Gaal was sacked on 28 January 2003, the team had dropped to 12th in the rankings, 20 points behind league leader Real Sociedad.
How can we interpret and judge Louis van Gaal, as coach of FC Barcelona, twice? I will do that here on the basis of a number of questions people ask me, when they learned that I have interviewed Louis van Gaal a number of times myself.
What is Louis van Gaal's background?
Aloysius Paulus Maria (Louis) van Gaal (Amsterdam, 1951) grew up in a Catholic family in Amsterdam. His father was a severe heart patient and died when Louis was only 11 years old. Mother Van Gaal raised the family with nine (!) children on her own. The family was characterized by a sense of duty and discipline. Louis visited the Sint-Nicolaas lyceum in Amsterdam, which was led by the Fathers of the Holy Heart, after that he was trained as a gymnastics teacher at the local Academy of Physical Education. So young Louis van Gaal was brought up in a very disciplinary environment, both by his mother and by Catholic priests.
As a teacher he learned to maintain strict discipline as well, something you see back in his coaching career. His football players are his pupils, they should be treated equally, no exceptions, and be protected and taught like children. It might well be possible that his anger towards the outside world, like the press, relates to the early death of his father. That tragedy must have made a large impact on the eleven year old. A second tragedy occurred when Van Gaal lost his first wife Fernanda, to whom he was married since 1973. She gave him 2 daughters, Brenda and Renate, before she died in 1994 of cancer, only 39 years old. He remarried, to his new girlfriend Truus in 2008. They are still happily together.
Did Louis van Gaal play professional football himself?
Little Louis started his football career as a child with the Amsterdam RKSV De Meer, after which he joined Ajax's second team at the age of 20.  Between 1972 and 1987, Van Gaal was a midfielder in professional football. In 1972 he was with Ajax's first team for a while, but never played an official league game for them. At the age of 22 he moved across the border, to Antwerp FC. In his four seasons for the Belgian club (1973-1977),Van Gaal scored seven goals in forty-one games.
A nice anecdote from that time was that Van Gaal broke his nose, actually several times in his career. That is why he dislikes the photos of that time with a flat nose. He inherited his distorted nose in a match with Antwerp against Kortrijk. It was due to a hard contact with KV Kortrijk goalkeeper Frank Buysschaert. With Louis' nose, it would never be quite right after that. That is why he liked to be pictured from one particular side. After his Belgian period he went back to the Netherlands, to Telstar, where he played for one season.
His next club was Sparta, the second club from Rotterdam. There he would eventually play his most league games (248 in total). He won a Silver Shoe in 1984 as the best Sparta player of the season. There he played with team mate Danny Blind, his later team captain at Ajax, second. They both played at Sparta till 1986. From 1986 to 1987, Van Gaal played briefly at AZ, where he also was the assistant coach. In 1987 he ended his playing career.
How and why did Louis van Gaal become a coach?
As he was already an assistant in his last year as a football player at AZ, it was logical that Louis van Gaal would become a coach. In his football career he was the playmaker, always talking and directing his team mates. Combined with his education as a physics teacher, it was the logical next step, he was destined to become a coach.
After a short career at AZ,  he joined Ajax in 1988 to become the assistant of head coach Leo Beenhakker. Van Gaal also became youth coach and head of the youth academy at the Amsterdam club. When Beenhakker left in September 1991, Van Gaal took over as the head coach. That's when his coaching career really started.
Why were Louis van Gaal and Johan Cruijff never on speaking terms, where did their rivalry come from?
The feud between Cruijff and Van Gaal has been going on for about 20 years. According to Van Gaal, the reason for the conflict would be a dinner at Cruyff's house: "On December 26, 1989, I celebrated Christmas at the Cruijff family home. Then the phone rang. It was for me. The family. My sister died. My sister. I went home head over heels. Later I heard that Johan blamed me for never thanking him," Van Gaal wrote in his autobiography in 2009. Cruijff has previously dismissed those allegations as nonsense: "Van Gaal really has Alzheimer's when he writes something like that down," Cruijff echoed Van Gaal's comments. "When you hear something like that, you wonder if someone might have a loose wire.' 
Rivalry
The fact remains that the two rivals do not fail to taunt each other through the media since the early 1990s. In 1992 Cruijff won the European Cup I or champions League for the first time in club history as manager of FC Barcelona. However, they will never express their appreciation for each other's achievement out loud. When Cruijff is later asked about other European teams he likes, he again refuses to give credit to Van Gaal's Ajax. Instead, he says that only Parma and Auxerre were able to please him, those being the teams that proved too strong for Ajax in a Europe. Conversely, Van Gaal openly hands out a cut to Cruijff by not describing Kaiserslautern as a difficult opponent in a draw.
A year earlier Cruijff's Barcelona had the greatest possible difficulty with the German team. Their rivalry seems to have created an unbridgeable gap between the club icons since then. There was even a struggle at Ajax between the Ajax board who appoints Van Gaal in 2011 as a Technical Director and Johan Cruijff who wants an internal revolution at Ajax to bring the club back to its roots, leading to a case in court and arguments back and forth in the Dutch press. Personally, I think it's a shame that those two Dutch total football legends who gave us so much, who looked so much alike, in background and philosophy, never got along.
Why could Louis van Gaal not copy his style of play and successes at Ajax, copy to Barcelona?
Louis van Gaal is a typical, primal Dutchman. With the discipline of Rinus Michels and the stubbornness of Johan Cruijff and Ronald Koeman. Because he was so convinced of his system and his tactical skills, he thought he could easily copy this at Barcelona, among other things, because they were used to Dutch total football at Barça. But he underestimated two main things. The first was the difference in culture. It is not that Spanish players are not disciplined, they just have other ways and other rhythms. Other customs as well and Van Gaal was not able to bridge these differences.
For him every player was equal, not understanding yet that especially the South American players (Rivaldo!), needed a pat on the head now and then, or a day earlier leave to travel back to their country to recharge. He was also not used in handling so much press, with all kind of journalists having their own contacts with players and officials. Not being able to control the news from the locker room, this made him even more distrustful and angry towards the outside world. Combined with his lack of knowledge of Spanish, for the very beginning, created conflicts with many journalists and media, who gradually wanted to get rid of the Dutch oracle.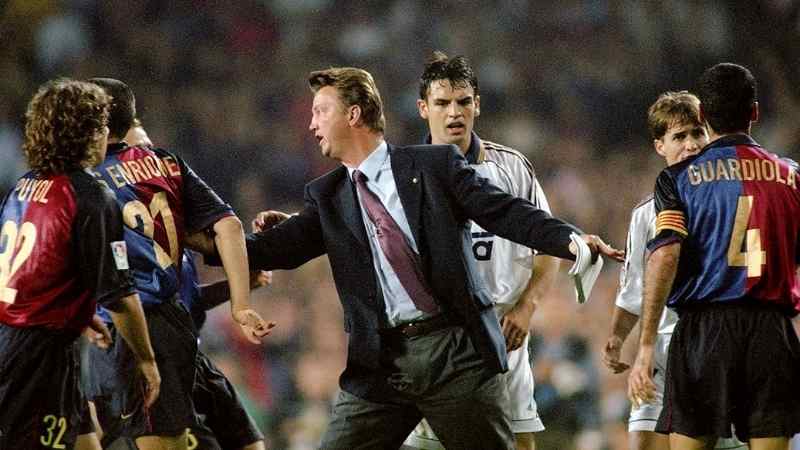 Dutch enclave
His second mistake originated from his first. Not being able to bridge the cultural differences, he started to buy Dutch players who could help him execute his ideas better. Although he let young Spanish players like Victor Valdes, Xavi Hernadez, Andres Iniesta and Carles Puyol made their debut in the first team, it was not enough. At a certain moment Barcelona had more Dutch than Spanish players in the locker room, talking Dutch to each other.
His Spanish players, all internationals, did not feel comfortable and especially the fans were angry. Why was their local favourite not playing, why was a Dutchman occupying his place in their Barça? Why did their team more look like Ajax than Barça? So Van Gaal's second mistake only strengthened its first and did not solve anything.
Was Louis van Gaal a bully in general?
Well, he could be a bully towards a lot of people, especially the ones who attacked his system, his philosophy, his team or his players. But most of the people he worked with, remember him as a very hard working, stubborn and cordial man, who would walk through fires for them. At a later age he became milder, the players who worked with him in the Dutch team during the World Cup in Brazil in 2014 (Netherlands became third), experienced a complete different, more relaxed and friendly guy then the players of Barcelona in his first period there, between 1997 and 2000.
Louis van Gaal is a passionate ambassador of 'Spieren voor Spieren', the Dutch organisation who helps and financially supports children with muscle disease. If there is a good cause helping children or disabled people, Louis van Gaal will support it and be present if asked. His former manager Rob Jansen claimed that Van Gaal can be very funny after a few drinks. His own reaction on that: "I don't agree with that. It's not nice of him to say that either. I left everything about me in my biography, even if it wasn't that flattering some times. I' am always funny! Look, you're laughing again. You see? My humour is close to English humour. Dry, close to life."
What do top players and managers who worked with Louis Gaal, really think about him?
Wayne Rooney, former Manchester United player. 'He was an excellent coach, but him sitting so close to me was very intimidating.'
Thomas Müller, Bayern Munich player: "He created an open, honest culture. You knew it was about facts and not the person."
Uli Hoeness, former Bayern Munich manager, said: "Before the world existed, Louis was already there."
Toon Gerbrands, PSV general manager: "He is the father who protects his family."
Andries Jonker, van Gaal's former assistant: "On the one hand, it is a joy to work with Van Gaal. You work at a very high level. He brings everything he can and that's what he asks of the people around him. Together you can go far, but that's not easy every day. Because he wants the best out of everyone, every day. And not everyone can. I saw that in 2014 at The World Cup. Those weren't the easiest characters but he made it work. If I compare that to the Van Gaal I got to know In the 1990s, at that time he sent a player away because he was wearing the wrong color shoes. That was still possible at that time."
Arjen Robben, former Bayern Munich player and Dutch international: "He doesn't play, doesn't act, he's very human."
Robin van Persie, former Dutch international. "The fact that louis and I got along so well is because we are both very weird birds."
Andres Iniesta, former Barcelona player and Spanish international. "I appreciate Louis van Gaal a lot, as a coach and as a human being. He gave me confidence as a young player and I am very grateful to him for that."

Marc Overmars, director of football affairs Ajax, Dutch international and former Ajax and Barcelona player: 'We always meet Louis. If it isn't literal, it's still in our heads.'
Rivaldo?
Unfortunately I was not able to reach Rivaldo for his comment about his former coach…
How do you (me) remember Louis van Gaal?
I have interviewed Louis van Gaal 4 times, between 1994 and 2000. They were radio interviews, 3 of them live, so no time to sit back, relax and take our time. I only had that opportunity once. It was then when I really got to learn him a little better. I have also watched several training sessions and matches of Ajax live. It also gave me the opportunity to see him interacting with team and staff. He is a personality, has an enormous presence and a surly look. Due to that he scares a lot of people on beforehand. He has got an enormous football and tactical knowledge, almost unmatched, and sees every detail.
Both in training sessions and in matches. As a player, you can hardly slacken under his leadership. He demands a lot from his players, it is his way or the highway. Later in his career he was more open to dissenting opinions and ideas. If you have a discussion with him, as a journalist, player or analyst and he feels that you show insufficient knowledge, he can get angry and completely humiliate you in public. He has an enormous drive to perform, there is no room whatsoever for insecurity or doubts to the outside world. As if he is still looking upwards to heaven for a compliment, for approval of his father. In that way he is a lot like Johan Cruijff, who also lost his father at a very young age.
Family man
Louis van Gaal is also the ultimate family man, who sees his group of players and staff as his family. He knows all their birthdays and also of their partners and children! Nickanmed, 'Iron Tulip', he will protect his players to the outside world. He would start a war against anyone and especially the press when they criticize his players. Again, Van Gaal has a lot in common with Johan Cruijff. His memory is formidable.
He must have met hundreds of journalists. But as soon as he sits in front of you he remembers your name, where you come from and when you have interviewed him before. He even remembers the questions asked, it's almost scary. I think if more people would have seen him training and educating his team, without his angry mask he so often showed to the outside, how he fathers his team and staff, they would completely change their opinion about Louis van Gaal.
Mister controversy
That's why I call him mister Controversy. I have never met a coach who has so many admirers and haters at the same time. When I interviewed him I was scared and excited at the same time. Afraid to ask a question that would make him angry bit also determined to do my journalistic duty and be critical. He never got angry at me, apart from that time he arrived with that Ajax bus, in 1995. Controversial or not, Louis van Gaal will always be remembered as one of the great influencers and performers in Dutch football. He is retired from football now, enjoying the good life together with his second wife Truus Opmeer and his children.
He occasionally appears on Dutch tv, still razor sharp. Like last Saturday when he was the analyst for El Clasico, as a guest of presenter Jack van Gelder at Ziggo Sport. He predicted, before the match, that Ronald Koeman made a mistake not putting Frenkie de Jong as a CB in defense ,as there would be almost no space in midfield and Barça would need his build up qualities, which proved 100% right. And he did not accept any arguments from Jack van Gelder claiming if Madrid was maybe the better team? No way, he said, there was only one team who tried to play attacking football and that was FC Barcelona. I will always support that!
[Sources and original pictures:Edwin Winkels – Van Johan tot Frenkie, Wikipedia, Louis van Gaal biography – website FCBarcelona, Louis van Gaal & Robert Heukels – De visie van Louis van Gaal, Voetbal International, De Volkskrant, Trouw, Algemeen Dagblad]