Because of his significance for FC Barcelona, Dutch legend Johan Cruijff became the honorary president of the club on 26 March 2010. According to the Barcelona board, Cruijff met all the requirements and the decision to grant  him the honorary title was unanimous. However, three months later, he unexpectedly handed in the title and the accompanying insignia, after the new club president Rosell found that the decision to appoint him as honorary  president was made in a 'non-statutory' manner. Since then, things have  never worked out between Cruyff and Rosell. We're going back in history.
How it all started
Who Johan Cruyff is we don't have to explain here, but who is Sandro Rosell?  Alexandre Rosell Feliu, or Sandro Rosell, was born in Barcelona on March 6,  1964. He had a modest career as a semi-professional footballer. In December  1983 he played an exhibition game with CE l'Hospitalet against FC Barcelona.  As a forward, the then 19-year-old Rosell scored the second goal for his club.  After his time at CE L'Hospitalet he played for the amateur team of UE Sant  Andreu, UE Sants and CE Principat from Andorra. With the latter club Rosell  won two Andorra league titles and in 1997 he played in the preliminary round  of the UEFA Cup against Dundee United. 
Sandro Rosell holds a degree in Business and MBA from ESADE Business School.  Rosell joined the export department of Myrurgia company in the late 1980s. He  then worked in the marketing department of the 1992 Summer Olympics in  Barcelona and the sports company ISL. Rosell then worked as a Nike director in  Spain and South America until 2003 and lived in Brazilfor a year during that period. In 2003, Rosell was part of the group around lawyer Joan Laporta who  took part in the FC Barcelona presidential election in June of that year. The club members elected Laporta as the new club president, and Rosell was the vice president of Laporta.  
Different approaches
Partly because of the good relationship between Rosell and Ronaldinho, and Nike as his sponsor, the Brazilian star striker came to FC Barcelona in July 2003.  Ronaldinho then became the figurehead of the club's return to the top. Rosell  had also an important role in the arrival of Deco in 2004 because of his good  contacts with the Portuguese-Brazilian midfielder. However, the relationship  between club president Laporta and Rosell was no longer optimal in 2004.  Rosell accused Laporta of being too authoritarian in running the club.
Rosell's  desire to sack trainer Frank Rijkaard at the end of 2003 because of the (then)  very disappointing results and to replace the Dutchman with Luiz Felipe Scolari, did not help his relationship between him and Laporta, who protected the  trainer. Rosell finally decided to resign as Vice-President in June 2005. He then  returned to work at Nike. In April 2007 Rosell published a book entitled  Bienvenido al mundo real about his experiences as vice president of FC Barcelona. A month later it was announced that Rosell would run for club  president of FC Barcelona in the 2010 elections. Rosell finally won the election  for club president of FC Barcelona on 13 June 2010 with convincing figures. He  received 61.35% of the votes, beating his opponents by a big lead.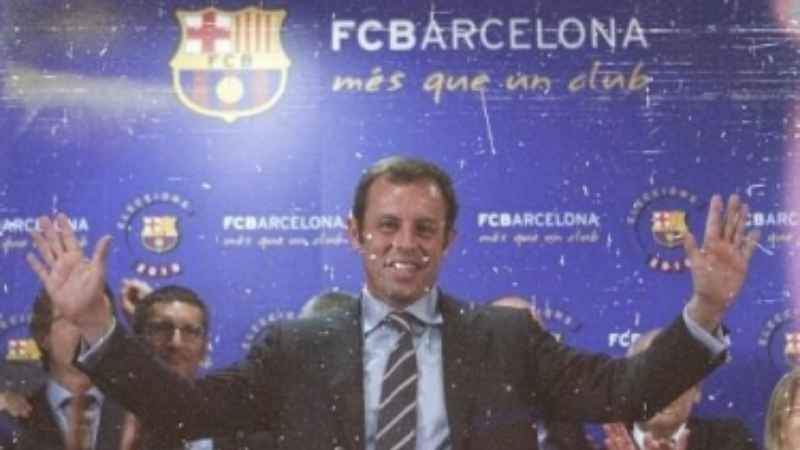 Judas act
When Rosell was presented as the new president of Barcelona and Cruyff  visited the inauguration, those were headlines in the Catalan newspapers. 
Sport: 'Rossel rompio el hielo con Cruyff '. Literally translated: 'The ice between  Rossel and Cruyff is broken.' Their handshake was warmly. Cruyff: 'I have  worked with Sandro's father.' After that meeting one of Rosell's first decisions  as a president of Barcelona, was to announce that he would roll back the title  as honorary chairman of Johan Cruijff, which was not a 100% correct decision  on the basis of the club statutes.
But Johan Cruijff was ahead of him and  voluntarily handed in his title. Cruijff who was always, on and off the pitch,  faster than his opponents. Knowing Cruijff, that handshake first and then this Rosell announcement was a Judas act, nothing less than betrayal. Rosell's decision on the honorary chairmanship of Cruijff did not increase his  popularity with the socios either, on the contrary.
Cruijff also criticized Rosell on his hunger for money. The president made the first commercial shirt  sponsor deal for Barcelona, with Qatar Sports investment. And so their fight  went on and on, eagerly covered by the media who feasted on such riots. When asked if he wanted to interfere with Barcelona as much as he did in the time that Laporta was in charge, El Flaco is clear. 'Barcelona doesn't want my knowledge now, but my name. And I don't give my name to people who don't defend me.'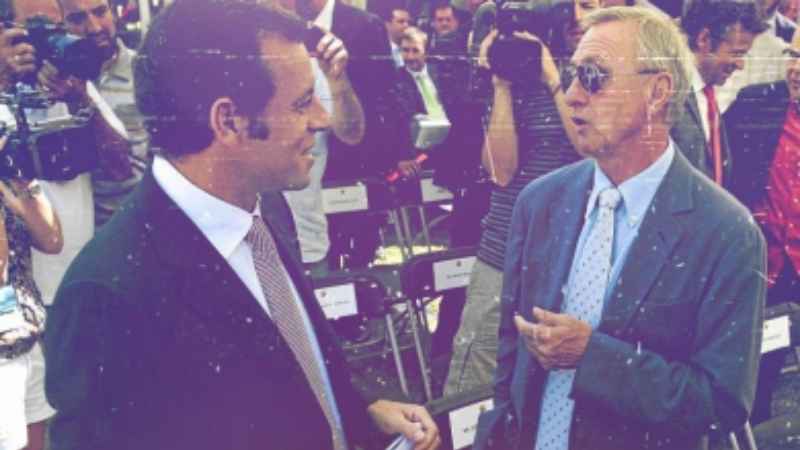 Rivalry that lasted for years
Almost four years their rivalry lasts and in the meantime, Cruijff does not visit Camp Nou or FC Barcelona anymore. Although he still lives in Barcelona with his family at that time. He is focusing on Ajax, to restructure his first love in Amsterdam. Because his second love Barcelona does not want him anymore. Even when  Barcelona plays Ajax in the UEFA Champions League, on Wednesday 18.
September 2013 in Camp Nou and Cruijff is invited for dinner with the  Barcelona and Ajax board, he stays at home in his white villa in the Barcelona district of Bonanova. The legendary number 14 still refuses to show up in the stadium, out of dissatisfaction with the current club board. Sandro Rosell had  to explain again to the press why Johan Cruijff is not present on the night 'his'  two clubs play against each other. He explains that he has had a difficult  relationship with Johan Cruyff for a decade and that the problems did not arise  until a short period ago. Because there's a lot more to it than just the returned  honorary presidency and the shirt sponsor affair.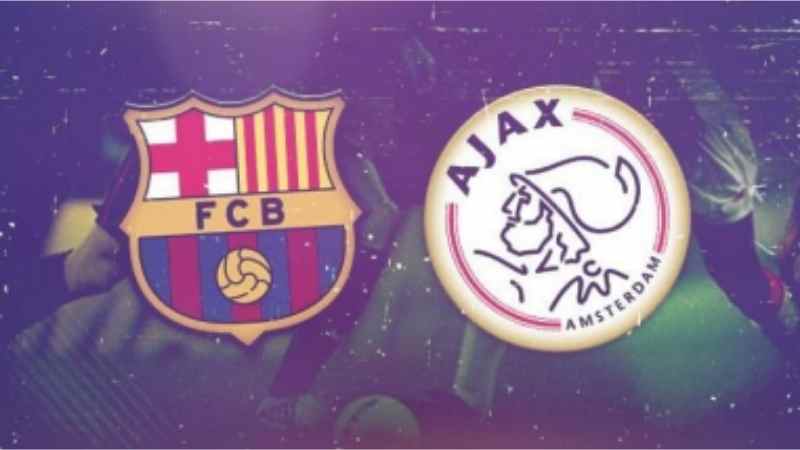 Cruyff Foundation 
According to Cruijff, the Catalan club does not fulfil contractual obligations with  the Cruyff Foundation, which is the real reason for the anger of the Dutch  football icon. Rosell has not honored payments to the fund for three years,  which have been drawn up in a contract. "I prefer to stay as far away from him  as possible," Cruijff says, leaving no doubt that he never wants to see Rosell  again in his life. "He was nobody when he arrived at Barcelona, but he's been  making fun of me for three years. When he called me after a month, I refused  to talk to him," Cruijff told Catalunya Radio. Cruijff: "If I wanted to, I could make  it a trial. But I don't want anything like that. Barcelona will lose a good  reputation."
Rosell could have solved the problems a long time ago, according  to Cruijff. "We have had all the necessary documents ready for the club  president to be signed, but he just keeps refusing to do so." The Cruyff  Foundation provides support to children in poorer neighborhoods who cannot  play football. "That amount was just paid," Rosell said afterward in  conversation with Cadena Ser. "It is sometimes better not to discuss with Cruijff, but if that is necessary in the interests of the club, then I will not leave  that behind". 
Rosell doing what he does best
Eventually it came out that Rosell lied, which he admitted himself in an  exclusive interview with Catalunya Radio programme "El Club de la Mitjanit". Barcelona president Sandro Rosell confirmed that the club were yet to pay Cruijff's foundation the money they owe, claiming that the money would be  sent as soon as the Foundation clarified just what they were spending the  money on. The amount was 100.00 Euro per year and as the contract was  signed by former president Joan Laporta in 2010, so Rosell and Barcelona still  owed a lot of money to the Cruyff Foundation.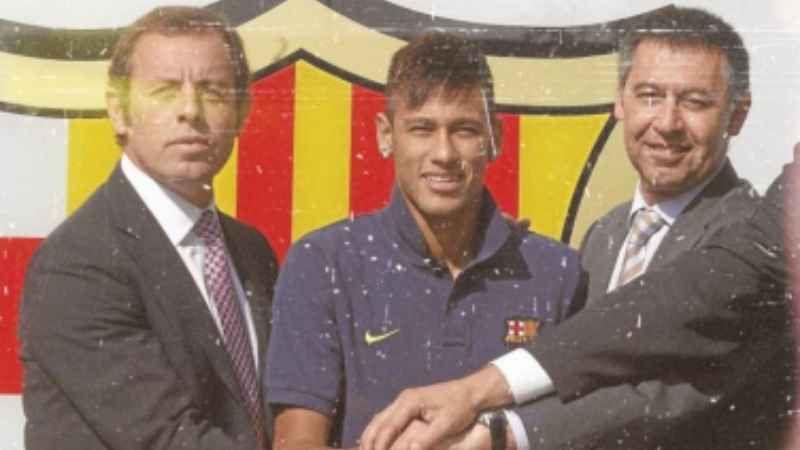 Rosell resigns
Soon the official rivalry between Rosell's Barcelona and Cruijff comes to an end.  With questions swirling and an investigation launched regarding the legitimacy  of FC Barcelona's acquisition of Neymar from Santos this past summer, Barca  president Sandro Rosell decided in January 2014 to step down from his post at  Camp Nou.
Neymar joined Barcelona prior to the 2013-14 season to great fanfare. But the allocation of the €57.1 million transfer fee had become a hot button. Brazilian club Santos received just €17.1 million while the remainder of  the payment went to N&N. It is a company owned by Neymar and his  father.
Neymar's father admitted publicly he received, apart from a prepayment of 10 million in 2011, another 30 million Euros for his foundation.  He disputes that Neymar had already signed a pre-contract with Barcelona.  This is only allowed when a player is within six months of the expiry of his contract. Barcelona have always talked about a transfer fee of 57 million Euros, with seventeen million euros allegedly paid to Santos last summer. Now that  transfer seems to have been much more expensive. Which led to the  resignation of president Sandro Rosell. 
Farewell to the legend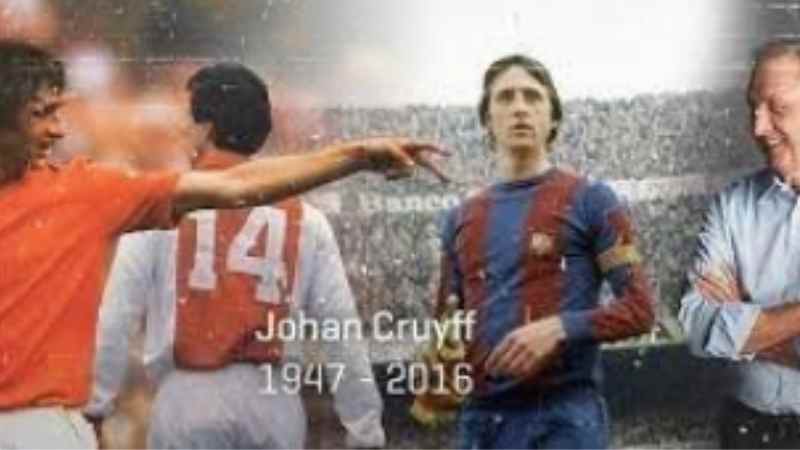 Rosell was one of the 8 former Barcelona presidents who honored  Johan at his memorial in Camp Nou in 2016. It was shortly after Johan Cruijff  died and just ahead of that night's El Clasico against Real Madrid. Cruijff died  on March 24, 2016, at the age of just 68, in his beloved Barcelona, surrounded  by his family. 
Rosell was arrested in May 2017 and spent 20 months in prison. It happened after was accused, along with five others, of laundering fees for the audiovisual rights of 24 Brazil matches. Moreover, also with a sponsorship contract with Nike. After being given a conditional release in February 2019, he was acquitted of the charges two months later. It happened when prosecutors at Spain's National Court, who were seeking a  six-year sentence, failed to prove the allegations.