Henrik Larsson, often hailed as "The King of Kings," holds a revered status in the world of football. While his career spanned several clubs and countries, it's his time at FC Barcelona that truly cements his legendary status. In this article, we'll embark on a journey through the remarkable career of Henrik Larsson, delving into his early days in Sweden, his memorable stint at Celtic FC, and most notably, his defining moments as a Blaugrana. The impact of Henrik Larsson on Barcelona transcended the pitch, leaving an indelible legacy that continues to inspire football enthusiasts worldwide.
From Humble Beginnings to Football Royalty
Before Henrik Larsson was "The King of Kings" on the grand stage of FC Barcelona, Henrik Larsson's journey to football royalty began in the modest footballing landscape of Sweden. Born on September 20, 1971, in Helsingborg, Larsson's early life offered little hint of the remarkable career that lay ahead. Raised in the heart of a football-loving family, young Henrik quickly fell in love with the beautiful game.
As a child, Larsson demonstrated a natural talent for scoring goals that would become his trademark. His remarkable goal-scoring ability and versatility as a forward quickly set him apart from his peers. Whether playing as a center-forward, supporting striker, or even on the wings, Larsson possessed an innate sense of positioning and an uncanny knack for finding the back of the net. It wasn't long before Swedish football aficionados began to take notice of this rising star.
Larsson's Time at Feyenoord
Before Henrik Larsson became an icon at Celtic FC, his footballing journey took an interesting detour through the Netherlands. After honing his skills in Sweden with Högaborg and Helsingborgs IF, Larsson made a move that would broaden his horizons as a footballer. In 1993, he signed with Feyenoord, one of the Netherlands' premier football clubs.
Larsson's time at Feyenoord was marked by his continued development as a goal-scoring sensation. The Dutch Eredivisie proved to be the perfect environment for his talents to flourish. Larsson's goal-scoring prowess and versatility as a forward became evident as he consistently found the back of the net. His stint in Rotterdam laid the foundation for what would later become a storied career at Celtic FC.
The Bhoys' Swedish Savior
In the summer of 1997, Henrik Larsson made a decision that would forever change the course of his career. He embarked on a journey to Glasgow, signing with Celtic FC. Little did anyone know that this move would not only redefine his career but also elevate Celtic's status in European football.
Larsson's arrival at Celtic Park was met with a mixture of excitement and curiosity. Scottish football was about to witness a footballing phenomenon in action. It didn't take long for Larsson to capture the hearts of the Celtic faithful with his extraordinary goal-scoring feats. His ability to find the net from seemingly impossible positions, coupled with his versatility as a forward, left fans and opponents alike in awe.
In Larsson's seven seasons with Celtic, he scored an astonishing 242 goals in 315 appearances. These weren't just goals; they were moments of sheer brilliance. Larsson's partnership with Celtic was a match made in footballing heaven, and it produced an era of unrivaled success for the club.
Raising Celtic's European Profile
While Larsson's impact on domestic competitions was undeniable, it was in European football where he truly left an indelible mark. Under his guidance, Celtic embarked on memorable UEFA Champions League campaigns, regularly facing off against some of Europe's giants.
Larsson's performances in Europe's most prestigious competition were nothing short of remarkable. His ability to shine on the grandest stage was a testament to his exceptional skill and unwavering determination. Celtic's victories over formidable opponents like Juventus, Barcelona, and Liverpool showcased Larsson's influence in elevating the club's status in European football.
But perhaps the pinnacle of Larsson's Celtic journey was the 2002-2003 season. During this unforgettable campaign, Celtic reached the UEFA Cup Final. Although they narrowly lost to FC Porto in the final, Larsson's contributions throughout the tournament had cemented his status as a true legend of the club.
Henrik Larsson's time at Celtic FC was marked by a goal-scoring prowess that thrilled fans and a leadership on the pitch that inspired teammates. His impact on the club extended far beyond his remarkable statistics; he had become an emblem of Celtic's enduring spirit and ambition.
The Larsson Effect: Reshaping Barcelona's Attack
When Henrik Larsson made the leap from Celtic FC to FC Barcelona in the summer of 2004, it sent ripples through the footballing world. The Swedish striker brought with him a wealth of experience, an eye for goal, and a footballing intelligence that would leave an indelible mark on Barcelona's attacking dynamics.
One of the defining features of Larsson's impact on Barcelona was his versatility as a forward. He seamlessly adapted to Barcelona's fluid style of play, becoming not just a goal-scorer but a provider and a catalyst in the attack. His ability to drop deep, link up play, and create goal-scoring opportunities for teammates added a new dimension to Barcelona's offensive game.
Key Matches and Moments
While Larsson's crowning moment came in the 2005-06 season, his impact was felt from the moment he joined the Blaugrana. In the 2003-04 season, Henrik Larsson played a pivotal role in helping Barcelona secure the La Liga title. His partnership with Ronaldinho, who had joined the club earlier, was nothing short of sensational.
Larsson's style of play complemented Ronaldinho's flair and creativity perfectly. The two formed a partnership that tormented opposition defenses. Larsson's intelligent runs and ability to create space for Ronaldinho allowed the Brazilian magician to showcase his skills.
In terms of goal-scoring, Larsson's contributions were invaluable. He netted crucial goals in La Liga, often in high-pressure situations. His understanding of the game and ability to read plays made him a goal-scoring maestro. His impact was not just about scoring goals; it was about changing the way Barcelona played.
The influence of Henrik Larsson at Barcelona was perhaps most evident in crucial matches and memorable moments. One such instance was the 2006 UEFA Champions League Final, where Barcelona faced Arsenal. Trailing 1-0, Barcelona needed a spark, and it was Henrik Larsson who provided the ignition.
Larsson came off the bench and orchestrated a stunning comeback. His precise assists to Samuel Eto'o and Belletti secured a 2-1 victory, handing Barcelona their first Champions League title in over a decade. It was a masterclass in footballing intelligence and composure, and it cemented Larsson's legacy as a Barcelona legend.
But Larsson's impact extended beyond the pitch. His professionalism, work ethic, and commitment to the team were exemplary. He set the standard for dedication, inspiring his teammates to elevate their game.
An Everlasting Legacy
The time of Henrik Larsson at FC Barcelona was relatively short, but its significance is immeasurable. He wasn't just a striker; he was a footballing maestro who transformed the way Barcelona approached attacking football. His ability to adapt, create, and score goals set him apart.
The Larsson era at Barcelona was a defining chapter in the club's history. It marked the beginning of an era of dominance in Spanish and European football. His influence on the pitch and in the locker room left an indelible mark on the Blaugrana.
The Larsson era at Barcelona was a defining chapter in the club's history. It marked the beginning of an era of dominance in Spanish and European football. His influence on the pitch and in the locker room left an indelible mark on the Blaugrana.
Larsson: The Beloved Teammate
Henrik Larsson wasn't just a remarkable footballer; he was also a cherished teammate and a charismatic presence in the FC Barcelona locker room. His ability to integrate seamlessly into the squad and forge deep bonds with fellow players is a testament to his character and affable nature.
One of the defining features of Larsson's camaraderie with his teammates was his humility. Despite his status as a footballing legend, he approached every training session and match with a down-to-earth attitude. He never hesitated to share his wisdom and experience with younger players, earning their respect and admiration.
The Mentor and Friend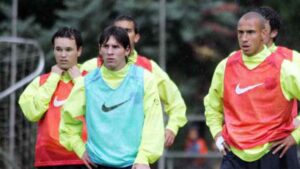 Larsson's role extended beyond the pitch; he was a mentor and a friend to many. Young talents like a budding Lionel Messi found in Larsson not just a senior player but a guide who helped them navigate the intricate world of professional football. Messi, in particular, has often spoken fondly of Larsson's influence on his early career.
The way Larsson connected with his teammates transcended language barriers. His engaging personality made him a beloved figure in the multicultural Barcelona dressing room. Whether it was sharing a joke with Ronaldinho, discussing tactics with Xavi, or offering encouragement to Carles Puyol, Larsson had an innate ability to connect with everyone.
Inspirational Work Ethic
Larsson's work ethic and commitment to the team were inspirational. He led by example, arriving early for training, giving his all during matches, and pushing himself to the limit. His dedication was infectious, motivating his teammates to strive for excellence.
Stories abound of Larsson's uplifting presence in the locker room. Whether it was a pre-match pep talk, a pat on the back after a tough loss, or a celebratory dance after a hard-fought victory, Larsson knew how to lift spirits. His positivity was contagious, and it created a harmonious atmosphere within the squad.
A Cherished Memory
One cherished memory that encapsulates Larsson's camaraderie with his teammates is the 2006 UEFA Champions League Final. In the dying moments of the match against Arsenal, with the score at 1-1, Larsson's impact extended beyond his crucial assists. He rallied the team, boosting their morale and belief. His leadership on and off the pitch was instrumental in Barcelona's historic victory.
Larsson's departure from FC Barcelona was met with sadness by both fans and teammates. His farewell was an emotional moment, as players and staff alike recognized the immense contribution he had made to the club, not just as a player but as a cherished friend and mentor.
An Enduring Bond
Henrik Larsson's time at FC Barcelona may have been relatively short, but the bonds he formed and the camaraderie he shared with his teammates continue to endure. He remains a beloved figure in the hearts of Barcelona fans and a respected icon in the footballing world.
Larsson's legacy at Barcelona isn't just about goals and assists; it's about the enduring friendships and connections he forged during his tenure. He exemplified the essence of teamwork and camaraderie, leaving an indelible mark on the Blaugrana family.