Xavi Hernandez was asked a lot of questions ahead of the Spanish Super Cup game in Riyadh on Wednesday against Real Madrid. He was joined by Sergio Busquets. 
Follow the entire press conference here.
Xavi on Pedri and Ferran Torres
This is good news that the two of them are arriving. We're not yet sure about their fitness and whether they'll feature for the entire game or not. These are the players who can make the difference for us. 
Xavi on Araujo
It's a collective effort to stop Real Madrid. There are players like Vinicius, Benzema, and more who can make the difference. We have to make sure that we can compete. 
Ansu Fati and Ferran to start?
We'll see tomorrow since both are coming back from injury and covid. They can get minutes tomorrow. These are important players and we don't want to lose them. 
It's been 5 Clasicos since Madrid last lost
It's important to win the Clasico. This is a final, all games are finals. We have to focus on the game tomorrow. It's a turning point for us. 
Another title in play, what do you need tomorrow to eliminate Madrid
It's a great challenge, and it'll be a turning point for us. We have to take the lead from the start. You never know what might happen in a Clasico. We have to play our way and try to fight till the end. 
Which Madrid player do you want in Barca
We have to look at tomorrow's game and keep working. We have to have a great performance. Getting to the final is the objective.
About the front 3
We have players who can make the difference. They get into the area, create opportunities, and we have to see how we manage the minutes. 
Ansu, Ferran, Frenkie, and who will start 
There are a lot of positive things in the group, and we have to be self critical. We have to see how we defend, how we mark, and more. Tomorrow's a good test of where we're at. All players are important, especially the young ones who bring a lot of hope for us.
Do you get a feeling that ahead of your first Clasico as a coach, you don't have good circumstances
There are a lot of things like injuries and covid, but we have to keep fighting, there are no excuses. It's a great test tomorrow. 
About the league and where Barca is
I have a lot of confidence, but we can't predict the future. It's difficult to control matches, we do not have patience. This is the way we improve, and move forward. We need time to grow. We will fight till the end. 
About Memphis and his role in the team
There are a lot of good players. This is Barca. He's very important, like everyone. There's a lot of competition in the team. 
You've played a lot of Clasicos as a player. How do you face this different Clasico?
There have been games when Barca are the favorites and not won. We're still under construction, and Madrid are in great form. It won't be easy. We need to have a lot of personality if we need to get to the final. 
WORDS FROM SERGIO BOUSQUETS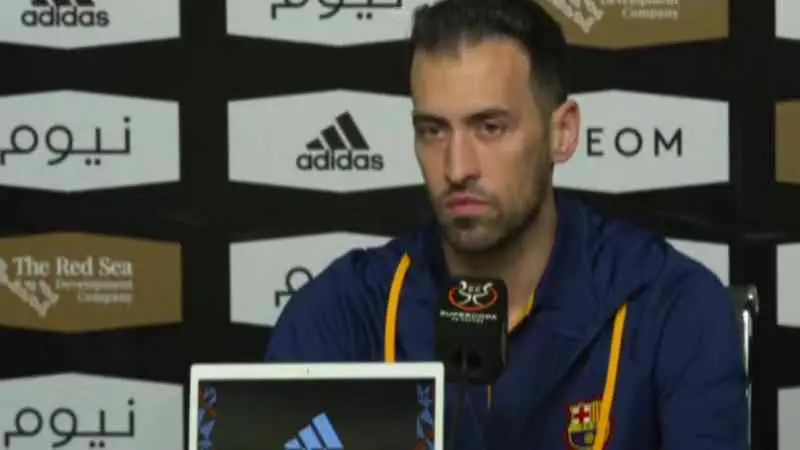 Bousquets on the game
Excited for the first title of the season, we're happy to be here. There are a lot of players with a lot of quality. It's a clasico, and everyone wants to play. This is a difficult position in the league, we're expecting a very tight match. It depends on the dynamic of tomorrow. 
Is it different from the Clasico that you played in October?
We're physically better. There are a lot of players who were out and are now back. It'll be a complicated match, we're excited. 
About the contract of the players
We forget about all the contract issues of the players. The focus is on the Clasico tomorrow. 
On Pedri and Ferran 
Both of them will be useful for the game. The players were injured, and now they're back. We're gonna go tomorrow and try to do things well. It doesn't matter if they're the favorites. 
About how the team is learning 
There are a few league games where we lost points towards the end of the games. We have to try and be a bit more strong in possession, and careful. We have to try and concede less fouls, not allow ourselves to be in danger. Against Osasuna where we lost on the rebound, we have to be careful on those details.
On Youngsters 
I'm happy that there are players coming out of La Masia. Football has changed, everything is much quicker. The youngsters are ready much earlier, and they can help us. They can play a lot during this difficult period. In the future, they're the players who can set the destination for the club in the future. We have to be patient with them.
This is the first clasico in history being played outside of Spain, is it different from the other Clasicos
This is the Super Cup format, it's a title, and we have to stay positive. We're very happy, and have to give our best. 
The Super Copa Semi-Final is tomorrow at 8:PM CET.