We are about to face Dortmund in a few hours. A worrying game. Both clubs aren't doing well. Barça has catastrophically won in an ugly manner against Leganes. Meanwhile, Dortmund drew 3-3 against newly promoted Paderborn – after being 3-0 down after the HT. Both clubs are pretty much living in a hell right now.
On one side 'We colour football'. We colour as much as football as this picture. Nothing looks bright. We don't colours football anymore in Valverde's 3.0. Instead, we are going from bad to worse, from style problems to no style at all. To stability to instabilities. We are first,but at what price? What does it mean when your last deserved game was over 5 weeks ago(Against Betis). We were known to play 'tikitaka'.
Now, even the badly placed teams press against us with ease. We are not feared anymore. From the Sextuple, to MSN, to bottlers. The reality is sad for the blaugranas right now.
On the other side, BVB
While Barça were pretty much the strongest in Europe, Dortmund were known to play good offensive football. They were known for having good talents. Especially under the current Liverpool manager, Jürgen Klopp.
But like us,they need change. They can't bear it anymore. It's not even change anymore, it's a revolution. They aren't even in the top 4 in the Bundesliga, despite Bayern also failing to reign over the German League. They are also now known as bottlers. As Reus pointed it out "We don't press well. And it's not getting any better. The best player [Messi] is on form right now". Good news, we dont know how to press either. Pressing needs structure,and we dont have it. Our last encounter was a 0-0, where they had lots of chances. Now, both teams have to win in order to survive. And it's going to be hard.
S Q U A D L I S T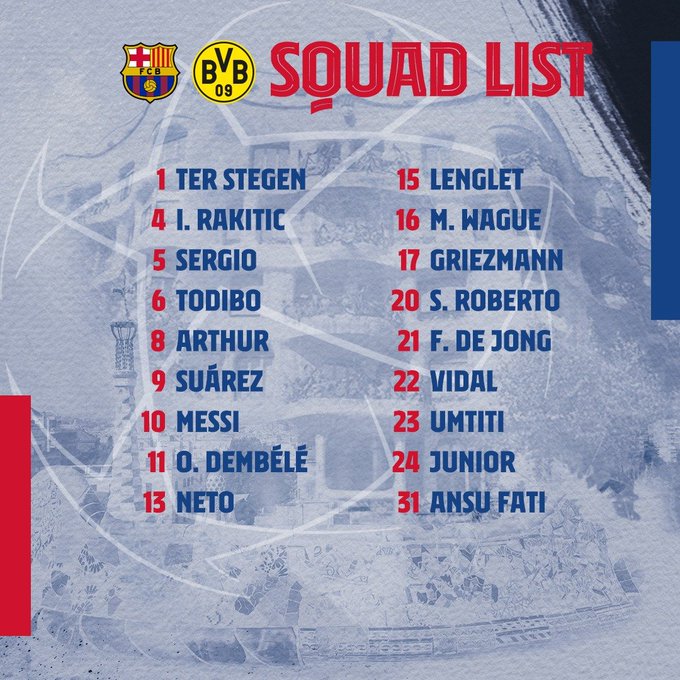 Lenglet makes it. Good. It wasn't sure whether he would he able to make it for the clash against BVB, but it looks like he'll be fit. I'm expecting him to play alongside Umtiti or Todibo – As Piqué is suspended.
Good news. Arthur is back in the list,confirming bus absence vs Leganes was purely resting purposes. I'm expecting him to play alongside Busi & Frenkie, Our gala midfield.
Sadly expected, Aleña doesn't make it. Confirms the rumours he'd go on loan in the second half of the season, I'm afraid.
Vidal being on the list,I'm guessing he'll play the last 20′. Wagué makes it. However, Valverde & most managers prefet experienced players for the Champions league, especially considering that Barça have to win this game to qualify, just like our opponents Dortmund. I'm guessing Sergi will start,despite a beautiful display of Moussa against Leganes-One of the only positive of Saturday's game.
Ansu makes the squad, while Perez doesn't. I believe Demb will be starting. However it wouldn't be surprising if Ansu gets to play the last 20′, depending on Demb. I'm hoping that Griezz won't play LW – Whether it will happen is another question.

Messi celebrates 700 official games with Barcelona
The clash against Dortmund will be something special for Leo – as it will be his 700th game for Barça.
Leo has always been someone special. While other great players get their first hattricks against weaker sides, Real Madrid was his first victim of all the hattricks he has scored. Whether loved or hated, Leo's story will always be inspiring: Coming from a Rosario in Argentinia, he had growth problems. His little size was seen as a problem. Even at Barça, it looked unlikely. One man decided otherwise. It was Tito Villanova. Barça, slowly, had enough of paying for Leo's growth hormones – Which are very expensive indeed-. People started doubting. Yet,Tito saw in him the magic folks had forgotten. And he facilitated his entrance in the first team. And the rest,as they say, is history. The little magician went on to be Barça's top scorer.
Critics went on tho. People said he couldn't exist without the trio MIX (Messi-Iniesta-Xavi). What did he do? He went against the odds. To not forget there was already before the MVP trio(Messi-Villa-Pedro)where Messi showed his magic as a #F9. Leo would then get two valuable friends: Suarez & Neymar.
Under Enrique's magical team, they scored, scored and scored. And eventually, in 2015, won the treble. Messi, some year before,in 2012, had his best goalscoring year: In goals alone,he has 91 goals in the 2012 calendar year. Yes, 91.
Seen as a Saviour, he also is often said to be a problem. It is undeniable that the 'Messidependencia' exists. It is there, and whether we like it or not, it's the truth.
And it's a problem we have to fix: Messi is 32 years old and won't last forever. We don't want to end in the midtable after he leaves, especially with our talented youngsters.
---
What do you think are the keys to win the match between Barça vs Dortmund? Write your opinion on the comment section below