Here you can find out the latest news topics on Barcelona's top sport newspapers : Mundo deportivo, Sport and more! What's going on with Barcelona? What are the latest rumors? all of it is here!
Many thanks to Barcacentre that many of the headlines translates come from them. Furthermore, feel free to comment about the recent news here or on our social platforms.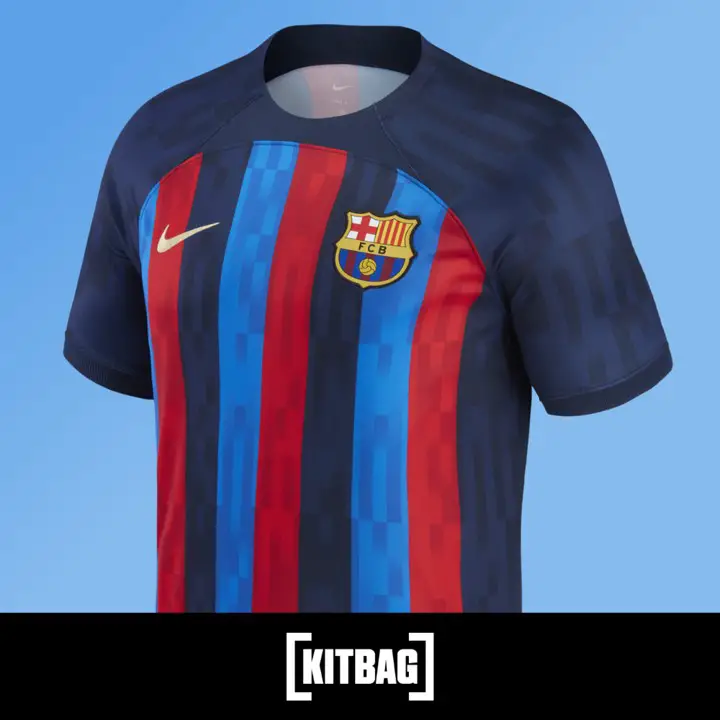 ---
June 13 2020
Finally, football is back! So the newspapers can finally talk about football and not transfer Rumors.
June 11 2020
June 10 2020
June 09 2020
No transfer rumors today! Amazing!
June 08 2020
It was only a matter of time – The Neymar rumors are back. But how can we afford him with the club's financial crisis? How can you spend so much money for him or for Lautaro, when you ask players to cut their wage?
Apparently Man Utd offered 100 million euros for Ansu Fati. However, that rumor doesn't seem like a real one.
June 07 2020
June 05 2020
So Barcelona wants to offer Firpo+70 million euros for Lautaro? What do you think about that?
Although other reports say that Messi's participation against Mallorca is in doubt, others say that he will train normally today. However, we'll know more after today's workout.
June 04 2020
9 days to the comeback of Barça, and Suarez looks ready! Hopefully he'll get the green light soon.
Following Eric Garcia and see him as a possible replacement for Pique. However, the guy left La masia in the first place because Pep offered him a better project. Bartomeu won't be able to convince him in my opinion. Hopefully, he'll arrive with the new president in the future.
June 03 2020
MD tries to add Dembele to a deal with Juventus, on loan. We'll see about that.
When SPORT tries to tell papers with no actual news available. Lautaro does want to come. But a deal with Inter is still far away.
June 02 2020
June 01 2020
MD continues to talk about Lautaro and how good he is.
As always, when a young talent starts making his name, we get this 'article' about how Barcelona almost bought him. This time it's Alphonso Davies.
Sport says that Barcelona wants 40 millions for Semedo. However, will it happen? We'll have to wait and see.
Finally we have definite schedule for Football return.
RCD Mallorca – FC Barcelona will be played on Saturday, June 13th, at 22:00 CET. Three days later, on June 16th, Barcelona will host Leganés at 22:00 CET.
May 31 2020
New day, with new swap deals. However, nothing new really.
Arturo calls the remaining matches "11 finals" and they really are.
May 30 2020
MD celebrates the return of La liga. Soon we should find out the schedule of the matches.
SPORT with another front page about Pjanic and the transfer market. However, this time we also hear about how Neto might leave the club in order to promote Inaki Pena. Furthermore, Arnau Tenas will become 3rd GK in that case, and first GK of Barcelona B/
May 29 2020
MD talk about how the players are reaching Top form as we get closer to the return to action.
Inter insists on the release clause of Lautaro. Can our board negotiate for it? Maybe. But we already know that this board have some BAD negotiators. Therefore, I see our club pay something close to the 111 millions clause. Although our club have no money for even half of that amount, I believe that the club sees him as a strategic signing so they will find the way to fund the operation.
Suarez is about to get the medical 'green light'. However, the only reason to refer to him as a 'signing' in this front page is to sell more papers.
Juve finally give up on Arthur. The message is received and the Brazilian will stay with us next season.
May 28 2020
MD put Coutinho on the front page and talk about teams from England that are interested in him. However, nothing concrete right now. Clubs see the decrease in his abilities, and he has enormous salary.
Sport put Messi in the front page, talking about how he wants to return to action.
Although MD talked about the EPL, here they talk about Coutinho entering the Lautaro deal. Nothing concrete again.
Arthur wants to stay and Barcelona wants to bring Pjanic. Therefore nothing moves in that area right now.
May 26 2020
Sport with the return date of June 14. However still waiting for official news on that matter.
They say that Barça wants to close the apjanic deal this week. But remember how a month ago they said that Lautaro will be Barça player in 10 days?
MD with the next record that Messi wants to achieve.
May 25 2020
Sport with the team's good physical level after lockdown.
Arthur wants to stay and that's awesome. However, it would be noce if the club stops trying to send him out.
Mundo Deportivo say that Barça might send Dembele to Juve in the Pjanic operation.
May 24 2020
MD today with La Liga that is set to return in about 2-3 weeks. However, we'll have to wait for the definite schedule.
Talking aboug how Barça wanted Cancelo since 2017. But the hight demands of Valencia back then made Barça approach Semedo instead.
Sport also put the La Liga comeback in the front, although there's no official schedule.
Neymar causes a debate in the club? I could swear that I saw that title dozens of times in the last year or two. It's like they need another hot topic in the front page and have nothing else to talk about.
May 23 2020
May 22 2020
Semedo is a target for many clubs. However, are Barça preparing for his replacement? De Sciglio is far from the top levels of the fullbacks.
---
Ter Stegen for five more years is great news. However we should still wait for official news. Meanwhile, take a look at a video we made about him:
May 21 2020
Mundo Deportivo talks about how important it is to make the squad shorter and less expensive. But the club chases a 30 years old midfielder, go figure..
Pjanic told PSG that he only values the option to go to Barça? Noted.
---
Sport talks about how it is 'good business' to Buy a defender for 1 million and sell for 25. Isn't it better business to actually let him play and maybe earn a defender for many years?
The la liga will be back between June 12 to 19. However, a lot can happen in a month, so let's cross our fingers.
May 20 2020
Mundo Deportivo talks more about Pjanic, and that's the news source that is closest to the board. Therefore, the rumors about him seem real. However, I believe that they want to know what the majority of the (local) fans think about it.
---
Sport continue to talk about possible swsp deals, but some of the are unrealistic. For example- Rafinha is not a real option for Inter, because recent reports say that Conte doesn't want him.
May 19 2020
Mundo Deportivo sees Lautaro as a strategic signing just like De Jong and Ter Stegen.
At the bottom: The return of the 'rondo'. Furthermore, Rakitic talks about how he missed passing to his friends.
Sport still talks about the Pjanic + De Sciglio + 25 millionfor Semedo. However every other media source denied this deal.
May 18 2020
After few days with front pages about the Bundesliga returning , we're back. However we should take the recent rumors with a pinch of salt.
Mundo Deportivo talk about a HOT week regardingthe transfers of Lautaro and Pjanic. However, there could still be many twosts and turns.
---
SPORT are still talking about the agreement for the Semedo deal with Juve. But meanwhile other media sources denied that the operation is even close to be signed.
May 14 2020
May 13 2020
May 12 2020
May 11 2020
Mundi Deportivo – Pjanic / Lautaro on the way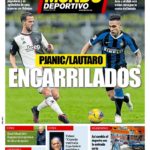 Barcelona has approval from both players and is optimistic about closing deals
Inter are looking for replacement, while Juventus and Barça are close to completing the Pjanic deal
Sport – Pjanic debate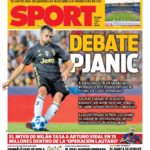 Barcelona has approval from the player to join for 4 seasons
The two clubs negotiate a deal that could include Todibo and De Sciglio.
Pjanic's potential arrival to the squad crowded with midfielders creates a debate amongst Barça fans
April 30 2020
Mundo Deportivo – Coutinho: 100m or nothing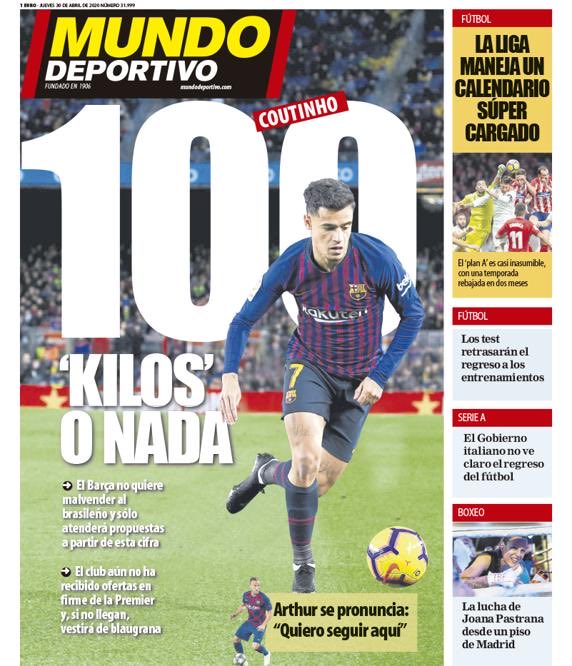 Barça does not want to sell off the Brazilian and will only attend to proposals based on this figure.
The clubs has not yet received firm offers from the Premier League, and if they don't receive one, he'll stay.
Arthur is clear: "I want to continue here".
La Liga drives a super charged calendar: 'Plan A' is unaffordable with the season halted for 2 months
Sport – Dortmund want Ansu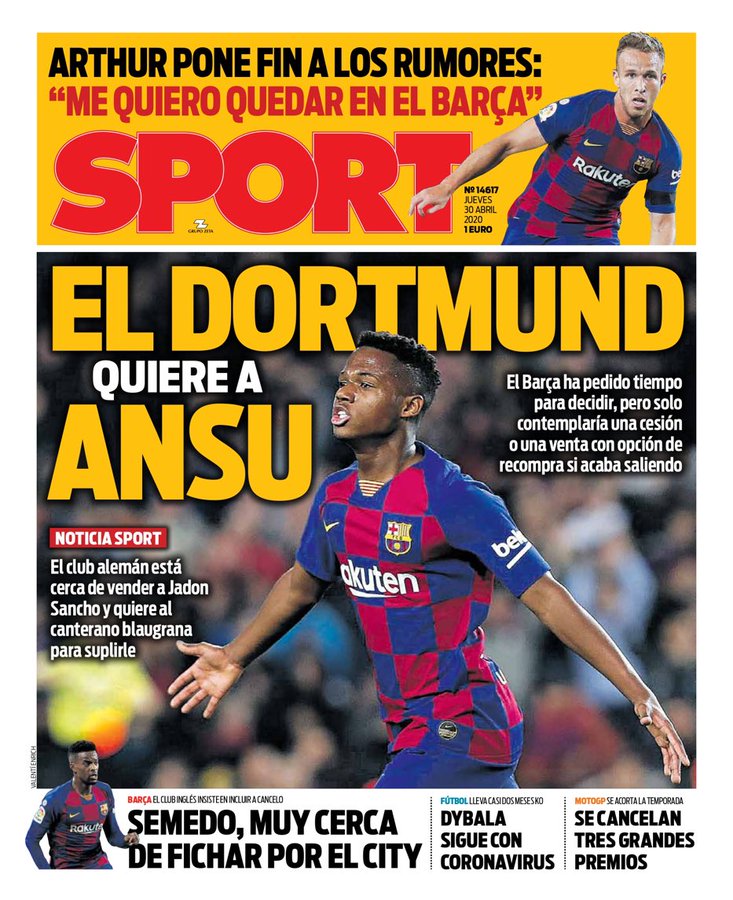 Barça has asked for time to decide but would only contemplate a loan or they'd sell him with a buy back option.
The German club is ready to sell Jadon Sancho and would want the Barça youth player to replace him.
Arthur puts an end to rumors: "I want to stay at Barça".
Semedo, very close to signing for Man City: the English club insists on including Cancelo.
April 28 2020
Mundo Deportivo – Green light for Juve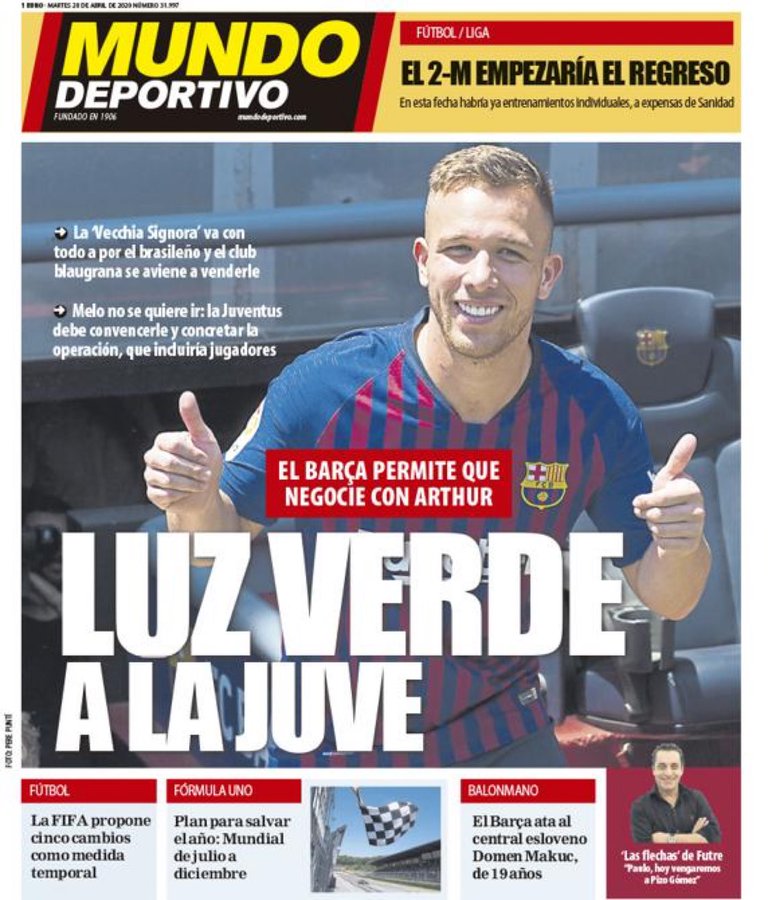 Barça allow Juventus to negotiate with Arthur. The 'Vecchia Signora' will go all out for the Brazilian and the Blaugrana club agree to sell him. Melo doesn't want to leave: Juventus need to convince him and finalize the operation, which would include players.
FIFA propose 5 changes as temporary measures.
Sport – Exclusive interview with Koeman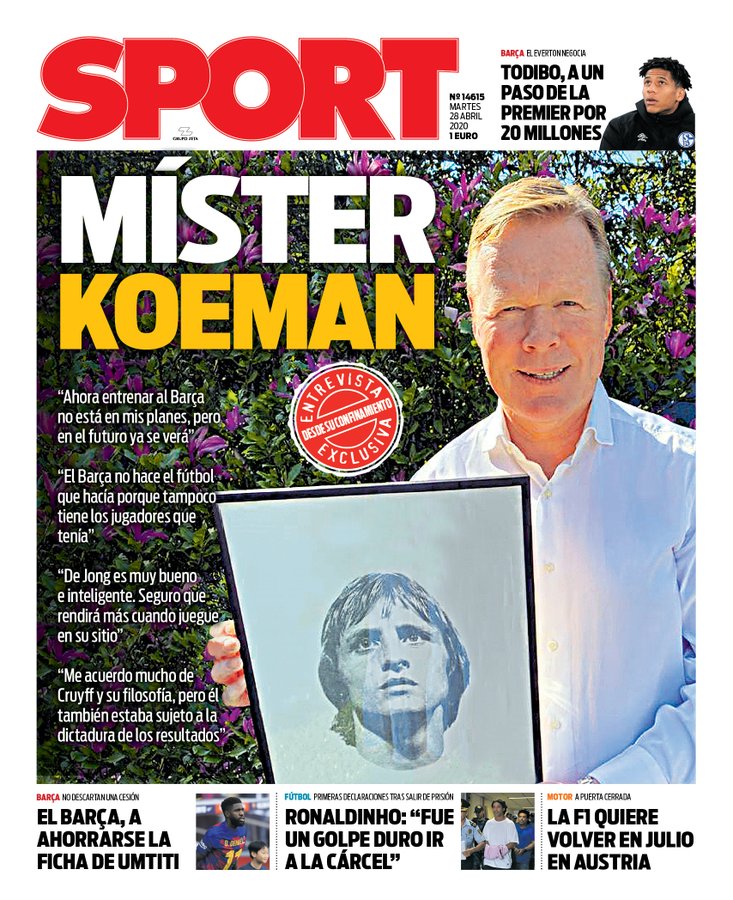 Few quotes from Koeman's interview:
"Right now coaching Barcelona is not my plan, but in the future we'll see".
"Barcelona don't play as well as they did because they don't have the players they had".
"De Jong is a very good and intelligent player. I'm sure he'll do great once he'll play in his natural position".
Todibo, close to a move to the Premier League.
Ronaldinho: It hurt me a lot to be in jail.
April 25 2020
Mundo Deportivo – Juventus are very interested in Arthur and willing to swap players for his services
Sport – LA LIGA IN DANGER
Barça's board are thinking of refusing to play anymore LaLiga games until it is 100% safe.
April 23 2020
Mundo Deportivo – MATHEUS FERNANDES: "I'M GOING TO MAKE HISTORY AT BARÇA"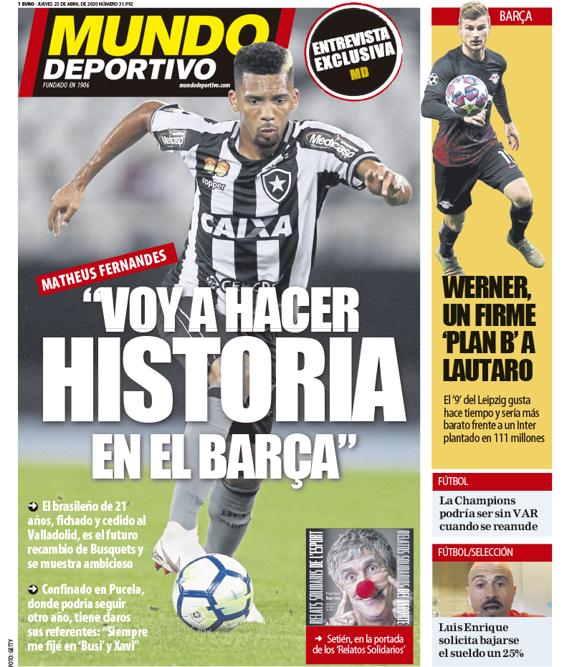 Matthew Fernandez (Barcelona loaned to Valladolid): I am happy to be in Valladolid but my goal is to play for Barcelona.
It has always been my dream to play for Barcelona and I think I will succeed there. I hope to go to BARÇA and make my history and stay forever.
I think I will play with the best player in the world, I don't know what to say .. Reaching a great club like Barcelona is a dream
SPORT – Counter-offer for Lautaro
Inter responds to Barça's interest by offering an attractive extension to the Argentine contract.
Meanwhile, Barcelona prepares to their final offer to bring the striker.
April 22 2020
Mundo Deportivo – Offers for Arthur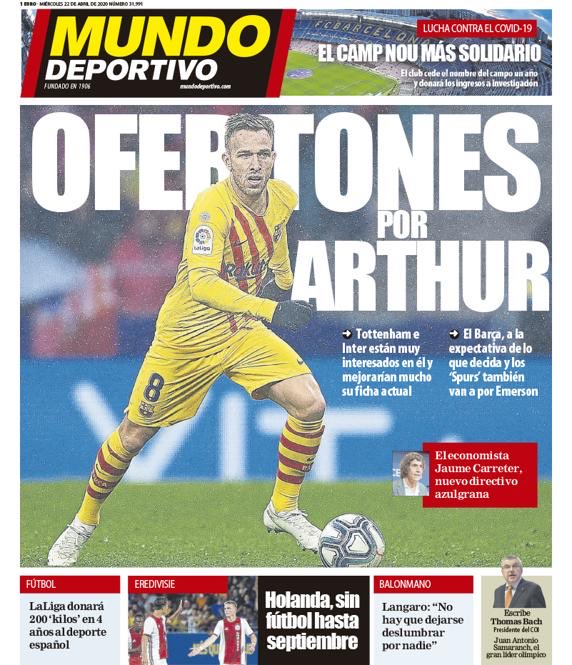 Tottenham and Inter are very interested in him and would greatly improve his current salary.
Barça, awaiting for the Brazilian to decide and the 'Spurs' also go for Emerson.
A very supportive Camp Nou: the club will sell the name of the stadium for one year and will donate the income for the research of COVID-19.
Sport – Barça will loan the Camp Nou's 'title rights' to fight the coronavirus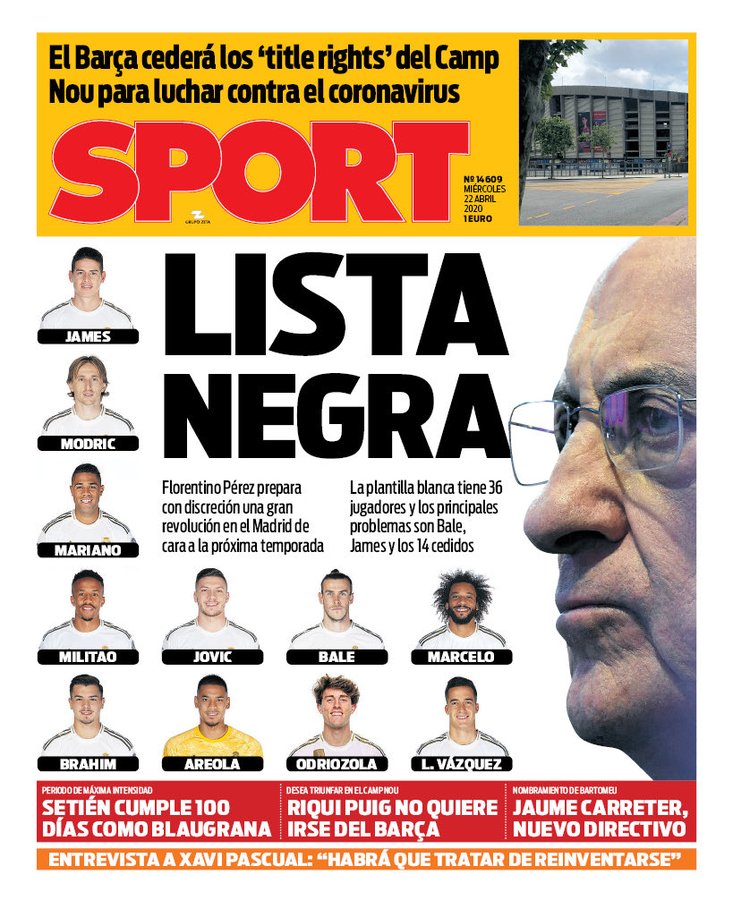 Finished talking about Barcelona, and went to talk mostly about Real Madrid today..
April 21 2020
Mundo Deportivo – Neymar would charge half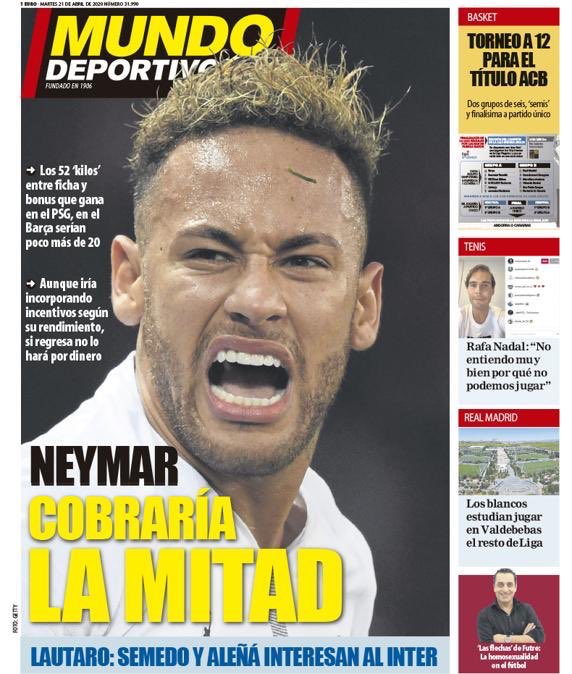 Neymar, who earns 52 million (salaries and incentives) in Paris, may agree to a salary of only 20 million euros with Barcelona.
SPORT – Closed until 2021
Barça believes that it will be very difficult to open the Camp Nou to the public before the end of this year.
Epidemiologists are advised to return gradually with measures to reduce capacity or take heat.
April 20 2020
Sport – Umtiti wants to stay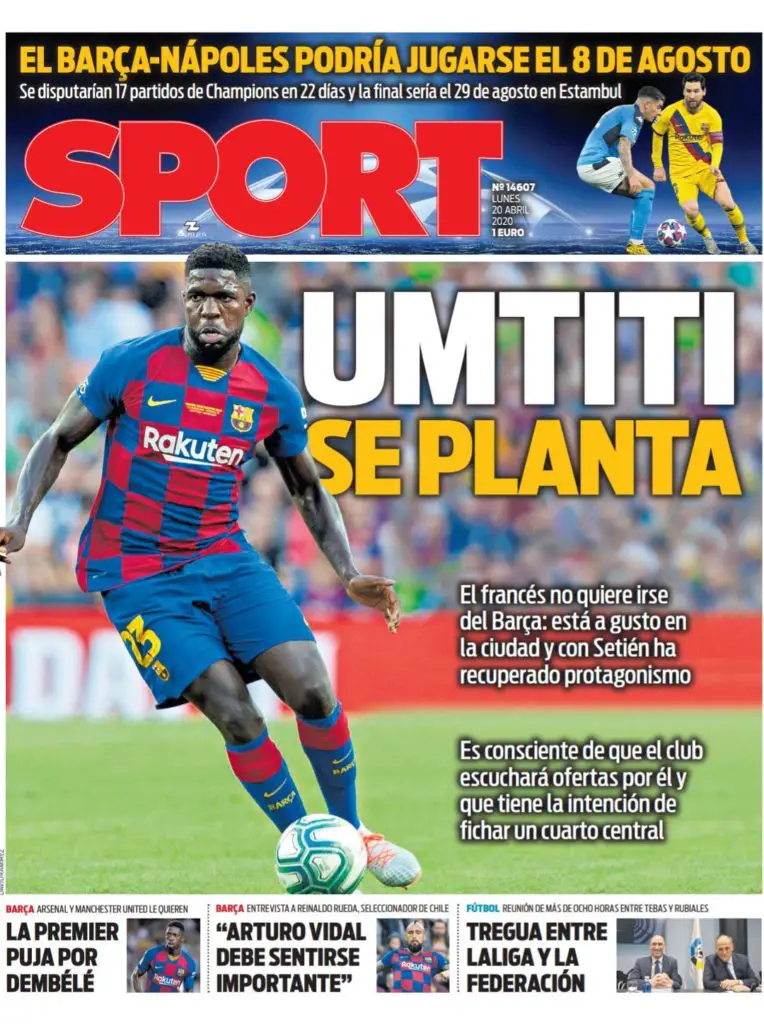 The Frenchman doesn't want to leave Barça: he likes the city and has regained confidence under Setién. However, he knows the club are willing to listen to offers and that they have the intention of signing a fourth centre back.
Barça-Napoli could be played August 8th: there would be 17 UCL matches in 22 days, the final being played on Aug. 29th in İstanbul.
The PL pushes for Dembélé: Arsenal and Manchester United want him
"Arturo Vidal should feel important": interview with Reinaldo Ruelda, Chile NT coach
April 19 2020
Mundo deportivo – Interview with Sandro Rosell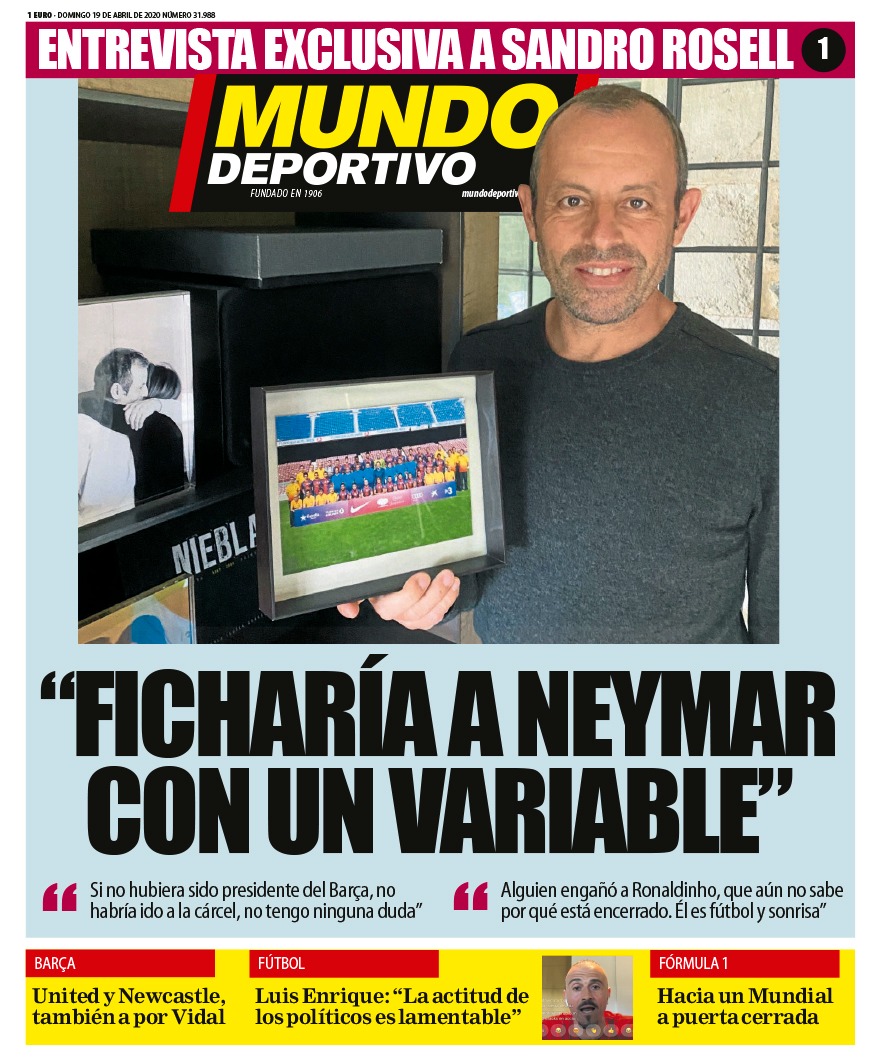 Sandro Rosell (former Barcelona President): "I would sign Neymar, but on a contract with variables for sporting results and behavior."
Is it the start of the presidential campain of Sandro Rosell? We know how much Sandro Rosell and Bartomeu are close to MD.
Sport – Suárez OK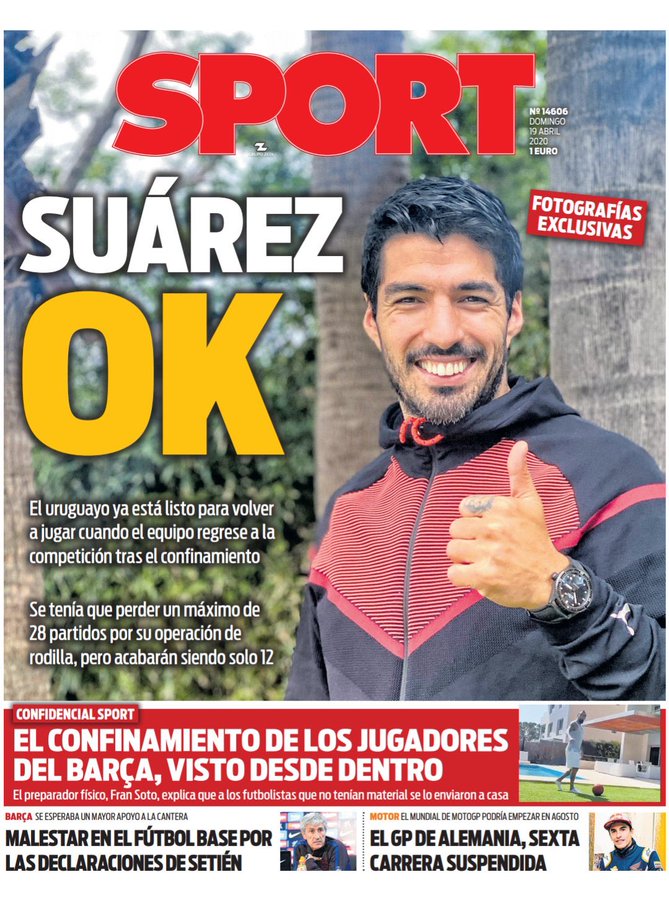 The Uruguayan is ready to return to play when the team returns to train and play games.
Forecasts said he would miss 28 games because of his knee operation, ultimately he only missed 12.
The quarantine of Barça players, seen from within.
Super Deporte – Dani Parejo speaks about how cose he was to join
In an interview with the Valencian newspaper, Dani Parejo confirms: "Valverde wanted me, but I told Barca no." The two clubs negotiated for him last year. Valverde had strong desire to see him wear Blaugrana. However, in the end we all know that Parejo stayed with Valencia.
April 18 2020
Mundo Deportivo – Not for 111 million euros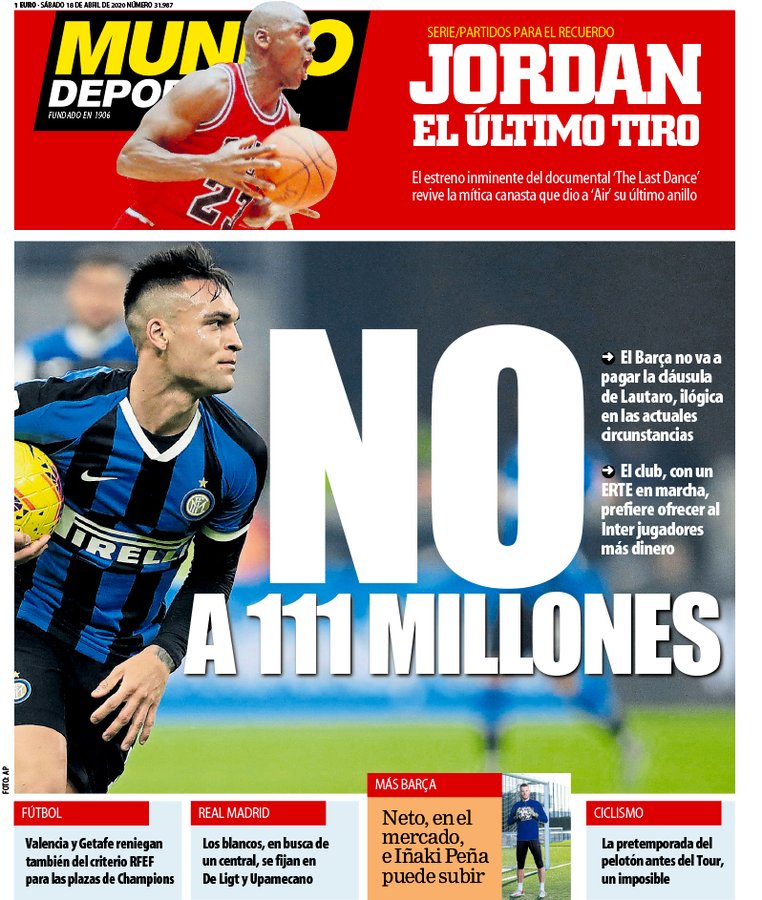 Barça will not pay Lautaro's release clause, it's illogical in the current circumstances.
The club, with ERTE in progress, prefer to offer Inter players plus money.
Neto, on the market, and Iñaki Peña could be promoted.
Sport – They can play together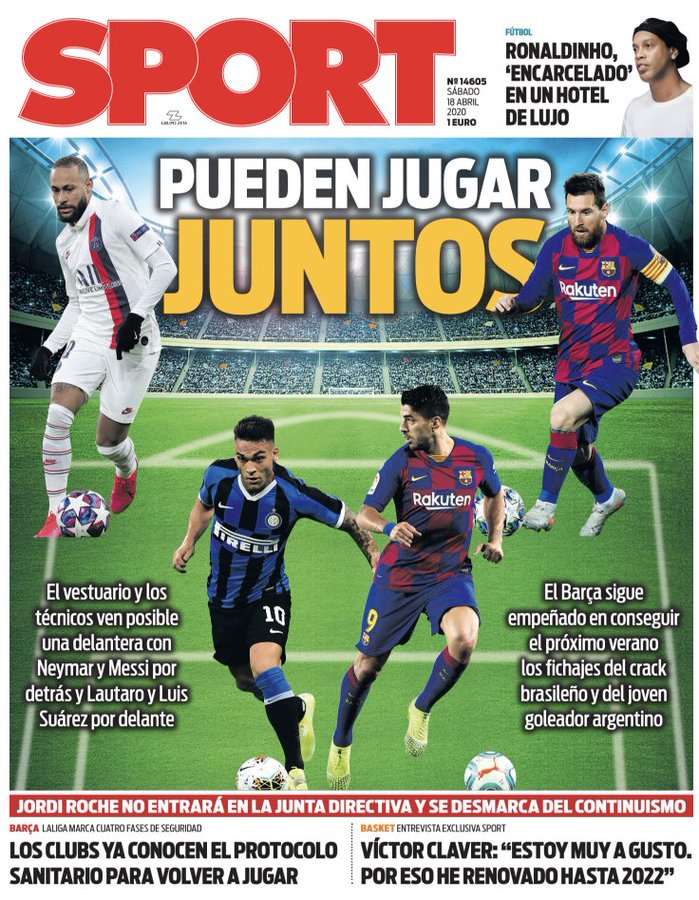 The dressing room and the coaching staff see a forward line possible with Neymar and Messi behind and Lautaro and Luis Suárez ahead.
Barça are still determined to achieve the signings of the Brazilian star and the young Argentine goalscorer next summer.
Jordi Roche will not join the board of directors.
Ronaldinho, 'imprisoned' in a luxury hotel.
The clubs already know the sanitary protocol to play again.