Another midfielder who has been incredible for Juvenil A is Txus Alba who is the team's top assister. This season in 6 matches he picked 1 goal and 2 assists being one of the key players in Artiga's midfield.
Time at La Masia
Txus Alba was born on the 31st of January 2003 in Barcelona. At the age of 7, he started playing football at RCD Espanyol, where he spent 4 years before moving CF Damm academy. After impressing there in 2017 he moved back to Espanyol, where he was placed to their Cadet B team. In 2018 Barcelona noticed his talent and brought him to La Masia by paying his release clause of €50,000.
After joining Barcelona's Cadet A, Txus needed to face competition in a very talented midfield consisting of players like Jorge Alastuey, Fermín López, Marc Casadó, Arnau Solà and Xavi Simons. However, after spending one season at Cadet A he signed a new contract, which will see him staying at Barcelona until 2022.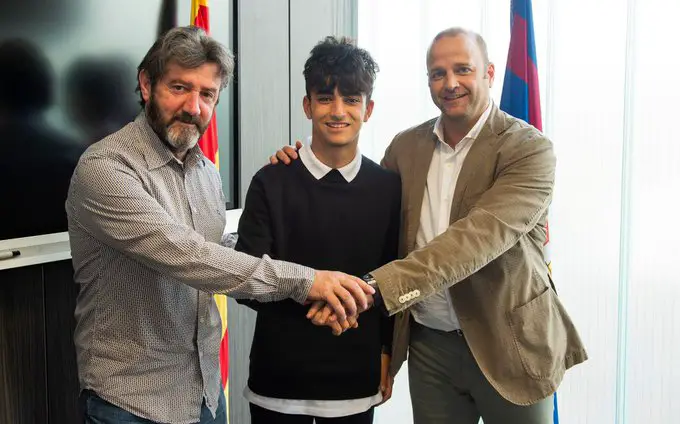 After signing a contract extension, he got the promotion to Juvenil B. There he played the most minutes that season. Playing 1764 minutes and scoring 8 goals and 8 assists in 19/20 season. In 2019 he made his debut for Spain U18 and played 2 friendly games against Turkey U18 and Romania U18. In the summer of 2020, he was promoted to Juvenil A and now he is having a spectacular start to the season.
Playing Style
Txus Alba can play as a central midfielder or an attacking midfielder. The 17-year-old is one of the most technical players in La Masia. His technique is exquisite, while he has incredible balance, which helps him to bring the ball forward. Txus has great footballing intelligence, creativity, vision as he always tries to find a way to play a forward pass between the lines. Meanwhile, he can dictate the tempo, while on the ball to speed up the play.
One of his biggest strengths is set-pieces, from which he already picked up an assist this season. His accurate long balls are impressive for his age, with the fact that he is two-footed he is a nightmare for opponents to deal with, especially as he is not afraid to take on players. He has a great sense of positioning as he finds himself in great positions to score. If he is not able to get into the box and have a chance at goal, he can score from a long-range with his powerful shot. Txus Alba could improve his defensive contributions, as well as decision making, which he will improve within a few years as he is already progressing in those aspects. Alba as a player reminds me of David Silva.
What does the future hold for Txus?
This season Txus Alba will be one of the key players for Juvenil A. In March we will see Txus Alba participate in UEFA Nations league playing against top young talents in Europe. I'm expecting that either this season or next one he will make his debut for Barcelona B in Segunda B. Hopefully he will be fully promoted to Barcelona B next summer as the Barca B midfield won't be overcrowded as it is now and he will get playing time. He is an extraordinary midfielder with an incredible skill set and potential.