Real Sociedad vs FC Barcelona : Post match thoughts: If we could complain about yesterday's refereeing, I saw a much bigger problem yesterday: Control.
Real Sociedad dominated us-in pretty much every single aspect you could think of:
53% for them, giving us only 47%(!)
19 Total shots for them, 9 for us(!)
11 shots inside the box for them, only 7 for us(!)
We also tried too often long balls (64%)(!) These are just stats, you'll tell me. Well, it is important when you consider it was a must win. Yes, the Anoeta has always been a difficult team. And yesterday, once again, they had the show. We allowed them to play their game-We seemed rather reactive instead of being pro-active. Letting their mess be there instead of imposing ourselves-I was honestly jealous of them.
The lack of youth also did actually reflect it. R.Sociedad have an average of 24 years, while we have 28. It seems like we were looking on them, wishing we could go back in the past, stuck in the glories a decade ago. And then facing back reality.
Luckily, we reacted in the second half: Valverde identified the problems,and once we were able to break their press, dozens of open spaces were there for us.
We also have to thank Pique & Lenglet. They did an amazing work, and are still underrated. We didn't get what we wanted, and we have to work hard to be better.
We have to overcome it, and look into the future.
Onto the Clasico on Wednesday, V A M O S!
#ForçaBarça
Players ratings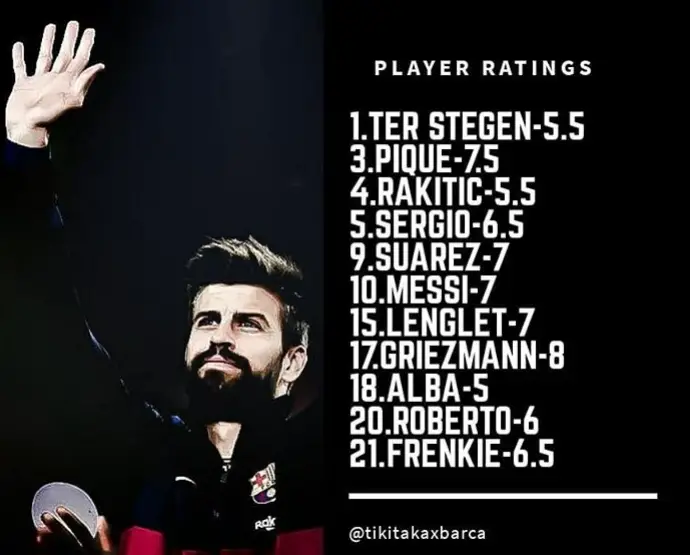 MATS-5.5: Disappointed. If he couldn't hold the penalty, he could have prevented the second goal.
Roberto-6: Disappointing too. Solid at the back, but offered little in the attack, unlike the last games.
Piqué-7.5: Very good game from him. Was vital in the defence and almost scored a goal. Solid.
Lenglet-7: Great too. His clearances were vital, without we'd have probably lost. Great.
Alba-5: Just not enough. He struggled on his wing as R.Sociedad bullied him,limiting his own impact in the attack.
Busquets-6:Was alright. His rating is raised because of his beautiful pass-He shouldn't have been subbed off.
Rakitić-5.5: Offered very little,except for that one shot. He often did backpasses without any reason,proving he just isn't the same anymore.
Frenkie-6.5: Great in his passing,however wasn't incisive enough. Can do way better.
Messi-7: Considering his standards,it was a bad game. He led the attack,unselfishly offered the goal to Luis,however lost the ball too often.
Suarez-7: He got heavily involved in both goals,with a tap in in the second one. Just got the job done.
Griezzmann-8: Did great. At the beginning wasn't great, but then he came in and chipped. Against his earlier team. His second homecoming was great.
Subs:
Aleña-7: Never lost possession. Great. Just should have gotten more time.
Semedo-7: Replaced Alba and did great, however he barely played enough,just like Aleña.
Vidal-(?): Little impact as he came in in the 79′-can't be judged.10h