After a convincing win with our youngsters at San Siro against Inter Milan, we turn back to the league. As Barcelona are set to face 4th placed R.Sociedad away. Real Sociedad did pretty well this season so far. They bought several reinforcements with the likes of Martin Ødegaard, Alexander Isak & Nacho Monreal. Moreover,don't forget their striker, Mikel Oyarazabal. With these youngsters, R.Sociedad are a joy to watch this season; They shouldn't be taken by any means lightly, despite having lots of up and downs.
How did both teams do lately?
R.Sociedad in the last 5 matches; DLLWD
R.Sociedad-Leganés:1-1(H)
R.Sociedad-Osasuna:0-1(H)•Friendly•
R.Madrid-R.Sociedad:3-1(A)
R.Sociedad-Eibar:4-1(H)
R.Valladolid-R.Sociedad:0-0(H)
Position in the league: 4th, 27pts, GD +8.
5 points in the last 5 matches, not really brilliant. However, with 27 points, they are only 4 points behind third place Sevilla, and 7 points from us – Meaning we gotta win.
Barcelona in the last 5 matches; WWWWW
Leganés-Barcelona:1-2(A)•League•
Barcelona-Dortmund: 3-1(H)•UCL•
Atletico-Barcelona: 0-1(A)•League•
Barcelona-RCD Mallorca: 5-2(H)•League•
I.Milan-Barcelona: 1-2(A)•UCL•
On the other side, we are rolling. Despite only having one clean sheet out of the last 5 matches, we have had convincing wins against Atleti, Inter & Mallorca. We gotta win today as we will face our arch rivals Real Madrid on Tuesday, to boost our confidence. After all, Barcelona have defeated a lot of 'Real' teams this season, and Sociedad would just be a 'lil test.
Last 5 meetings:
FCB-R.Sociedad: 3-2(H)•15.04.17
R.Sociedad-FCB: 2-4(A)•14.01.18
FCB-R.Sociedad: 1-0(H)•20.05.18
R.Sociedad-FCB: 1-2(A)•15.09.18
FCB-R.Sociedad: 2-1(H)•20.04.19
A series of wins, that we surely will try to extend today at the Anoeta.
Expect lots of heat tomorrow, I'm expecting a brilliant game. We've been in a good form lately, they have the opposite. Vamos!
Tactical keys
Tactically, R.Sociedad are very interesting. If Real Madrid loanee Martin Ødegaard is the main superstar in the group, another midfielder is key for them: Mikel Merino. The 23 year old midfielder used to be the playmaker & creator before Ødegaard's arrival.
However, as Ødegaard became the playmaker for Sociedad, Merino's importance to Sociedad's system hasn't diminished: He now serves as a passing lane as well as a defensive midfielder-Which is absolutely needed in a 4-3-3, their current formation. Moreover, not only is the midfield good: With Oyarazabal as LW, Portu as RW, they fully are equipped, as Willian Jose is the striker. In this system, roles can change: It's the usual organised chaos in Real Sociedad's team.
We should aim to control the game, and watch for players like Ødegaard, Oyarazabal & Portu. We can't let them control the game in the chaos. Especially not away at the Anoeta, where we've often struggled to get convincing wins.
With a rejuvenated squad, they surely will be very energetic, dynamic, rapid.We, like always, should aim to play our game. Our fullbacks will be essential to our attack: Stretching their defense will be a must.
I'm expecting a lot, and we have to win the game in any aspect. We got no excuses. #ForçaBarça .
S Q U A D L I S T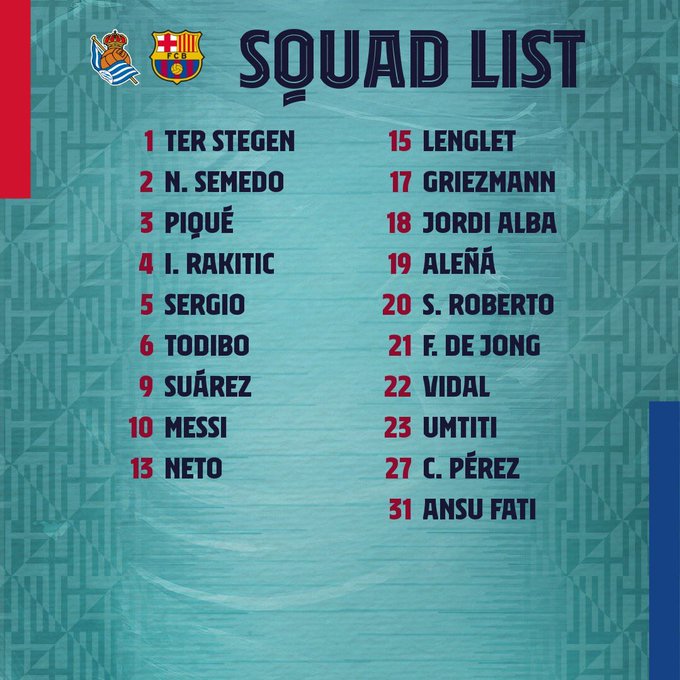 Well, here we go with some news. Alba is back. Seems like ages, and Firpo has been left out for technical reasons. Maybe Valverde wasn't happy with him on Tuesday against Inter? And the other one to make his comeback is none other than Nelson Semedo. Just after S.Roberto dropped masterclasses, Nelson is back. This match will probably define who will play in the 'El Clasico' on the 18th of December. However, because of his arrival, Wagué has been discarded, sadly. I wish he would have played, but okay.
Arthur still seems to have issues with his discomfort, causing him to not play tomorrow. Will he be fit for 'El Clasico'? Will we be able to see him playing in our favour? No clue. Valverde is still going with a weird set of 4 CB's-Which doesn't make sense. Aleña should play. It would be his chance right now, he deserves it.
Finally, Carles Perez & Ansu Fati, the two goalscorer at the San Siro, have also made the squad list. I'm hoping to see at least one of both on the pitch as we need a natural winger, as Dembele is injured.
I'm pretty happy with the squad list, vamos @fcbarcelona