It is that time of the year again. No, I'm not talking about Christmas. No, I'm talking about a derbi. And not any, it's time for EL CLASICO.
Both teams have failed to win the last match, as the Catalans couldn't take advantage over Real Sociedad in a 2-2- draw at Anoeta on Saturday, while Real Madrid suffered a last minute equaliser from Benzema again Valencia on Sunday.
Two teams with both 35 points, you couldn't dream for a better atmosphere. Clashes with Ramos are known to be violent,full of passion-Watched over the whole globe.
Current form
Before we dive into the tactical aspects, here are the 5 last matches form of 'Los Blancos': DWWWD
R.Madrid-PSG: 2-2(H)•UCL
Alavés-R.Madrid: 1-2(A)•League
R.Madrid-Espanyol: 2-0(H)•League
Brugge-R.Madrid: 1-3(A)•UCL
Valencia-R.Madrid:1-1(A)•League
Position in the league: 2nd, 35 points. GD:+21
Unbeaten in the last five games. On form. The development of F.Valverde has surely boosted their confidence, along Rodrygo's rise. They are unlucky to miss Hazard due to injury.
Our last 5 matches: WWWWD
FCB-BVB: 3-1(H)•UCL
Atleti-FCB: 0-1(A)•League
FCB-RCD Mallorca: 5-2(H)•League
Inter-FCB: 1-2(A)•UCL
R.Sociedad-FCB: 2-2(H)•League
Position in the league: 1st, 35 points, GD: +25
In hot form as well, as only a margin of 2 goals separe the archrivals. We might have won one match more, but it's undeniable both clubs are doing well. We've had convincing wins against Inter,Atleti & Mallorca, While we didn't do too well last Saturday.
Last 5 meetings: DWDWW
Barça-R.Madrid: 2-2(H) 06.05.18•League
Barça-R.Madrid: 5-1(H) 28.10.18•League
Barça-R.Madrid:1-1(H) 06.02.19 •CdR•
R.Madrid-Barça: 0-3(A) 27.02.19•CdR•
R.Madrid-Barça: 0-1(A) 02.03.19•League•
Unbeaten against 'Los Blancos' the last 5 games. Two draws, three wins. We gotta continue this streak, no excuses. I'm expecting a lot of passion, intensity, emotions, drama & fun, like every Clasico.
If both are in hot form, it's in our nation: Camp Nou. White teams always get trashed at home, look at Mallorca, our UCL comeback against PSG, our game against Sevilla. Whites are trashed here.
S Q U A D L I S T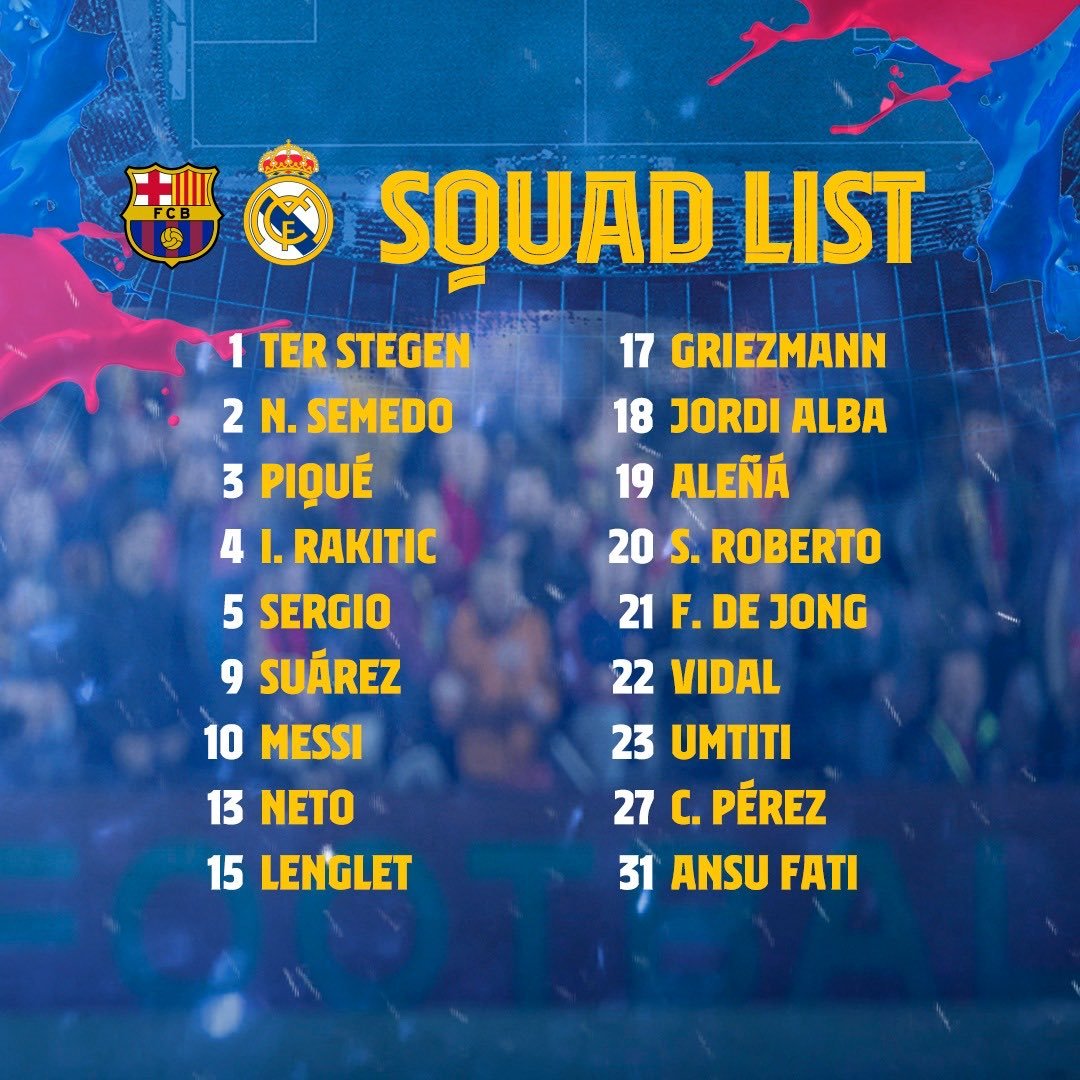 Easy. No risks taken. Todibo, Wagué & Firpo are discarded for technical reasons, while Dembele, Arthur are off as they are still injured.
I'm expecting Roberto as start as RB, as he usually plays great against our archrivals. Meanwhile,Ansu Fati & Carles Perez make the squad list, along Carles Aleña. I doubt they will get any minutes, knowing Valverde. But I'm going I'll be proven wrong. If any of those get to to play, scoring would be…Lit.
I'm expecting MSG to start,as we are experiencing the Nativity of the trio. In the back, Pique & Lenglet are like to play – A manita for Pique?
VAMOS #FORCABARCA