Barcelona hosted Alaves today in what was the final match for both squads in 2019. The historic night began with honoring to the 2009 Barcelona squad that won the only ever sextuplet. That squad included three members of the current team: Pique, Busquets and Messi. Barcelona was dominant early on, rarely giving away possession and looking to break the Alaves back line early and often.
It was Griezmann that added to the score sheet first; as he met Suarez's cross perfectly and slotted the ball into the bottom corner of the goal. Barcelona continued to dominate possession throughout the first half and they were rewarded with a second goal at the stroke of halftime. This time it was Vidal's powerful strike across goal with another assist from Suarez.
Barcelona began the second half sluggish and Alaves pounced on their only chance of the game, as Pere Pons's powerful header from near range left Ter Stegen watching the ball fly into the net. At 2-1, Alaves looked like they were due for another goal, but Messi was there to save the game yet again. It was a quiet night for the Argentine until he received the ball from roughly thirty yards out, took a few dribble and when no other option was available, he blasted a rocket of a shot, beating the goalkeeper to his own near post. With that goal, Messi reached fifty goals in the calendar year, something he has done nine out of the last ten years. Shortly after Messi's goal, Alaves conceded a penalty, which Suarez converted to make it 4-1.
Valverde made the changes that was needed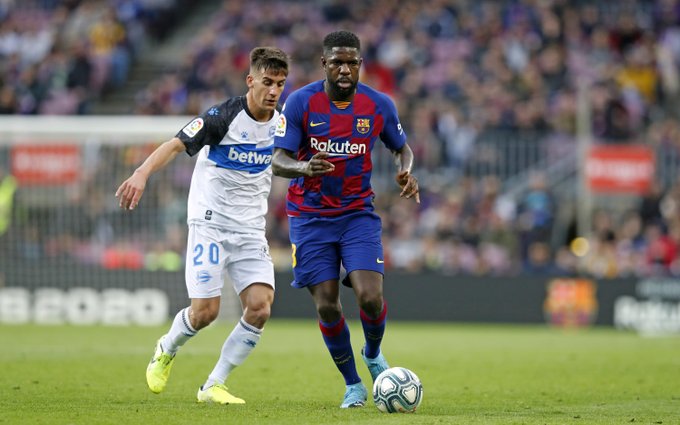 Valverde does not always get credit and rightfully so, but this match in particular he deserves all the credit in the world. He opted to rest De Jong and started with a midfield of Aleña, Busquets and Vidal. Valverde also rested Lenglet and gave Umtiti a starting role in the backline.
After the abysmal match against rivals Real Madrid, he shook things up and Barcelona delivered. Also, each member of the MSG trident had a goal today, something that is always nice to see. Another positive to take away from this match was Suarez's unselfishness. The Uruguayan has received his fair share of criticism regarding the last match versus Madrid, but he bounced back and produced three assists and one goal.
It was a great showing for Suarez and he received an ovation from the Camp Nou crowd. Lastly, Messi stepped up when Barcelona needed him the most. The match was starting to slip away and Messi produced a goal that only he can produce at this level. That strike not only made history, it gave Barcelona a boost of confidence that allowed them to continue pressing and eventually secured the three points.
Barcelona now leads La Liga standings by three points over rivals Real Madrid. Madrid face Bilbao on Sunday with a chance to draw level on points with Barcelona.