Barcelona was in Milan today for the last match of the Champions League group stage. Ernesto Valverde made seven changes from the last match at home against Mallorca, giving some of the main squad players much needed rest. Carles Perez found the net in the 23rd minute after some wonderful combination play between Griezmann and Vidal left the La Masia product one on one with Handanovic. Perez has now scored in his La Liga debut and Champions League debut. Shortly before halftime, Lukaku found the back of the net as Todibo could not get the ball off of Lautaro Martinez and he set the Belgian up for a shot into the bottom corner of Neto's net.
The second half saw no changes, as the same twenty-two men reentered the pitch. Suarez and De Jong both received the nod to come on in the 63rd minute, replacing Griezmann and Rakitic respectively. Ansu Fati was the last substitute to come on as he replaced Carles Perez in the 85th minute. Ansu needed just one minute to prove himself yet again as he became the youngest ever goal scorer in Champions League history and provided the winning goal. Barcelona does not have a great record in Italy, but they finally came out victorious thanks to Fati's last minute heroics.
Finishing the match with an optimist spirit
Aside from the result, there were many positives to take away from this match. Neto was outstanding in goal today. Only a shot, which was deflected, was able to sneak past him. Neto is an elite backup goalkeeper and that is vital considering how long the season is. Another bright spot was Todibo. This kid oozes class and is everything you look for in a center back. His ability to win the ball in the air and come out playing fits the Barcelona persona in every aspect. He  is only 19 but expect more minutes from him as he may take over the center back position from Umtiti.
Moussa Wague had a brilliant game as he hustled back and forth down the right flank, linking well in attack and backtracking to defend. Expect Wague to keep battling for minutes as Semedo has yet to recover from his latest injury. Carles Alena is a player that has been rumored to leave Barcelona on loan this winter, but his performance today should have the club thinking otherwise. Arguably the performance of the day,  Carles was linking play well from defense to attack. The midfielder did not let the pressure get to him and with his performance; he should be untouchable in the winter market. Carles Perez once again took advantage of his opportunity and threatened the Inter backline all game long. He has proved he has the ability to fight for a first team spot.
Ansu Fati breaking records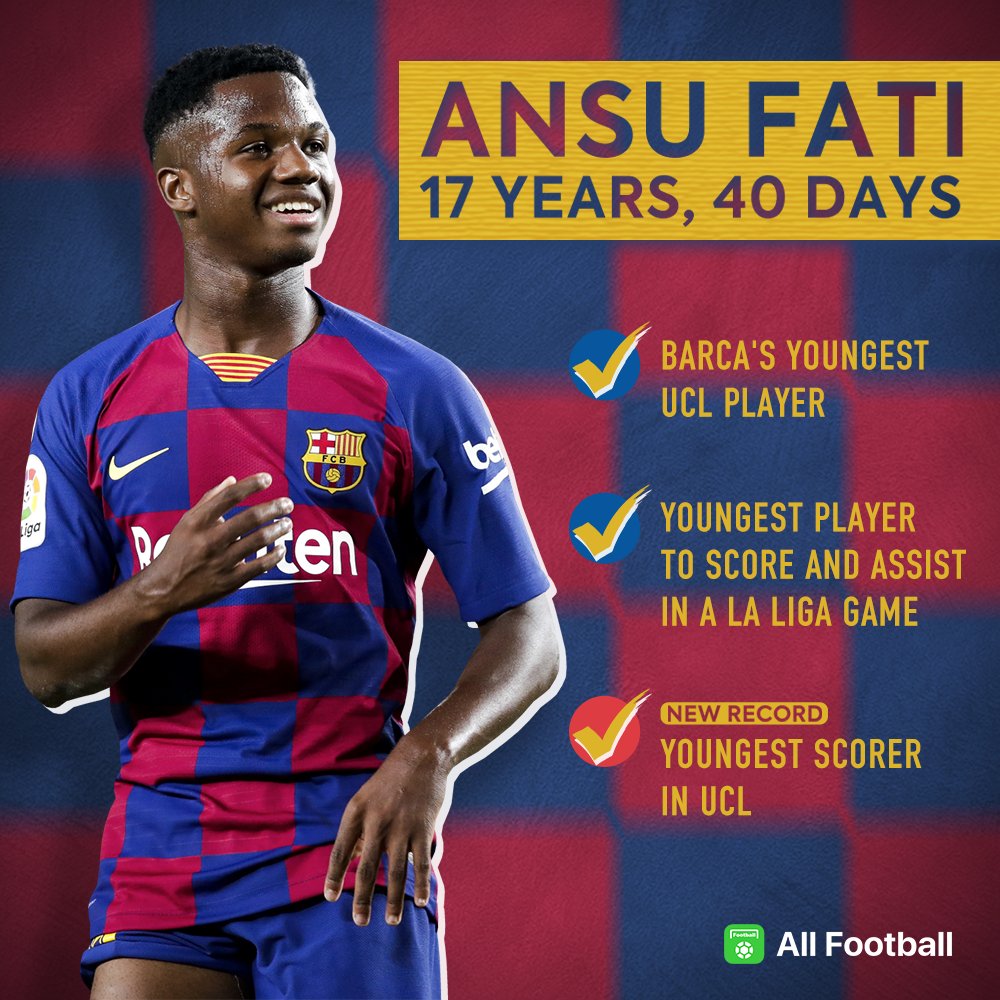 Take a bow Ansu Fati. Once again, the teenage sensation that many tip to be the new Messi proved he is up to the task. Just one minute on the pitch was all it took for him to make his mark in Champions League history. His beautiful one two with Suarez set up a brilliant right footed shot to the bottom corner and crushed Inter's hopes of advancing in the competition. The kid is unreal and there are no limits to his greatness. At only 17 years of age, expect to hear Fati's name for years to come.
Barcelona now head back to Spain where they will travel to Anoeta to face Real Sociedad on Saturday.