After a convincing home win against Mallorca, Barcelona turn to the UCL – Away from home. However, a whole different atmosphere. We are already first with 11 points, meanwhile BVB & Inter are following with both 7 points. Inter has to win vs Barcelona if they want to go on in the 1/8 finals. As BVB are expected to win against Slavia Praha.
Therefore, many Barça B have been called up, while stars like Pique, Messi & Roberto are staying at home. We don't care about the result, but they do.
How have they done lately?
Last 5 matches: DWWWW
I.Milan – AS Roma: 0-0(H)•League
I.Milan – SPAL: 2-1(H)•League
S.Praha – I.Milan: 1-3(A)•UCL
Torino – I.Milan:0-3(A)•League
Position in the league: 1st, 38pts, GD +18
They have done well so far in the league, Winning every game except 1 loss & 2 draws-As Conte is leading them to a possible title in the Serie A.
How have we done lately?
Last 5 matches: WWWWW
Barça – Mallorca:5-2(H)•League
Atletico – Barça:0-1(A)•League
Barça – BVB:3-1(H)•UCL
Léganes – Barça:1-2(A)•League
Barça – Celta Vigo: 4-1(H)•League
Position in the league: 1st, 34 pts, GD +23
Barça, on the other side, are also battling for the first place, along Real Madrid & Sevilla. Both teams are set to meet in barely a week – El Clasico.
I'm expecting to see a lot of interesting football, and many of our youngsters.
Squad list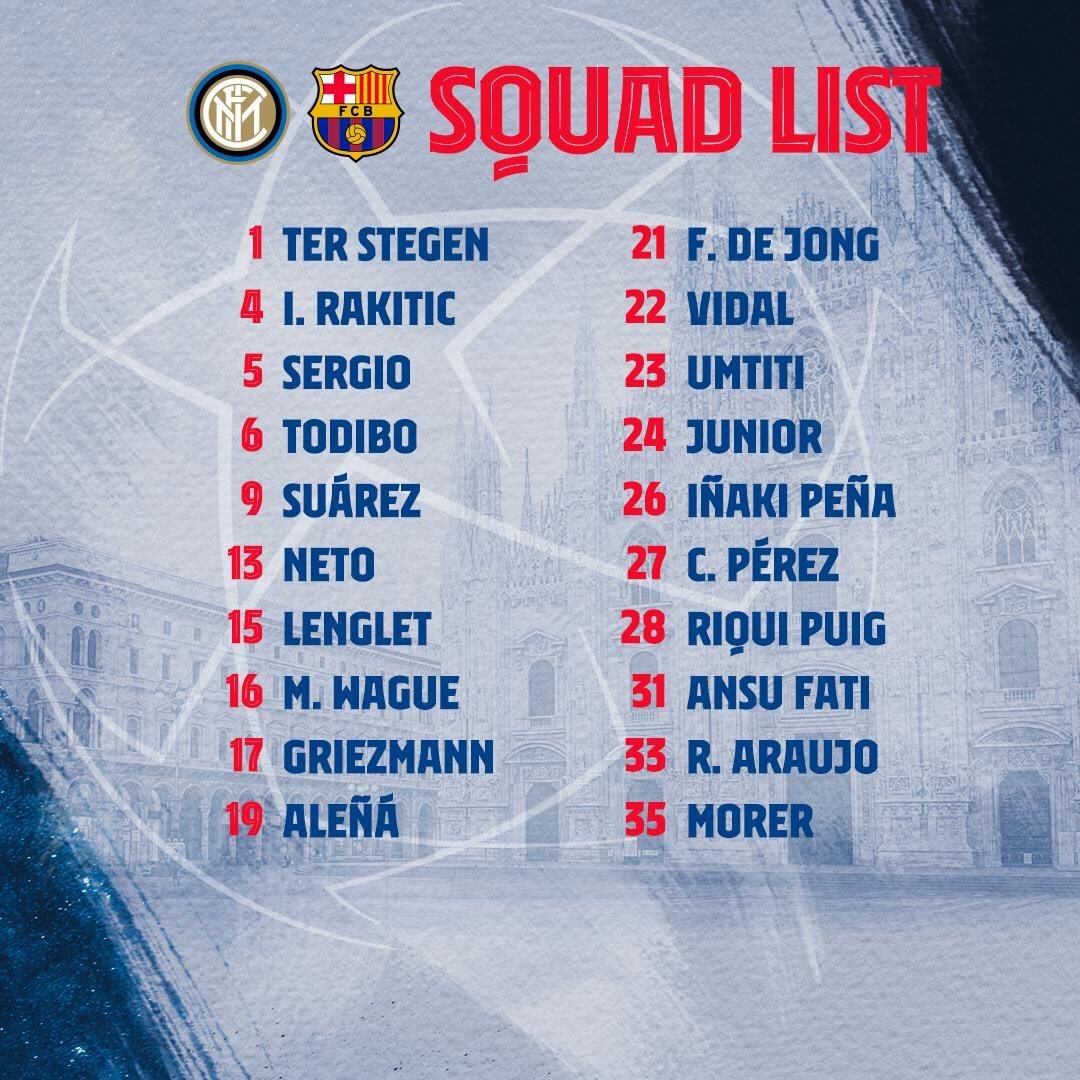 After a convincing win at home against Mallorca, we turn back to the European football – The UCL. As we already won the group, many B players have been called up. While Inter have to win against us in their home ground if BVB win against S.Praha.
The first great thing to see is that nor Messi, Piqué or Arthur have been called up. Messi, Sergi Roberto & Pique are rested while Arthur won't get risked with his discomfort.
And even better,one special player is up there: Riqui Puig. We all love him, despite his small stature. He's one of the B players to be selected along Morer,R .Auraujo. However, I believe Ernesto should have selected more players from the B: The likes of Vidal, Ter Stegen were not needed. Picking 4 CB's (Lenglet, Umtiti, Todibo & Araujo) still doesn't make sense to me.
I'm hoping to see some Puig & Aleña masterclass, while seeing pure Barça DNA on the pitch. Results aren't important for us,but for them. I don't mind losing 4-0 if we get to see some great football. A display like the one we have seen last Saturday against Mallorca would be great to see.
It's the occasions to the B players to show their worth to Ernesto.
Vamos @fcbarcelona !