Barcelona faces Atlético away in a very tough match. At that point, everyone knows Simeone. His quality as a manager is undeniable, having led Atletico for many years, while still staying to his pragmatic defensive style of football. How have they done lately?
Last 5 matches:
DLWDL
Sevilla-Atletico:1-1(A) »League
Leverkusen-Atletico:2-1(A) »UCL
Atletico-Espanyol:3-1(H) »League
Granada-Atletico:1-1 (A) »League
Juventus-Atletico:1-0(A) »UCL
Position in the league: 5th,25pts GD:+7
Atletico isn't doing well lately,with only one win in the last 5 games. However,eventho they are only 5th,they can't be ruled out. Not in their stadium where we've often struggled to win. How about us?
Last 5 matches:
DWWWW
Barcelona-S.Praha: 0-0(H) »UCL
Barcelona-C.Vigo : 4-1(H) »League
Cartagena-Barcelona: 0-2(A) »Friendly
Leganés-Barcelona: 1-2(A) »League
Barcelona- Dortmund: 3-1(H) »UCL
Position in the league: 1st,GD: +19, 28pts.
A good streak for now, nonetheless in matter of quality we need to correct a lot of things. Against Atletico, no errors are allowed. How did both teams do in the last encounters?
Last 5 matches:
WDWDW
26.02.17•Atletico-Barça:1-2(A)
14.10.17•Atletico-Barça:1-1(A)
04.03.18•Barça-Atletico:1-0(H)
24.11.18•Atletico-Barça:1-1(A)
06.04.19•Barça-Atletico:2-0(H)
Absences-Atleti: Vrsjalko, Savić , Diego Costa injured.
Absences-Barça: Alba, Semedo injured. Busquets suspended.
A thrilling match,as we have to win. Since Real Madrid won yesterday, anything that is not a win makes them gain the first place. A hard match,but I believe we can do it.
S Q U A D L I S T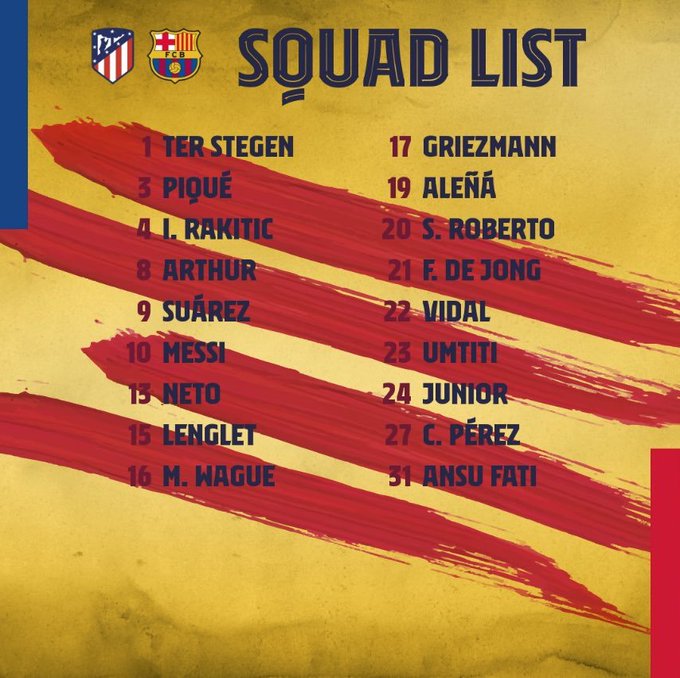 Guess who's back? ARTHUUUUR. Arthur Melo is back. After two matches on the bench, he is back. And we do need him. Yes, thank you. And Aleña. Aleña has been selected. Will he finally be on the pitch? Only time will tell,however I do hope. Please, Valverde,make it happen. Busquets is suspended, so who will be DM? Raki, FDJ or possibly even Roberto? We shall see.
On the defense: Will Lenglet, Umtiti or Piqué start? Hard to pick tbh, as Lenglet & Umtiti have partnered well, lately, while Pique hasn't convinced. Tough choice. Alba still out, Firpo on.
Semedo still out. Will Roberto or Wagué play?Only time will tell.
Dembele is injured for ten weeks, meaning Ansu & Griezz will be LW. Also, Carles Perez has been selected. Moreover, happy to see Aleña, Wagué, Perez & Ansu selected!! I'm really excited for this match. How we'll cope without Busquets is another question, but this Squad list is arguably the best of the season.
Vamos @fcbarcelona !!!
#forcabarca