It was yet another glorious match for Barcelona in the Camp Nou as they crushed BVB in matchday 5 of UCL and qualified for the round of 16. Moreover, it was the first time ever in a UCL match in which Messi, Suarez and Griezmann all managed to be in the score-sheet. It was a special night for Messi as it was his 700th appearance for Barcelona (Xavi only other player to reach that milestone). He also became the only player to score against most opponents in the tournament's history – 34.
Valverde started Barcelona with a usual 4-3-3 formation. Dembele starting ahead of Griezmann did raise some eye brows. Although, Dembele was subbed early for Griezmann due to injury.  Arthur did not feature as Rakitic managed to get into the starting XI. Rakitic was replaced by Vidal in the 78th minute. For Dortmund, Jadon Sancho and Mario Gotze surprisingly started from the bench but they did come on after half time.  
Barcelona vs BVB – Match Summary/Events
First half : Taking advantage of BVB's defensive mistakes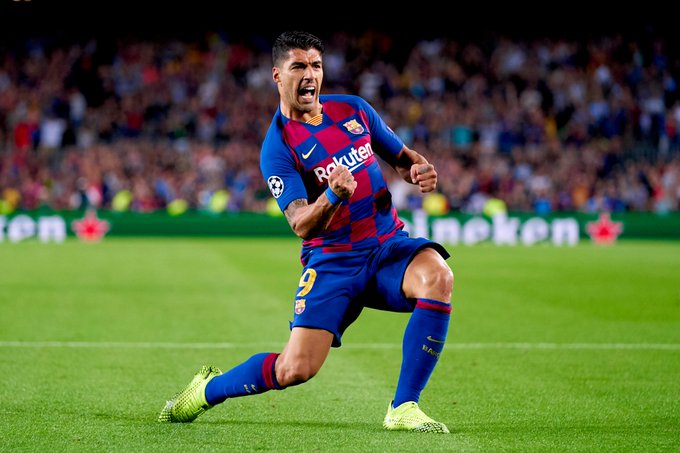 The game began with Dortmund threatening Barcelona early as Rakitic gave ball easily and caused some problems in defense. However, the game changed completely from what we witnessed in those opening minutes. Barcelona pressed the defense of BVB a lot, maintained position and forced them to make errors. Although Dortmund's attackers tested our defense in couple of counter attacks, our defense seemed quite aware of things around them. Messi dazzled and dribbled many times around 30 minute mark and started looking really lethal for the opposition. In the 22nd minute Messi's sweet through ball assisted Luis Suarez's goal which was ruled offside.  
Unfortunately, Griezmann had to come on for Dembele in the 26th minute due to an injury.
In the 28th minute, Suarez broke the deadlock. It was a lovely combination in the box between Suarez and Messi which opened the number 9 in a 1 V 1 situation against Burki.
After the first goal, Barcelona started to press really well both when in and out of possession in the final third and moved the ball quickly to open up spaces.  
One of the many defensive errors by Dortmund helped Barcelona to go 2-0 up in the 32nd minute. Hummels's miss pass was intercepted by De Jong, who easily found Suarez on the edge of the box and he finally assisted Messi to put the ball in the back of the net, with pace and precision and into the bottom right corner with his favorite left foot.    
Second half : Securing the win
Barcelona almost scored their 3rd just after half time. Messi opened up Dortmund's defense once again, this time combining with Griezmann, putting him in a 1 V 1 situation against Burki who saved wonderfully with his legs.
Dortmund looked to come alive when they had possession with the introduction of Jadon Sancho after half time. In the 60th minute, Julian Brandt's low shot was saved by Ter Stegen at the near post. Had it ended in the back of the net, we would have had a completely different game. That certainly gave the visitors encouragement to create more chances.
Five min later, there was another big chance for Barcelona to be 3-0 up as Roberto's cross was headed wide by Messi. It was a good attempt given his small height.
Barcelona gave BVB a taste of their own medicine as Griezmann got into the scoresheet from a well worked counter attack. Messi gave the assist by a lovely through ball. This goal made things calmer and qualification as group leaders looked certain.
Messi dribbled past couple of yellow shirts once again and tried to open Suarez like he did to Griezmann early on, but Hummels was quicker this time. Messi hit the post from his free kick and almost scored identically to Dybala last night. It was good to see players push for more goals after even being 3-0 up.
However, Dortmund got their consolation goal by Jadon Sancho, a wonderful goal by a top player. He almost made it 3-2 in the 88th minute but MATS is again to the rescue as he dives away and tips the ball over into the crossbar. Dortmund tried to score again in the last 15 minutes and had lots of possession but were unable to convert and the game ended 3-1.
Individual Player Remarks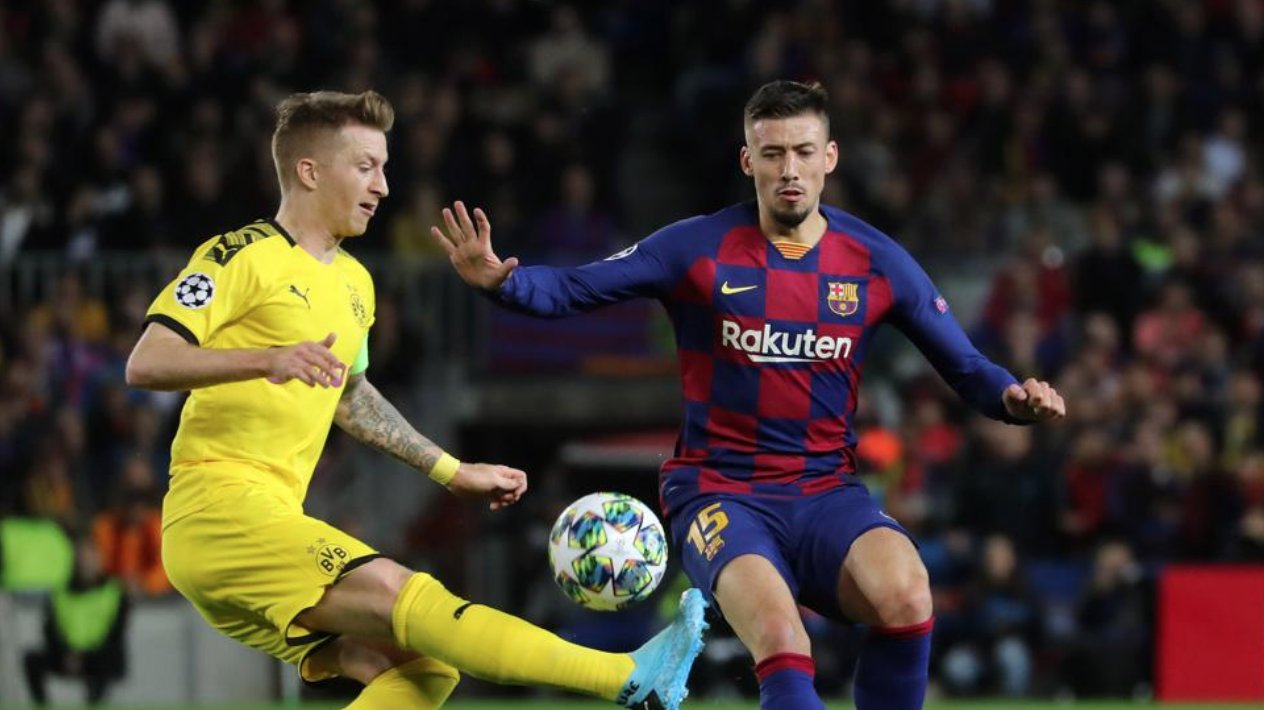 OVERALL TEAM PERFORMANCE 8/10
TER STEGEN 8/10: Very less to do in the first half of the game but made couple of crucial saves in the 2nd half. Unfortunately, couldn't keep a clean sheet.
JUNIOR FIRPO 8/10: Tried to keep Hakimi quiet and succeeded. He serviced a lot in attack and also combined with Umtiti and Lenglet to do some crucial defending.
LENGLET 7/10: His awareness was the key in Barcelona's defense in the absence of Pique.
UMTITI 7/10: He showed good physical strength and stamina, mostly in the 2nd half.
SERGI ROBERTO 7/10: His work rate was amazing, moving up and down the wing for defense and attack.
RAKITIC 7/10: Gave possession away couple of times but looked eager to pass and create half chances from mid field.
DE JONG: 7/10: made good ball retrievals and interceptions in 1st half. Helped a lot in transition between midfield and attack. But was not completely himself as he surprisingly, gave balls away more often than expected.
BUSQUETS: 6/10 Just not quite the Busquets we hope to see everyday.
MESSI 9/10: Where would Barcelona be without this man? He was by far the best player on the pitch. He scored one goal and gave 2 assists. More importantly, his distribution throughout the match was remarkable.  
SUAREZ 8/10: Scored but seemed slow at times. Combination with Messi was key to scoring goals.  
DEMBELE 5/10: He was substituted in the 26th min for Griezmann due to injury; had less impact but created 1 or 2 glimpses of his talent. 
GRIEZMANN 8/10: Seemed to understand the game in the final third much more than in previous games. Finally in the scoresheet and looked sharper than in previous games.
ARTURO VIDAL NA
WAGUE NA
Bottom line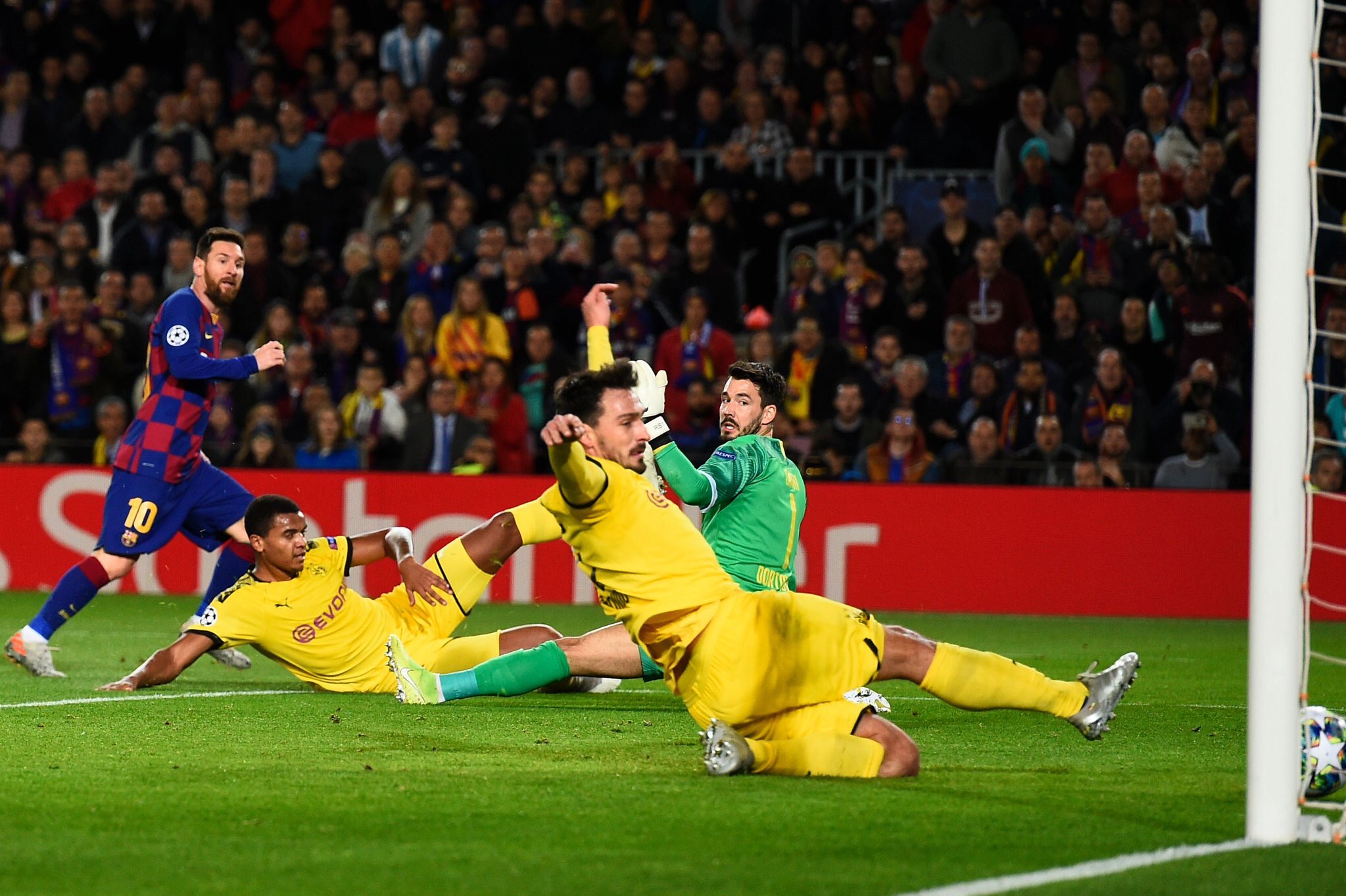 Barcelona are into the round of 16 as group leaders of group F. Their final UCL group stage game is against Inter on 10th December. Barcelona face Atletico Madrid in the upcoming fixture in La Liga. This win should prove to be a huge psychological boost for that game. A 3-1 win over Dortmund seems extremely appealing but however, we cannot jump into conclusions given Dortmund's bizarre defending and our inconsistent performance this season.    
---
Barcelona move past BVB and secure the place in the knockout phase of the UCL. We would like to thank Baibhav Parajuli for this match report.