FC Barcelona was in Madrid today attempting to stay on top of the La Liga table versus last place Leganés. Things got off to a shaky start as En-Nesyri's strike in the 12th minute put the home side ahead 1-0. The match was fairly even throughout the first half with Barcelona dominating possession but failing to create any dangerous situations from it. It was not until the 30th minute that Barcelona had their best chance to equalize as Suarez's header was blocked off the line by Leganés goalkeeper Cuéllar.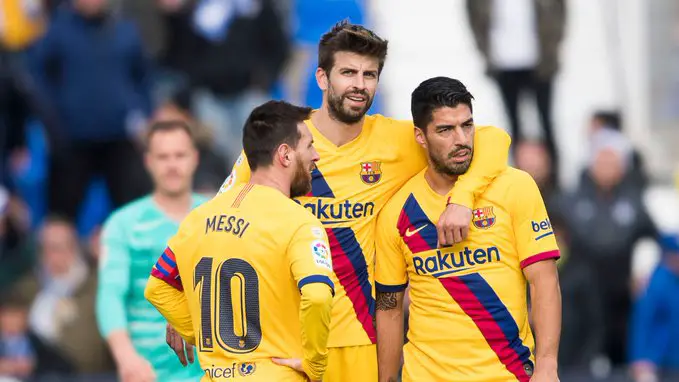 Barcelona did not have many positives to take away from the first half. One positive that has been a positive all season was De Jong's ability to dominate the middle. De Jong constantly looked to break the line of the Leganés defense with his passing and continuously switched play with ease. His fluidity in midfield has really been healthy for Barcelona's midfield as they have lacked creativity in recent seasons.
Wague was another bright spot as he slotted into the right back position for the first time this season. He linked well with Barcelona's attack and his constant forward runs provided an extra attacker that Leganés had to worry about.
Messi was the final bright spot of this Barcelona side, as he has been for what seems an eternity. He was dangerous every time he picked up the ball and ran at the Leganés back line. Leganés began to feel the pressure towards the end of the first half as they sat back and waited to hit on the counter attack, but failed to do so as the half ended at 1-0 in favor of Leganés.
Second half : Arturo Vidal the 'Super Sub'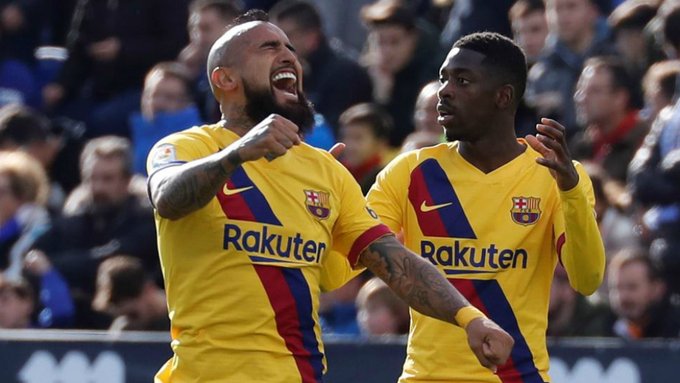 Barcelona started the second half strong with Pique's header finding the post. Barcelona finally struck in the 52nd minute. Suarez headed home a perfectly weighted cross from Messi, leveling the game at 1-1. Messi came close to striking again for Barcelona in the 55th minute. However this time Cuéllar blocked his shot at the near post from just inside the area.
Valverde decided to introduce Rakitic and Vidal in the 56th minute, taking out Busquets and Griezmann. Ansu Fati came into the game in the 69th minute replacing De Jong. Barcelona continued applying pressure and were rewarded with a Vidal goal in the 79th minute off of a Dembele corner kick.
Even with the 2-1 win, the negatives definitely outweighed the positives as they have all season. Barcelona is not a results club, it's a club with an identity and a certain style of play. Unfortunately Barcelona has no identity at the moment and no structure. Aside from their few bright spots in Messi, De Jong and Wague, Barcelona will need to find their form as they face a tough schedule throughout the next month.
This match should not have been this close, but Leganés failed to take their opportunities and Barcelona lucked out. Barcelona will be without Busquets next weekend against Atletico Madrid due to accumulation of yellow cards. Barcelona now face Dortmund in the Camp Nou on Tuesday in the Champions League