Here we go again. Three days after a 5-1 win over Valladolid at home, Barça are facing Levante away, 4pm CET. Preview article by TikitakaxBarca.
How have both teams done lately?
Last 5 matches of Levante:
DWLLW
Levante-Osasuna: 1-1(H)
Leganes-Levante: 1-2(A)
Sevilla-Levante: 1-0(A)
Levante-Espanyol:0-1(H)
Sociedad-Levante:1-2(A)
Position in the league:
11th, 14 points, GD:-1.
Last 5 matches of Barcelona:
WWWWW
Barça-Inter:2-1(H)
Barça-Sevilla:4-0(H)
Eibar-Barça:0-3(A)
S.Praha-Barça:1-2(A)
Barça-Valladolid:5-1(H). Last 3 matches head to head:
27/04/19: 1-0 FCB(H)-La Liga,MD 35
17/01/19:3-0 FCB(H)-CdR 1/8 final, second leg
10/01/19: 2-1 Levante(A)-CdR 1/8 final, first leg.
We usually win against them. However, they shouldn't be underestimated, don't forget the tight table of la Liga.They don't score a lot, but they don't concede a lot.
Knowing our tight schedule in the months of November & December, we believe it's another match that should be played with rotation-which will be discussed in the next post.
They are good at creating chances, and often go by a 4-4-2. I expect us to play a 4-3-3, and score lots of goals. There is no excuse not to win, I predict a 2-0 win at Levante.
Squad list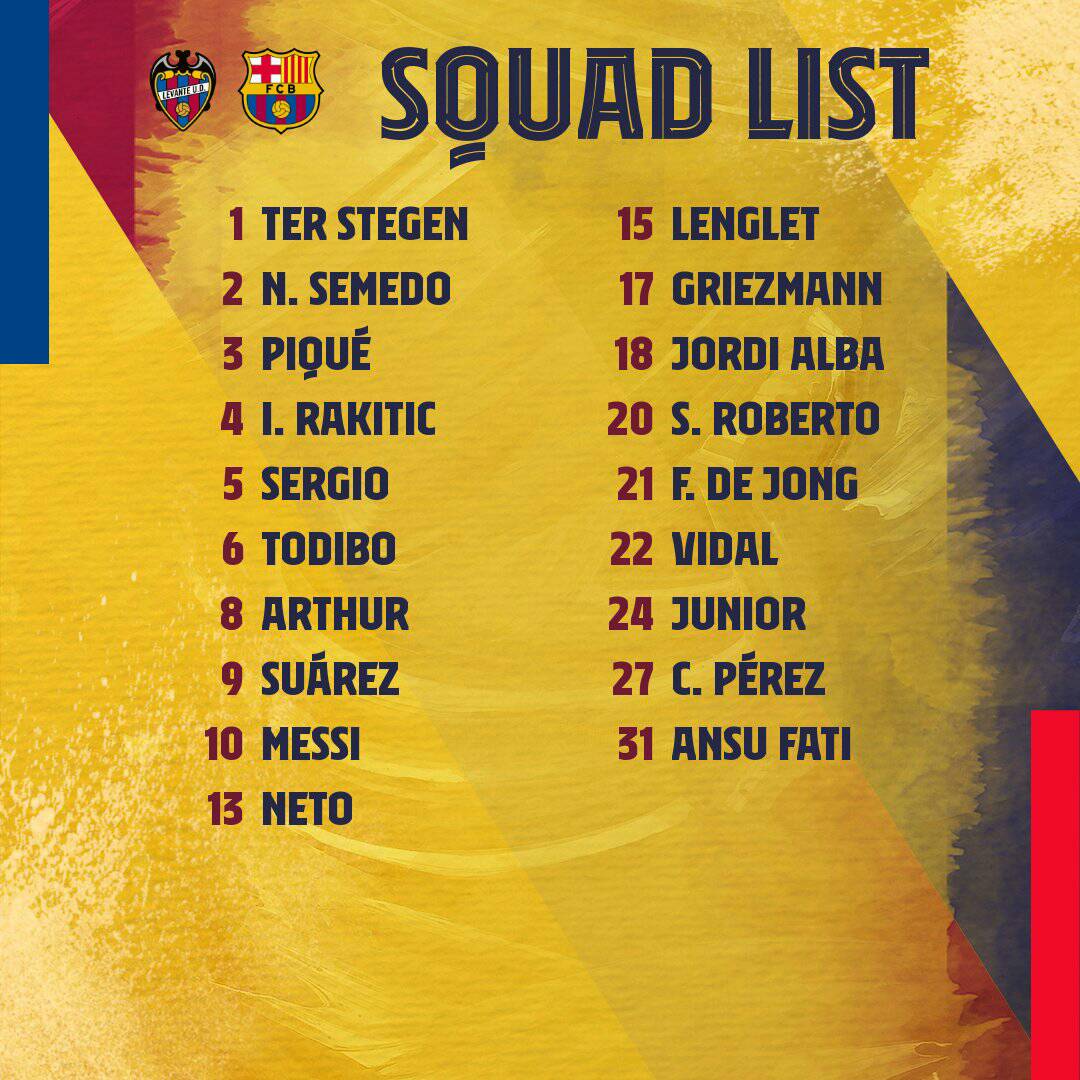 Well,didn't turn out like I wanted it. Doesn't seem to me like there's gonna be any rotation, sadly.
One big absence: Ousmane Dembele. He has finished his two games ban, so why isn't he included? It either means that Ansu will play or I don't know what's going on,coz I don't see a single reaon not to play him.
I wanted Wague to play, guess what? He's not in the squad list, great. Furthermore, I wanted to play Aleña guess what? He ain't in the squad list either.
Valverde makes it clear: he wants the three points, so no rotation. Let's hope at some point there will be tho, for heaven's sake.
Junior makes the squad list, however I doubt he'll get a single minute.
I expect us to win a ugly 3-1 win.