After two weeks of international football, club football is back. As you all know, we have a tight schedule this December. Games every 3-4th days. More about the Léganes vs Barça match in this article by Tikitakaxbarca.
Léganes loves playing with intensity, and it's away. This stadium has proven itself to be very difficult, and low table teams have proven to not be shit. But how are both teams doing?
Last 5 matches:
LWLLD
Getafe-Leganes:2-0(A)
Leganes-Mallorca:1-0(H)
R.Madrid-Leganes:5-0(A)
Leganes-Eibar:1-0(H)
R.Sociedad-Leganes:1-1(A)
Position in the league: 20th, GD: -15, 6points.
Last 5 Barça matches:
WLDWW
FCB-R.Valladolid: 5-1(H)
Levante-FCB: 3-1(A)
FCB-S.Praha: 0-0(H)
FCB-C.Vigo: 4-1(H)
Cartagena-FCB: 0-2(A)
Position in the league: 1st GD +18, 25pts.
The first Against the last. But it's not won. I expect them to play intensively, let's do this. We gotta win it.
Squad list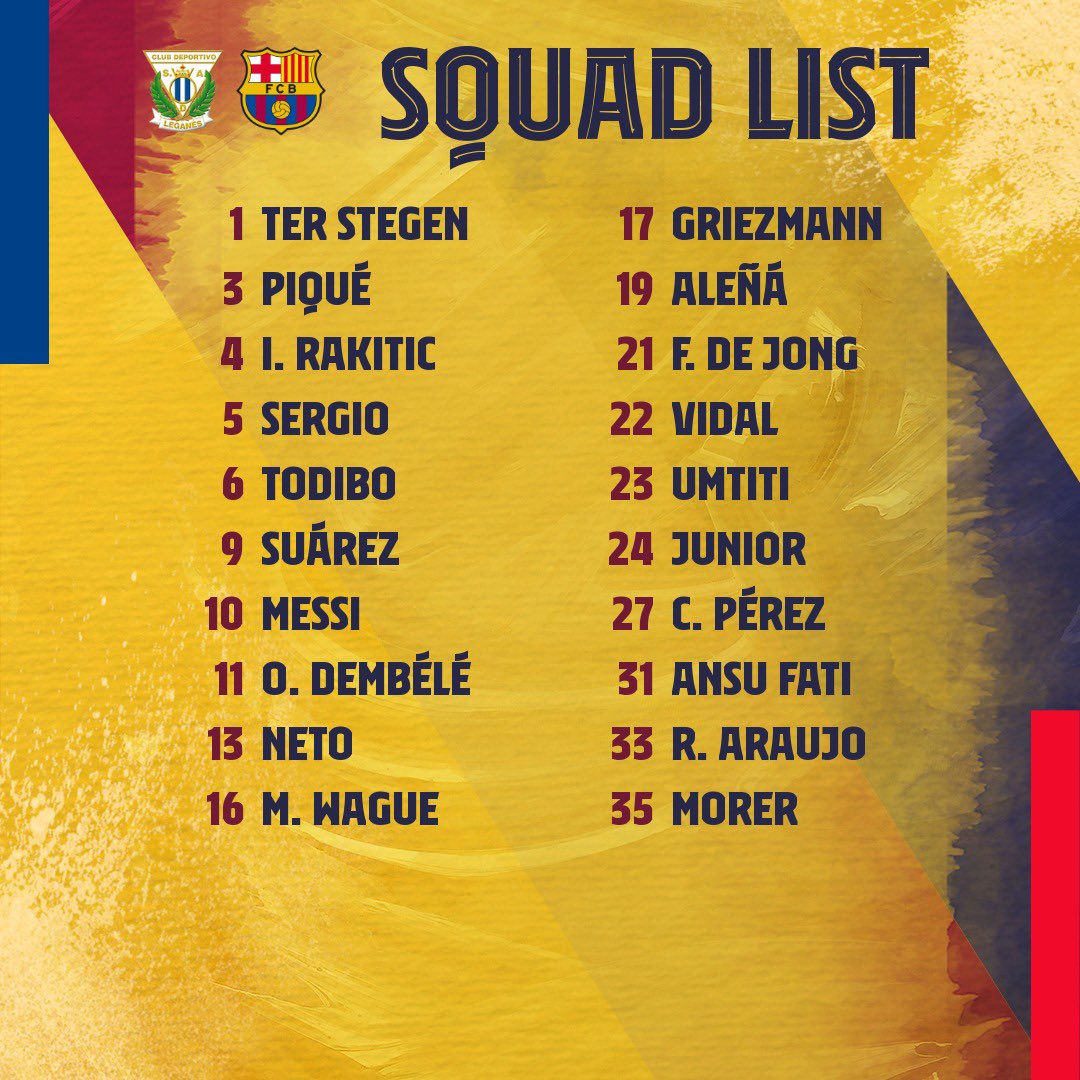 Wagué in, as Semedo is injured, and Roberto got a ban as a consequence of his 5 yellow cards- Wague needs to show his worth. It's now he has to show. Dani Morer, brilliant Barça B RB Has also been called up.
Lenglet is also missing,meaning Todibo partner with Piqué-And Araujo gets the call up. Umtiti gets the call up too. Alba still injured, so Firpo will be our LB, I guess.
Ansu Fati and C Perez also called up, however i I doubt they will play. However, I really hope they will play. Moreover, Aleña gets called up, and that's Great. Hope to see our youngsters play, lots of rotations will be needed this month.
Tactical keys
Leganes are an intense side, that loves to play on the wings. It's also been our weak area this season, along our backline. If Semedo is doing a great job, he needs to improve his crosses in the final third. When Roberto plays as RB, our right wing isn't really occupied as Leo isn't a real winger.
However, they got one weakness. The centre. And that's where our strength is. If Arthur has been left out, I assume it is because of possible fatigue, since we are playing Dortmund soon, and he has played with Brazil a lot. For sure it is precaution.
But, with the likes of Aleña & FDJ, we have the right midfielders to occupy the central areas. I am really hoping to finally see Aleña. It would be fun to see Busi-FDJ-Aleña to be honest.
However, we have to mostly pay attention in our defense.
With Wagué getting his first minutes, Piqué being inconsistent, Lenglet being absent, and Firpo not being great defensively,our defense may be the weak spot. And we have to show that we can win against the last of the table.
---
What are your keys for the Léganes vs Barça match? Leave your opinion in the comment section below.