The BarcaBuzz family would like to welcome Lambert Lu to our team! The La masia expert is joining our team and will provide a weekly recap of our youth ranks. How did the boys do? Who are the players to watch?
---
Result of the matches
Juvenil A 8-0 Stadium Casablanca
Franc Artiga's team didn't have any trouble defeating their opponent, they won by a crazy result, 8-0. The shining star is Gerard Hernández, whose nick name is "Peque". The striker joined the team this summer, and it seems like he suits the team very well. Up till now he has scored 8 goals and also set up two goals. There is also an interesting fact: After Jaume Jardí was substituted by Antonio Sola, Alejandro Baldé, whose usual position is left-back, plays as a winger.
Data sheet:
Juvenil A: Ramon, Sergi Rosanas, Igor Gómez, Mika (Jose, min 71), Baldé, Álvaro, Jaume Jardí (Sola, min 60), Nils, Peque, Nico (Altimira, min 56) y Konrad de la Fuente (Antonio Jesús, min 46).
Stadium Casablanca: Pablo Molinos, Saul Rodrigo, Jorge Ruiz, Andrés, Juan Tolo, Jorge Gutiérrez, Manuel Rubí, Pablo Gea (Alberto Latón, min 51), Ivan Chaves, Asier Seijo (Mikel Serrano, min 64) y Iván Moreno.
Goals: 1-0, Peque (min. 13); 2-0, Jaume Jardí (min 22); 3-0, Peque (min 26); 4-0, Álvaro Sanz (min 29); 5-0, Nils (min 32); 6-0, Peque (min 55); 7-0, Peque (min 80); 8-0, Antonio Jesús (min 84).
Juvenil B 1-1 Sant Andreu
Cadete A 8-1 Jàbac i Terrassa 
This week Sergi Milà's team had an amazing victory against Jàbac i Terrassa. Ángel Alarcón scored the first goal but immediately, Rafael Villegas placed the draw on the scoreboard. Before the break, Marc Jurado returned to overtake the Catalans. Already in the resumption, Barça became a true steamroller. 
Xavi Moreno achieved a double and Ángel Alarcón also completed his second goal. However, this is not the end, Aleix Garrido joined the scorer festival and Jordi Coca also scored two goals. With one game less, and add 24 points, Sergi Milà's team is three points behind Espanyol, who is the leader.
Cadete B 4-2 Sant Ildefonso
Infantil A 2-1 Cornellà
Infantil B 5-0 Can Buxeres
Albert Puig's team won with a clean sheet this weekend. Nouhoun Sylla opened the can for the Catalans while Lamine Yamal made the second . Lamine himself got the double just three minutes late. Almost half an hour later the marker was moved again; the fourth goal was the work of Guillem Víctor, the same player who completed goal for the second time and ensured the victory of Albert Puig's team. However now they've three points ahead of Escola Gavà.
Alevín A 12-2 Jàbac I Terrassa
Jordi Pérez's team is a true steamroller. This weekend, the team achieved the seventh victory in seven matches. Moreover, Antonio Fernández and Jaume Aghayedo both added three goals in their account, and Samakou Nomoko scored two goals. Also scored Albert Vicens, Arnau Marès and Pedro Rodríguez. The player to watch is Antonio Fernández, who has scored 23 goals ,in 8 matches, 2.9 goals per match.
Alevín B 6-3 Cornellà 
Alevín C 6-1 Santboià
Alevín D 6-0 Mercantil 
Benjamín A 8-1 Sitges
Benjamín B 4-0 Aqua Hotel
Benjamín C 13-1 Sant Andreu De La Barca
Benjamín D 2-1 Santboià
Prebenjamín 1-2 Pº. Rec. San Feliu Llobregat
Team of the Week (selected by Albert Rogé)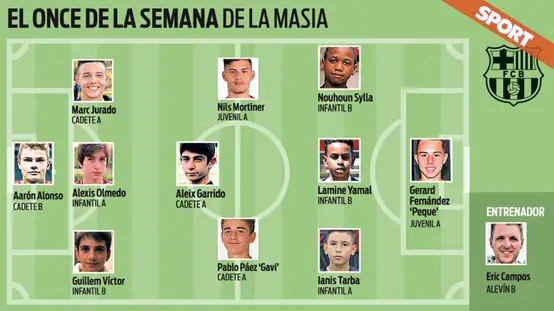 ---
Kluivert had an interview with the official media, and here we show part of them:
Ansu Fati
Cases like these should be taken care of. But luckily, Ansu is a boy with very clear things and with his feet on the ground. I have talked to him many times and he is fully aware of his situation. Therefore, our job is to see that he does not deviate from the path and that he knows his role at all times. But Ansu is a player who knows what he wants, what he can do and will get used to playing more and more games in the first team.
How to convince the talents to stay in Barcelona?
The training we have at Barça is one of the best in the world. And the players who are here have the dream of playing in the first team of FC Barcelona. Our job is to explain that money is not everything in these ages, but the career and knowing where you come from. And from there, if they are of sufficient quality, and they work hard and work hard they can have their chance to get on the first team. We have to prove that this possibility exists. And once you prove you're worth it, the money will come later.
On Barça DNA?
It's essential (to have all teams maintain the same game philosophy). When players change stage and team it is important that they continue with the same game philosophy. It is evident that, as they grow, they develop their best facets and improve their talent, but within the same way of playing. Furthermore, the Cruyff philosophy, the values ​​of the Club must be respected and we are here to protect all this. We have one of the best soccer schools and, therefore, we all have to go in the same line with the coaches and players.
Advice to young players?
It is essential that young people think that not only because they are in Barça everything is done. It is very important to work hard, pursue your dream, compete and learn from your coaches. Talent is very important, but it is not everything, but you have to work every day and demand yourself to the fullest. And if all goes well, the opportunity will come to play in the first team. This is our job.