Here we go again. After a 3-1 away loss against Levante, Barça are facing Celta Vigo at home. This is the match preview with all you need to know about the match. By TikitakaxBarca.
---
A shocking squad list,that is what it is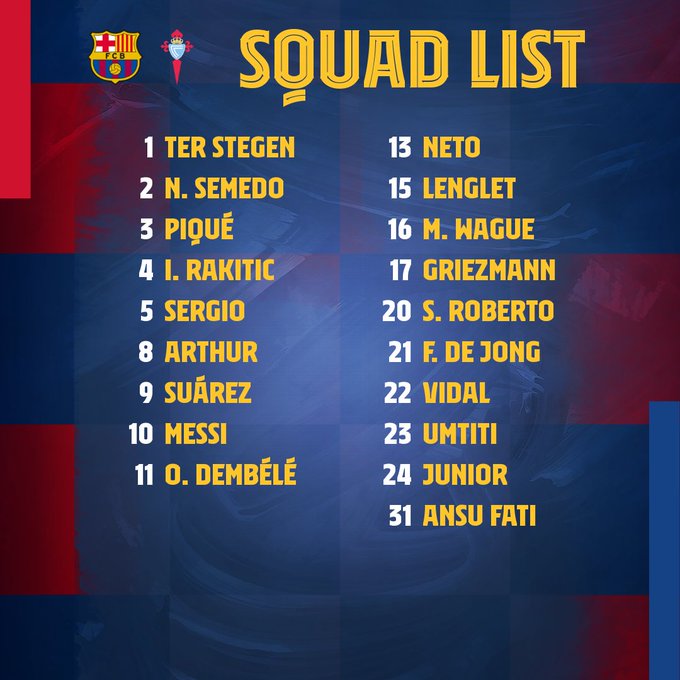 Suarez in– He was supposed to be out for 20 days at least- What is he doing here? What a surprise. I don't think he'll play, he can't be already fit. Except if something else we don't know about has happened. I would have wished a squad list without him – as I'd have liked to see other possible attacking options without 'El Pistolero'. Suarez in, Perez out for technical reasons.
Wagué in, Aleña out. When one scape goat is in, the other is out. And of course, it had to be Aleña. Why?!?. Literally no reason. However, Arthur back – meaning he is very likely to play tomorrow. Who doesn't want to see FDJ & Arthur together on tje pitch?
In the defense, everything is normal. Pique, Lenglet, Wagué, Umtiti & Firpo in, while Alba is out for five weeks. Let's hope either Wagué or Firpo get to play. Enough of Sergi RB and Semedo LB. Give us a natural LB. Please.
It's a 19 man squad list, some will get discarded. But who? Can't say for sure.
How are our opponents doing?
Last 5 matches:
WLLLL
C.Vigo-A.Bilbao: 1-0(H)
D.Alavés-C.Vigo: 2-0(A)
C.Vigo-R.Sociedad: 0-1(H)
Betis-C.Vigo:2-1(A)
C.Vigo-Getafe:0-1(A)
Position in the league: 18th, 9 pts, GD -9.
A very deceiving season for Celta as they sacked their former manager Fran Escribá, after a 1-0 defeat to Getafe.
However, they've appointed someone that Culés know: Oscar Garcia. Former culé, and manager for the Juvenil. He then has some success in Tel Aviv, as well as with RB Salzburg. It's only been 4 days, but he is a firm Cruyff pioneer. Therefore don't take the match for granted.
How have we done Lately?
Last 5 matches:
WWWLD
Eibar-Barça: 0-3(A)
S.Praha-Barça:1-2(A)
Barça-Valladolid:5-1(H)
Levante-Barça:3-1(A)
Barça-S.Praha:0-0(H)
Barça on the other hand, are coming from a winning streak, to a loss against Levante & an unconvincing Draw at the Camp Nou against Slavia.
Expect lots of goals, and lots of tactics involved. We have to get the three points,vamos @fcbarcelona