Tomorrow Barcelona will face Inter Milan at home, for the round two of this year's Champions League. Today, Valverde and Griezmann spoke about Barca, Inter and more. Translated by Barcacentre.
---
Valverde: "Inter have had a spectacular start to the season. We are expecting a difficult and complicated game. Messi and Dembélé ready? Dembélé did only half of the training session with us yesterday and Messi did a little more. We will see how it goes today and if we can count on them or not. However, I don't think Ansu, Jordi and Umtiti will be with us tomorrow."
While Gambling in the of our recommended
online casino apps
for mobile phones and Tablets with Android operating system, you have many different gambling games to choose from. So you can, for example, classic casino games such asRoulette, Blackjack, Craps, Poker or baccarat for real money play. In the case of the best providers of several variants of the game, you can even to any mobile Casino Game available.
Physical preparation is very important. Injuries? We can't be happy about it. Dembélé has an injury similar to last season and we'll see if we can control it. With Messi we will not take any risk. We will decide based on today's training."
The current situation of the club
Valverde: "I see the atmosphere similar to the other seasons. Throughout the year there are always players who play more than others and are happier. Nothing strange, everyone wants to play.
We play at home, I do not know who the favourite is. But we want and we have the obligation to win. The goal is to win our group.
I feel at my place here. Coaches have to deal with many things, with players, pressure, press… Everything gets better if you're winning games, but I feel good and I'm comfortable.
The teams try to do what they normally do. Against Slavia, Inter was not very good but then they played a great game against AC Milan. In the big games the teams offer their best version."
---
Antoine Griezmann's press conference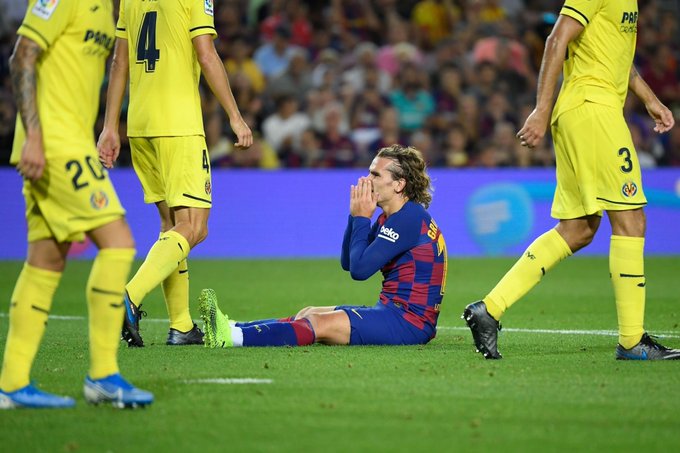 Griezmann: "Champions League games are always special. We will try to win in the best way possible and get the 3 points, which is the most important. The fact that not everyone is fit is the worst thing and makes everything more difficult. Missing Messi and Ousmane is not good.
I feel comfortable but I have to improve my movements. I'm fine with the ball but I'm missing things to be the best possible Griezmann… I'm on my way."
The integrationa with Messi and the team
Griezmann: "Neither Messi nor me talk a lot, so it's difficult to talk. But I've already prepared some 'mate' for him, the relationship is going to the right direction. He has also been injured… It's complicated. We still have to improve the connection to the field.
Dembélé is getting early to training to have a better preparation. He takes care of himself, but when you enter a dynamic of injuries it's difficult to get out. He has my support, Valverde's and of all his teammates.
Winning the Champions League is everyone's dream and it's an objective. Hopefully tomorrow can be a beautiful night.
Inter? Conte works hard for his teams. Therefore, tomorrow will be a difficult game, we'll have to play well to get all three points.
I am very happy here and my family is too. I learn new things about how games can be prepared, another vision of football. Playing on the right? I just arrived, I'm here to help my teammates. I know that my answers are boring but I can't say much more.
The reception of the Camp Nou has been very good, chanting my name and I hope I can give them back that love. I want to play every game, every minute and become important to this team."
---
That's what Valverde and Griezmann had to say in their press conference before Inter. End of thread.