After a forced vacation on the weekend, due to la liga postponing El Clasico, we return to speak about football. Tonight Barcelona will face Valladolid in a match we must win, due to the tight league standings. However, this match won't be an easy one, so we should take it seriously. Prematch report by TikitakaxBarca.
---
Squad list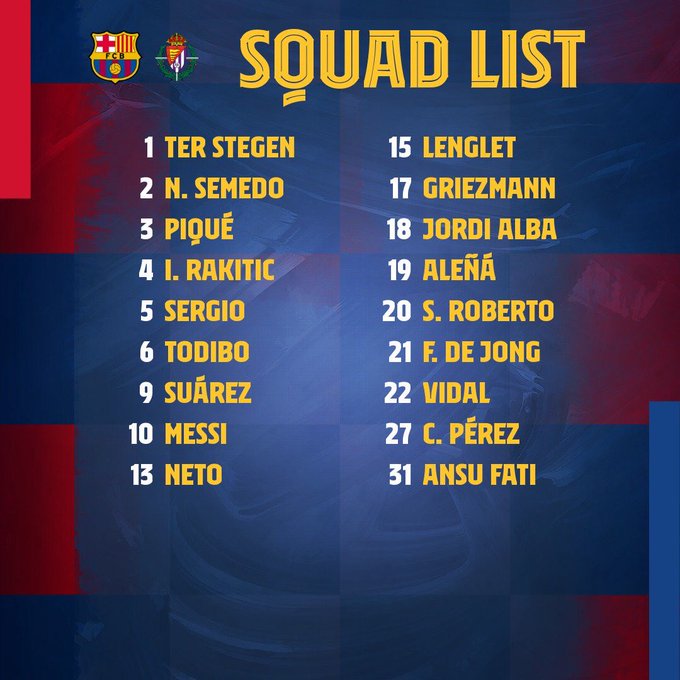 I was going through the squad list, and then a VERY big omission came in : Why on earth is Arthur our of the squad? Since there haven't been any updates, I'm guessing Valverde is FINALLY playing Aleña.
The only reason why Arthur ain't in the squad list may be the rotations, as November &December will be tough months. However, he could still play Sergi(Hope not). Likely to see Busi/FDJ/Aleña. Hope so at least. Don't tell me Raki will play,please.
Guess who's been discarded again? Wagué. I Already wrote the lineup with him, so not gonna happen. Hope Wagué will play soon tho. I ain't seeing Firpo either.
C.Perez & Fati making the list, however will they play? Dembouz is still suspended. However I still expect EV to Play MSG, hope not.
Current form
They love to play the 4-4-2; Wings are an important asset for them, and don't forget their GK: Jordi Masip, former blaugrana at La Masia. Yet it's only now they are starting to get their chemistry, but how have both teams done lately?
Real Valladolid last 5:
DWDDW
RV-Granada:1-1 (H)
Espanyol- RV : 0-2(A)
RV- A.Madrid: 0-0 (H)
A.Bilbao- RV : 1-1 (A)
RV- Eibar : 2-0
Position in the league: 9th. GD:+1 14 MP.
Interesting. May only be 9th & +1 Goal difference, yet they drew again A.Madrid-Quite good. We can't take them lightly, as we saw with Granada & Osasuna. They've played one game more.
How have we done lately?
Last 5 encounters:
WWWWW
Getafe-Barça: 0-2(A)
Barça – Inter : 2-1 (H)
Barça- Sevilla : 4-0(H)
Eibar – Barça : 0-3(A)
S.Praha-Barça:1-2(A)
Position in the league : 1st. GD:+13 19MP
Scorelines seems Like Barcelona would be the favourite, yet we all know we didn't pay well against S.Praha & Inter. However, it's home. And we gotta show we are the kings, in order to focus on the UCL, after a disastrous win against S.Praha.
I expect them to be dangerous, not park the bus. We need to play in a 4-3-3, our lineup will come up soon. Vamos!