News are breaking out, and it's not directly football, however we feel like it should be talked about. This is about the connection between FCBarcelona and Cataluña. By TikitakaxBarca.
For those who don't know, Barcelona is Cataluña's Capital. And to ensure that the football players play in the best conditions, you need political stability-something that the Catalan capital is currently lacking.
If you don't know about it yet, 12 Catalans separatists are in jail for 9-13 years of prison for 'rebellions' as they called for a referendum. The Madrid government saw these actions as illegal. Spain has harshly condemned any referendum- in other words made it illegal.
We don't want to influence you into thinking whether it's right or wrong. This page isn't about that. We are writing about that because it's worth mentioning it as our beloved club has called for free political discussions, and clearly states 'Prison is not a solution'. Furthermore, the club has stated their support for the families of the condemned ones-which brings us to today's point: Our slogan.
Mes qué un Club -more than a club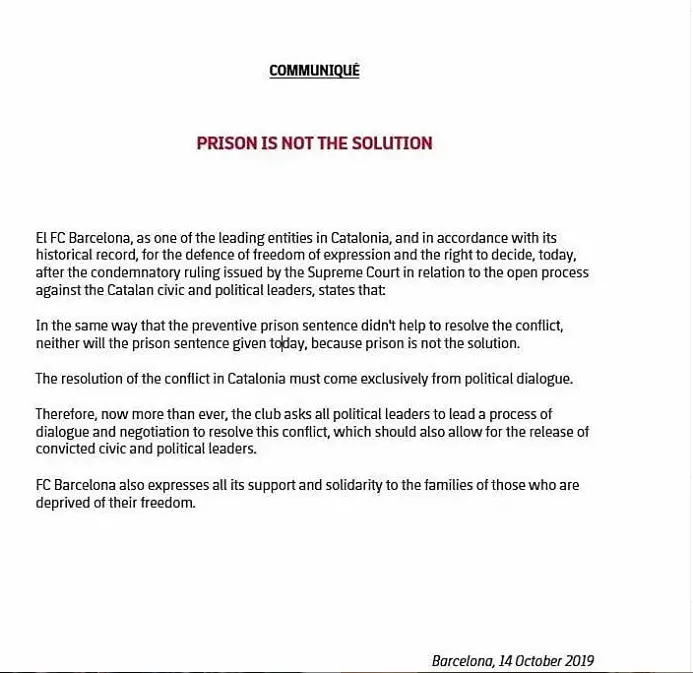 We recently feel, through some shameful acts from our fanbase, or through the action of the board, that the slogan had been forgotten. The club has, with that open later, reiterated that they didn't forget the slogan. It would be much easier for the club to ignore the situation. They weren't forced at all to come out with this open letter.
Furthermore, Piqué, Roberto have stated their support to Barça's open letter. We all know Piqué has always been for Cataluña, and it's great to see Sergi came out as well.
We want to say it again, this is not about politics
This is about the club showing its values through the slogan 'Mes qué un Club. Força Barça & Visca La Cataluña!