The international break is almost over, but Spain is handling with a lot of pressure. Although both Madrid and Barcelona want to play El Clasico by schedule, there are people who would like to postpone it. by Blaugranagram.
---
Postponing El Clasico?
The RFEF's Competition Committee will reject La Liga's proposal of playing El Clásico at the Santiago Bernabéu instead of the Camp Nou on October 26. It's almost certain that the option being considered is postponing the game so it takes place on December 18. [COPE ]
The Competition Committee could make their final decision tomorrow or Friday. The dates that will be picked between seem to be December 4th and December 18th, as things stand. [SER]
I just want to clarify that it is possible that they choose to retain the game date & venue as October 26th & Camp Nou. But given the circumstances, it seems far more likely that the game will be postponed — and in that case, still be played in Barcelona.
La Liga's president, Javier Tebas, speaks out about El Clasico and says it CANNOT take place on December 18. "These are things that leak, they say that these things are said within the RFEF."
I don't think the RFEF have mentioned a day [in particular], because they'd have to put it on the table before the competition committee.
Now us, La Liga, are starting a process of altering the calendar. They talk about the 18th, even though there is Copa del Rey being played that day. If they think the Copa del Rey is a desert, if they put the Clasico on too, it will be a super desert. It can't be that day.
We have to sit down and establish the date [other than October 26], if the game [venue] isn't swapped [Camp Nou -> Bernabéu]," Tebas concluded. [EFE, via SPORT]
Moreover, The Competition Committee has rejected La Liga's proposal of playing El Clásico at the Bernabéu, and will make their decision official tonight. Instead, they'll plan a different date for the clash. The committee proposes December 18 as the new date. [@EduPolo, MD ]
Barça's plans for the Eibar game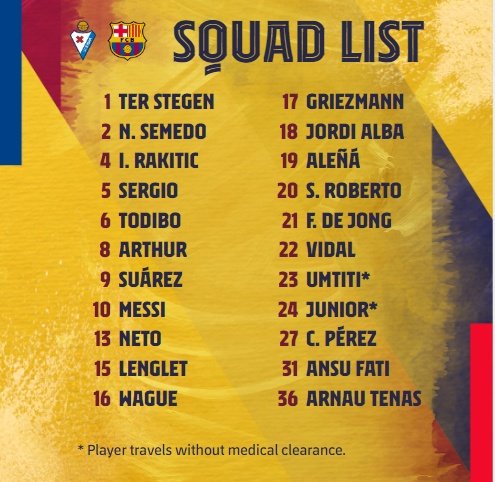 Today, after the press conference and final training session are held. The ones called up for the Eibar game will travel to Victoria (Vítoria-Gasteiz) by plane.
They'll stay at the Zenit Jardines de Ulleta Suites hotel overnight. They will make use of Deportivo Alavés' training facilities in Zuazo for the final training session tomorrow behind closed doors. The game against Eibar takes place at the Ipurua on Saturday. [SPORT ]