Follow President Josep Maria Bartomeu 's exclusive interview with Barça TV. Barcacentre translated the interview:
The new stadium project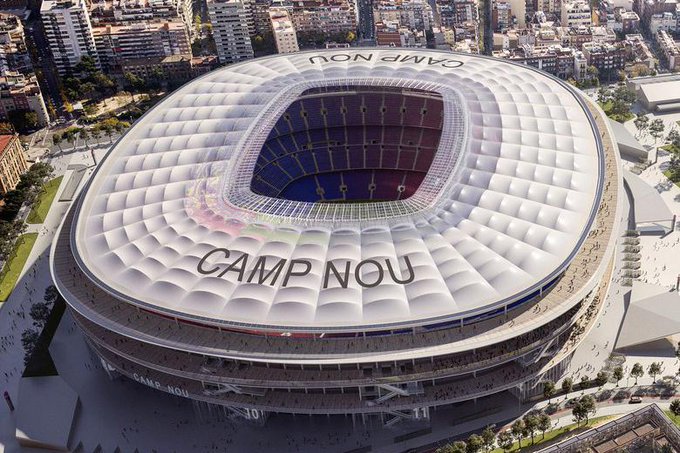 Bartomeu: "The demolition of the Miniestadi will begin in the next few days. We will do an act to commemorate it on September the 24th. The remodeling of the Camp Nou will begin next summer and it will be finished in 2024."
-You will not be the president in 2024
Bartomeu: "Espai Barça is a project of the club, not of the board. The final price of the new Camp Nou and the new Palau Blaugrana (home to the basketball, handball, roller hockey, and futsal divisions of FC Barcelona) will be about 685 million euros. However, the financing of 685 million euros for the new 'Espai Barça' will not affect the sports area of the club."
Bartomeu: "We decided not to sign a contract with a company for the naming rights of the stadium because in the future the price may be much higher. There is time to negotiate, a contract like this can have a length of 15 to 20 years."
The 2021 elections, and will there be online voting?
Bartomeu: "We would like to introduce online voting when it's 100% safe but we must wait for the reform of the Catalan sports law. We have been working for some time to finish implanting it.
I will not say who, but there is someone in the board of directors to succeed me in 2021. However, I think it would not be good for Barça to have former presidents becoming presidents again." (applying to Joan Laporta who wants to come back)
Carles Puyol, and current state of the club
"We are talking to Carles Puyol to see if he is interested in joining the club as the general manager. I hope there is a positive response shortly. For this season we will present a budget of around 1.060 million euros in revenue."
"The philosophy of Barcelona is to have La Masia players as well as signings in the team. I am happy because there are players who start to get their noses in the first team: Abel Ruiz, Ansu Fati, Riqui Puig and Illaix, who hasn't trained with the first team yet…"
"We are talking to UEFA and La Liga about salary limits and transfer figure limits. Our club has a healthy economy. That financial institutions come to us to offer resources (Griezmann deal) is a demonstration that they trust in us.
The debt worries some socios a lot, but it is at a level of normal debt, it perfectly meets the ratios of the club."
The summer transfer window
Bartomeu: "It has been a long summer, but it is true that the first team's squad was made for the long-term. The idea was a midfielder (De Jong), a forward (Griezmann) and a left-back (Junior). This season the team is smaller, 21 players, but very competitive.
The dressing room have no say in signings, they don't think about it. We make decisions for signings in the sports area."
The 'Soap opera' of Neymar
Bartomeu: "Yes, we negotiated with PSG for Neymar. They opened the door for Neymar and we then started negotiations to see if we could integrate him. In the end, we couldn't meet PSG's demands.
Negotiations for Neymar were not planned beforehand. Leonardo opened the door to negotiate for him. We then joined negotiations, among other clubs.
Barça have done everything possible for Neymar to come this summer. A lot of board members worked on it. However, Neymar does not enter our plans for in January.
PSG asked for players and money. They talked about players on loan with an option to buy. Without saying names, it was 'you pay money and you send the players on loan this season, we pay their salaries'. We saw it as unassuming, Barça haven't offered players to PSG.
Messi has not asked for Neymar. Neymar was a market opportunity, an extra, but to go for him was a decision of the sports area of the club. We said: 'Let's try it'.
Neymar told PSG only to negotiate with Barça. He did what he had to do, but in the end he and PSG have decided for the player to continue in Paris. He wanted to leave, but this year he will play at PSG.
I can't rule out that we sign Neymar in the future if there is a possibility but we haven't started planning for next summer. There were 3 or 4 clubs interested in Neymar and one of them was Real Madrid."
Some more talking points, and finally statement regards Messi's clause
Bartomeu: "No, the dressing room did not refuse the signing of Antoine Griezmann. "
"Dembélé has come with a big desire to succeed here."
"People have to be aware of the fact that the way Barça play is indestructible."
"With the signing of De Jong, we took a plane and we went to Amsterdam to explain our project to him."
"Messi can leave whenever he wants. He has gained freedom over his future. But I have no doubt that he will continue. Xavi, Iniesta and Puyol had this contract as well. Messi is a huge culé."
"The best teams are the ones that win it all, but our first priority is La Liga, because it gives you regularity."
End of president Bartomeu 's interview with Barça TV.