Barcelona Board Members ARE in Paris to negotiate with PSG over the transfer of Neymar. They will be presenting their 3rd offer to them. Meeting is 1 Hour from now! Hagrid with the updating report.
Bartomeu has sent Javier Bordas, Eric Abidal, André Cury & Oscar Grau to Paris to negotiate with PSG over Neymar. The offer which will be placed today could very well be the last offer so Bartomeu is making sure that the offer is reasonable for all parties!
The surroundings of Neymar count on him coming to Barcelona. Total optimism. It is missing that Barça comes to fruition today in its last conversation with the PSG. But everything indicates that Neymar will be a culé player again.
Despite other rumors this morning, Nasser Al Khelaifi WON'T BE PRESENT at today's meeting. He will be with Leonardo negotiating with the board of Barcelona for Neymar!
12:30 The Neymar operation has began
It is NOW or NEVER for Barça. Today could be very decisive. Barcelona are going to present their 3rd offer to PSG, hoping to bring back the Brazilian to his home!
Neymar had spoken to Leonardo a few days back, and had expressed that he ONLY wants to join Barcelona! It's up to Leonardo and Al-Khelaifi now to decide the fate of their Brazilian Superstar.
Barcelona are very optimistic about the transfer of Neymar. Nothing hasn been agreed yet, but they are hoping to come to terms soon.
16:00 Rivaldo publishes a post, and Neymar's dad liked it!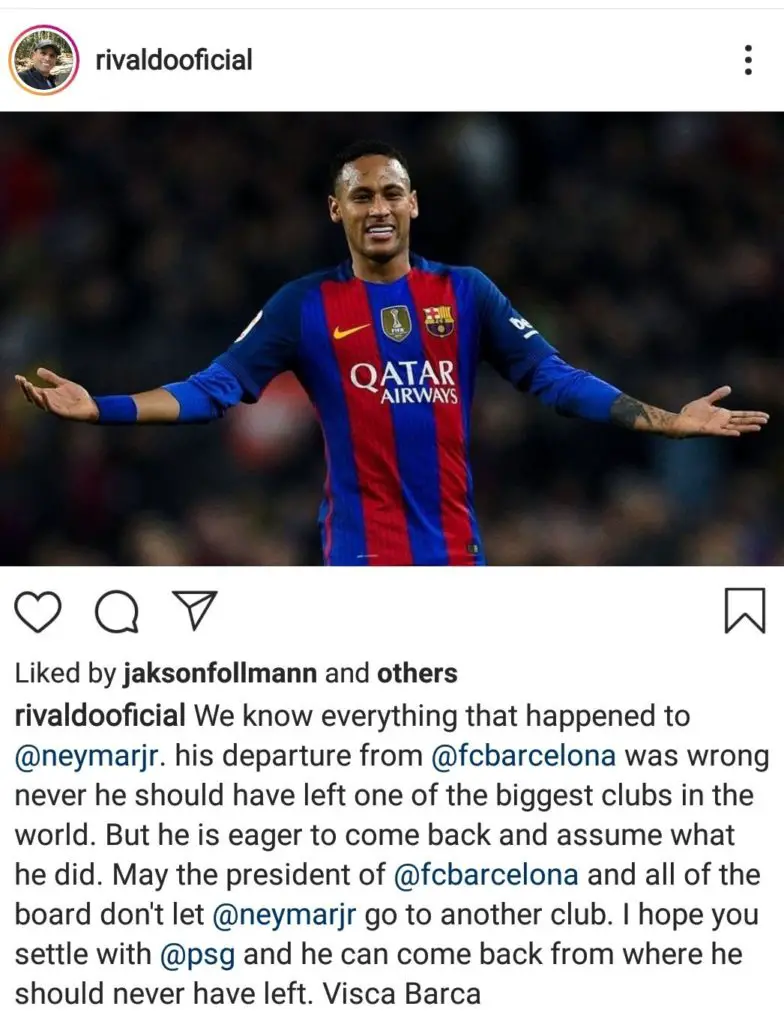 Neymar's dad might have liked Rivaldo's post but let's not jump towards any conclusions and have high expectations. The deal still hasn't come to terms as it was expected to be. Instagram likes don't mean anything so let's not blow this out of context.
The same thing happened last week when he started following Sergio Ramos. People blew this way out of context and started saying that Neymar is coming to Madrid when that wasn't the case at all. He was never 'close' to joining Real Madrid.