Barça win the Joan Gamper trophy as they beat Arsenal by two goals to one. In BarcaBuzz TV you can watch the highlights of the match. Meanwhile, here are the reactions of the players after the game, brought to you by @barcacentre.
Ernesto Valverde: "De Jong and Griezmann will give us a lot. But they have things to improve."
"Arsenal were looking for the counter with Aubameyang. Today's positive things? I have seen Suárez plugged in, De Jong wanting to move the ball, youngsters… Today we wanted to add minutes and keep preparing.
Griezmann can play in three offensive positions. He has a lot of versatility and we will use him in different positions.
Riqui Puig will not move to the first team permanently because he cannot play with Barça B then. We believe he can still continue to grow at Barça B and go up to the first team later. It also means he can alternate between two teams this season.
Wagué attacks very deeply. He has clear ideas and a good arrival… He can give good competition to Semedo.
Sergi Roberto is a midfielder… I think his first game as full-back was in San Mamés because of a Dani Alves injury… He recognizes the game in the middle of the field, he does very well.
De Jong is very curious and thoughtful. He always wants to improve and he is very demanding of himself.
The ongoing preparations to the new season
What Messi has said is nothing new. We want to win everything and we all wants what he says.
Until August 31, everything will be open… It is true that in the midfield there are quite a few players and we have to see how things develop. However, I do not know if there can be any more incorporations or exits right now.
The future of Vidal? We will see. He is a fighter and last year he helped us a lot. It is true that there is a lot of competition but everyone is willing to fight for his place.
Junior is strong, fast and young. He can be a good player to help Jordi Alba. We needed to have a guarantee there. He is a player of the present and future.
The trip to the United States? It is true that traveling far does not help us prepare. but it is an important event for the club for the economic and social aspect."
Riqui, De Jong and Sergi Roberto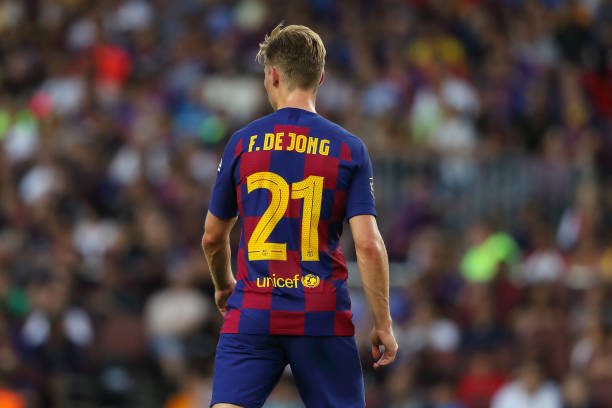 Riqui Puig: "I would like to stay here at Barça. I do not close doors, but I want to be here. It is the best club in the world. If I get opportunities, I will try to do my best."
Frenkie de Jong: "We did not play well tonight. We have to move the ball around faster and press better when we lose the ball. MOTM award? I did not deserve it."
Sergi Roberto: "Assist to Suárez? The most complicated was the finish… Fortunately, the ball entered in the goal. I have had a good time in midfield.
We have not been as good as in Japan, but it has been a good night to meet with our fans again.
Now, with the week in the United States, we hope to finalise our preparations ahead of the new season to to start competing."