Barca -Chelsea post match thoughts: Barcelona's first pre-season match finally arrived, here are my thoughts! By @Rafa Hernandez
Griezmann and Hazard were the two best players in the world with their ability limited by the style practiced by their clubs. Both will reach their highs in the upcoming season.
I might not like Griezmann for his antics and celebrations, but he will fit like a glove at Barcelona. He's a modern footballer at the highest level, among his many qualities his decision making is ridiculously good, his biggest strength. Messi needs an associate like him in the final third as Suárez slowed down.
Riqui Puig is the best midfielder to come from La Masia since Thiago Alcantara. He plays football the simple way with incredible control and composure in tight spaces. Represents much of what Barcelona needs in the first team.
Frenkie constantly asking for the ball, Riqui Puig showing more personality than any La Masia midfielder in ages. This is the kind of thing that's valuable during pre-season.
Chelsea once upon a time bought Fabregas from Barcelona, if this Rakitic goal helps to sell him, they are officially forgiven for 2012.
Valverde's tactics during this Barça – Chelsea match have been nothing short of the usual shite we have been witnessing throughout 2019. Still, don't forget it's just pre-season, no use making any harsh judgements.
The tactical mess called Valverde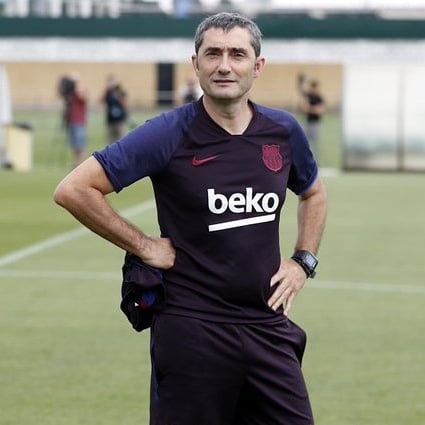 I don't know what Valverde is thinking with his tactics and player by player management in 2019. It's been a mess, he's getting to that coaching limbo where nothing he says is taken seriously by the players and he completely lost the support by the fans too.
Players are comfortable under Valverde, there's no competitive pressure anymore, no tough demands by the coaching staff. If you lack that edge, it's harder to win trophies.
If it weren't for Messi, Griezmann, De Jong and the experienced players in the team's core, I would be pessimistic about this season. I trust them to win the league and possibly the cup, no chance in Europe though.